Emoji are pictographs you can insert like any text character. Both Android and iPhone has a dedicated emoji keyboard. You can toggle the text and emoji keyboards to insert on any applications. However, it is not that easy when comes to desktop PC. In this article, we will explain how to type emoji in Windows PC.
Type Emoji in Windows 10
Windows 10 has an in-built emoji keyboard similar to smartphones. However, you can use this as an independent utility to insert emoji symbols. Good part is that it will work on all applications in Windows 10. In order to open emoji keyboard in Windows 10 PC, place the cursor on the position and press Win Logo and dot keys. Alternatively, you can also press Win Logo and semicolon keys. Both shortcuts will open a sliding panel showing all emoji symbols.
Now, leave the keys and type the name of the emoji you want to insert. For example, typing pizza will filter pizza emoji.
Click on the emoji to insert on the cursor's position.
Closing Emoji Panel After Inserting an Emoji
By default, Windows will keep the emoji panel open after you inserted an emoji. This may be disturbing your work with a pop-up appearing on the scree. Good part is that you can automatically close the emoji panel after the insertion by tweaking the settings.
Open Windows Settings app by pressing "Win Logo + I" shortcut keys.
go to "Devices" section and then navigate to "Typing" settings.
You have to scroll down and click on "Advanced keyboard settings" option that appears on the right pane.
By default, Windows will enable the checkbox against the option "Don't close the panel automatically after an emoji has been inserted" under "Emoji panel" section.
You have to disable this option in order to close the emoji panel after insertion.
Emoji Categories
If you do not know the emoji name, click on the categories in the bottom panel to search from the relevant group. Below are the categories available with the current emoji panel:
Most recently used
Smiley faces and animals
People
Celebrations and objects
Food and plants
Symbols
In addition to emoji symbols, you can also insert kaomoji text emoticons and mathematical operator symbols with the latest Windows 10 version.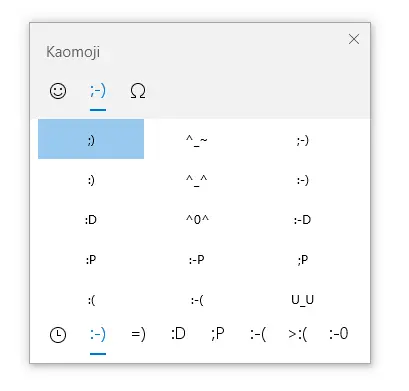 Emoji Display
You can use emoji keyboard on all applications like Word or when chatting in Facebook Messenger. However, display of emoji symbols will completely vary depending upon how the application interpret the emoji. For example, all emoji in Office applications like Word and Outlook will appear in grayscale. You have to manually apply the font and color variation like any other text content.
When you type the same emoji on Facebook or Twitter, you will see a colorful emoji.
Other Options in Windows PC
Unfortunately, emoji keyboard is only available in Windows 10. If you still use Windows 7 or 8 then you can't use this utility. In addition, some emoji symbols may look different in applications like Excel. You can try other utilities in Windows PC to find emoji symbols for you.
Using Character Map to Insert Emoji
Character Map is an independent app in Windows PC that you can use for typing special symbols. Similar to emoji keyboard, you can use character map to insert symbols in the text field of any applications.
Press Win Logo + R keys to open Run prompt.
Type charmap in the input box and press enter key.
This will open character map app showing thousands of symbols.
You can change the "Fonts" to "Webdings" or "Wingdings" to find different emoji symbols. Depending on the font you select, further options will open for selecting "Character set" and "Group by".
For example, you can select "Arial Black" font and select "Unicode Subrange" group by option.
This will open an additional dialog for choosing category. Select superscript/subscript or currency, or any other group to filter relevant symbols that include emoji.
Using Symbol Utility
Within Office documents like Excel, Word or PowerPoint, you can use Symbol utility to insert special symbols that you cannot type with keyboard.
Go to "Insert" menu and click on "Symbols" option. In Word, you have to click again on the "More Symbols…" and click on "Symbols" in Excel.
You can see the Symbol utility dialog like below.
Change the fonts and "Unicode (hex)" input.
This will open addition "Subset" dropdown.
Select the category like "Currency Symbols" to filer all relevant symbols.
Double click on the symbol to insert on your document.
Using Keyboard Shortcuts
Finally, if none of the above method helps to type the emoji symbol you want, try using keyboard shortcuts. You can use the alt key and the numbers on the numeric pad to insert emoji symbols in Windows PC. For example, alt + 10135 will make the divide emoji symbol like ➗. Checkout 1000+ alt key emoji keyboard shortcuts to insert emoji in Windows PC.