Apple announced iOS 17, macOS Sonoma, iPadOS 17 and so many other software updates in WWDC event help on Jun 5th 2023. Though there are no new apps added in iOS except a Journal app which is also planned for later this year and not immediately available. However, you will be tempted to check the new features like StandBy, Check-In Messages, Live Voicemail, etc. So, here are the details about when you will get the iOS 17 and the iPhone models that support the latest OS.
iOS 17 Release Dates
Here are the release dates for various iOS 17 versions:
| Version | Release Date |
| --- | --- |
| iOS 17 Developer Beta | 05 Jun 2023 |
| iOS 17 Public Beta | 12 July 2023 |
| iOS 17 Stable Version | 18 September 2023 |
If you want to explore the features for testing and development purposes, it is possible to install iOS 17 Developer Beta. However, developer version will be unstable and you need to wait for couple of months to get the stable iOS 17 during fall season.
iOS 17 Supported iPhone Models
Here is a list of iPhone models that support iOS 17.
iPhone SE – second generation or later models
iPhone XR and iPhone XS Max
iPhone 11, 11 Pro and 11 Pro Max
iPhone 12, 12 mini, 12 Pro, 12 Pro Max
iPhone 13, 13 mini, 13 Pro, 13 Pro Max
iPhone 14, 14 Plus, 14 Pro, 14 Pro Max
So, if you have an older iPhone model not in the above list, probably it's time for you to consider purchasing a latest model.
Complete iOS 17 Features List
You can find our earlier article to understand the detailed information about top 10 features you will get with iOS 17. However, here is the complete summary of features that you will get with iOS 17.
Widgets got big update in iOS 17 with interactive features. Now, you can close a task in Reminders or play a song from home screen, lock screen and in StandBy screen.
Siri now can respond with simply calling Siri instead of Hey Siri. You can also continue the conversation without reactivating again.
FaceTime allows you to send a recorded video and audio messages. It is also possible to create 3D reactions like showing firework with simple hand gestures.
StandBy – helps to showcase widgets in landscape mode when charging.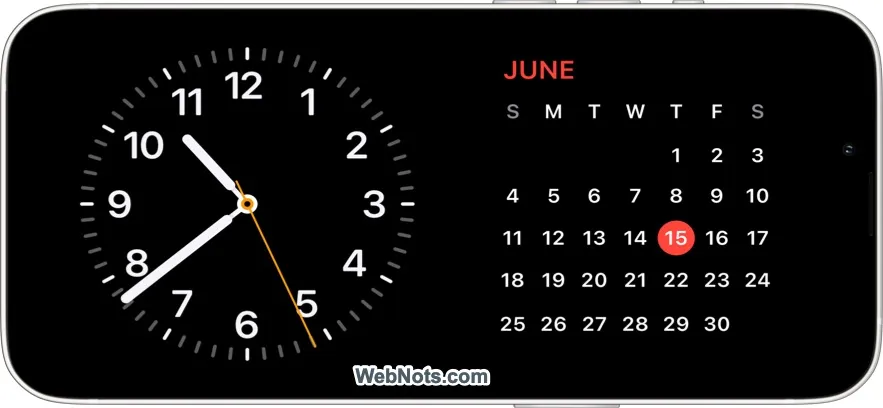 Lift an object form photo or video and use Lookup to get more details about the object.
Safari – you can create multiple profiles, private windows will be locked automatically, tracking parameters will be removed from URL, new tab group design and automatic filling of verification codes from Mail app. You can also create a group and share your passwords with them.
Create pet album in Photos app by identifying your pets in the pictures.
Live Voicemail – see live transcription of voice message when someone calls you and decide whether to pick up the call or not.
Journal – this app will be available later 2023 and not part of initial iOS 17. You can get recommendations from your activities to write an entry and maintain a journal.
Sharing – AirDrop will work through internet if the devices are moved away from Bluetooth range. Brings two iPhone nearer to share the contact with the new NameDrop feature or transfer files through AirDrop. You can also start a SharePlay sessions by bringing two iPhones nearby.
Contact Poster and Photo – add poster and profile picture for your contact card. The poster will appear on the receiver's iPhone offering better visual experience.
Check In – helps to find your loved ones are arrived at the desired location on time with a message notification.
New + button in Messages to view all frequently used stuffs.
Swipe right on a message to reply and a catchup arrow helps to reach the top of conversation quickly. Shared locations can be viewed directly within the conversation.
Get text transcription of audio messages.
Now you can combine multiple search filters in Messages to find the result precisely.
You can create Stickers and attach to any message. Stickers also will sync with other devices so that you can access them from your Mac or iPad.
Autocorrection and text predictions also get updates in new OS. You will see live suggestions when typing to finish the word, phrase or sentence.
Music – playlist can be shared with friends and everyone can add or remove songs from the list. This feature is coming only at the end of 2023. SharePlay allows all car passengers including the ones sitting in the back seat to change the music.
Now, you can download an area of Maps app for offline use and find the availability of electric vehicle charging stations along your route.
Auto filling PDF from Contacts app and insert PDF in a readable mode in Notes app.
Privacy improvements – sensitive content warning, restricted app permissions like allowing limited photos to share within an app and use Lockdown mode to prevent cyber attacks.
It's not an end – other apps/features like Health, Spotlight Search, Fitness, Reminders, Notes, Home, Freeform, News, Home, AirPods, AirPlay and FindMy all get minor feature updates in iOS 17. For example, you can insert links in Notes app and Spotlight Search will show apps with additional suggested shortcuts in "Top Hits" section. So, install iOS 17 to experience these exciting new features and take your iPhone to next level.