Many people use Microsoft Excel as a spreadsheet for processing numbers. However, Excel has much more than to simply play with numbers. For Example, you can make a beautiful chart or inventory list to track the orders ready for dispatch. Now that showing everything in a text or numbers will quickly bore the people. You can use emoji to make your Excel sheet standing out and interesting.
Related: How to change row to columns in Excel?
Examples of Using Emoji
We give an example of using emoji in Excel before explaining how to actually insert.
You have values in columns B3 and C3.
Compare B3 and C3, return tick ✔ if C3 is greater or return check ❌.
Display the result in D3.
You can apply a simple formula in D3 as =IF(B3>C3,E3,F3) by inserting ✔ in E3 and ❌ in F3. You can hide columns E and F later to only display the columns B, C and D with useful content.
Excel allows you to use emoji in simple formulae as a cell reference. Remember, in this example you cannot directly use the tick or check emoji in the formula in D3. You have to add them in E3 and F3 and refer in the D3 formula. By applying the comparison, you can have a table like below:
How to Insert Emoji in Excel Windows?
Above is a very simple example, if your Excel skills are good the possibilities are limitless for using emoji in creative manner. Let us explain how to insert emoji in Windows 10 Excel versions. Note that Excel by default will display the emoji as outline characters in grayscale. However, you can decorate emojis by applying colors and changing the font size.
Using Alt Codes Shortcuts in Excel
Alt codes are one of the easy ways to insert emoji symbols in Excel. You can learn more on how to use alt codes in this article. However, Excel interprets the codes differently compared to Microsoft Word or Outlook. Once you find a code that works for you, it is easy to use it on other cells by copy pasting. For example, alt + 243 to type less than or equal to symbol like ≤.
Windows 10 Emoji Keyboard in Excel
Other option is use Windows 10 emoji keyboard.
Press Windows logo and semi-colon keys or press Windows logo and dot keys.
This will show a pop-up panel showing all Unicode emoji symbols.
Type the keyword in the cell or find the emoji directly from the panel.
For example, press "Win Logo + ;" keys and type "skull" to filter the skull and crossbones emojis.
Using Symbol Utility in Excel
Microsoft offers a Symbol utility to insert emoji and other Unicode symbols on Excel spreadsheets.
Go to "Insert > Symbols" menu and choose "Symbols" option.
You will see a "Symbol" pop-up showing many symbols like below.
Change to the font to Wingdings or Webdings.
Double click on the symbol to insert on your cell.
Symbol utility will also show the recently used symbols for you to easily to get your favorite emoji and other symbols. Of course, you can always copy paste after inserting in the cell.
Insert Symbols with Character Map in Excel
Symbol utility works within Excel and other Office applications. You can use Character Viewer in Windows PC to get symbols that are available on Symbol utility.
Press "Windows log + R" keys and open Run prompt.
Type charmap and hit enter to open Character Map app.
Change the font to Wingdings or Webdings and find the relevant emoji for you.
Double click on the emoji to select and click "Copy" button to save the copied emoji to clipboard.
Now that you can paste the copied emoji in Excel and other documents.
You can also enable multiple clipboards in Windows 10 and copy multiple emoji in to clipboard to use them any time.
Typing Emoji in Excel Mac
Excel Office 365 version on Mac has similar options to insert emoji like Windows 10. Note that unlike Windows Excel, Mac Excel will show the emojis as colorful characters.
Options Code Shortcuts in Mac Excel for Emoji
Option keys in MacBook are similar to alt keys in Windows. You can enable Unicode Hex Input and use these option keys as shortcut keys. For example, option + 263A will produce the smiling face emoji symbol like ☺.
Use Emoji Keyboard in Mac Excel
Mac offers a Character Viewer app that is like a combination of Windows Character Map and emoji keyboard.
Double click a cell to place a cursor inside.
Go to "Insert > Symbol" menu to open Character Viewer app in Map.
Type the keyword in the search box to filter the emoji or go to "Emoji" section to find the emojis already grouped under different categories.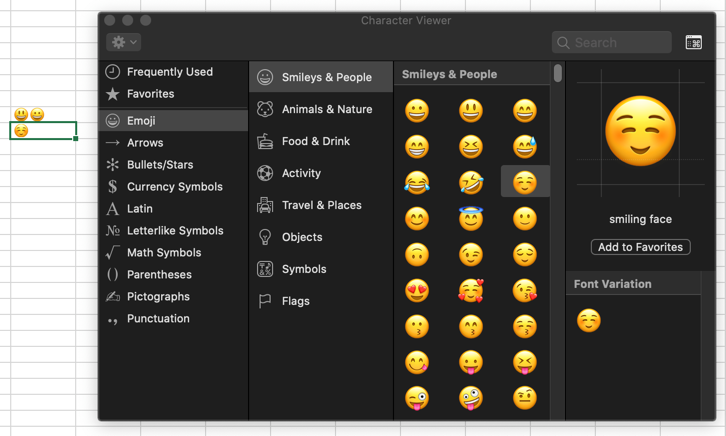 The advantage in Mac is that you can choose the font variation to type stylish symbols (except emojis). However, you should consider whether you have to share the Excel with Windows users. In such a case, Windows Excel will remove the font variations from Mac and show emoji in grayscale.