Emoji is text character displayed as a picture. Unicode Consortium standardizes the character representation with the objective of typing characters on all devices. This help us to use emoji everywhere on documents, emails and chat conversations. Though individual applications can adapt the modifications, Unicode highly helps to standardize emoji symbols.
Emoji Vs Kaomoji
In our earlier article, we have explained the difference between emoticon and emoji. Before the popularity of emoji, people used emoticons to make expressions using text characters. Smileys, Lenny Face, Kaomoji are some of the earlier forms of emoticons used for expressing symbols. Unlike emoji symbol, which is a single character , kaomoji is the combination of text characters to represent an expression. kaomoji are first used by Japanese and later widely adopted by all. This is another way you can use keyboard keys to type or make symbols by combining different Unicode characters.
Problems in Typing Kaomoji Symbols
As mentioned, you need the combination of keys to make kaomoji expressions. For example, below are the lenny face kaomoji using special characters.
Though facial expressions are cute, the problem is that you can't type all special characters using the standard keyboard keys. Here comes the use of alt code shortcuts that you can use one of the alt key and decimal / hexadecimal code to type special characters. Unfortunately, alt code shortcuts need numeric pad on your keyboard to work and you can't use the number keys on top row of your keyboard. Alt codes also widely vary on fonts, applications and operating systems making it difficult to make symbols.
How to Type Kaomoji Emoticons in Windows 10?
In Windows 10, Microsoft introduced emoji keyboard for easily inserting emoji symbols on any applications using a separate app. You can press, "Win + ;" or "Win + ." shortcut keys to open emoji keyboard and search the keyword to find your favorite emoji symbols.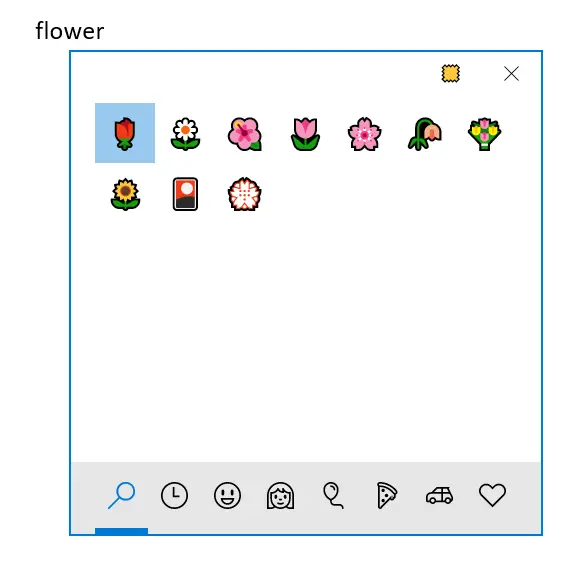 Microsoft also releases updates for Windows 10 to include useful features. With the Windows 10 version 1903 (May 2019 update), Microsoft added additional options in the emoji keyboard app. This includes, kaomoji and mathematical operators in addition to Unicode emoji symbols.
If you want to type kaomoji in Windows 10, the first thing is to ensure that you have the latest Windows 10 version.
Use the same keyboard shortcuts, "Win + ;" or " Win + ." to open emoji keyboard.
Click on "kaomoji" category to view all text symbols.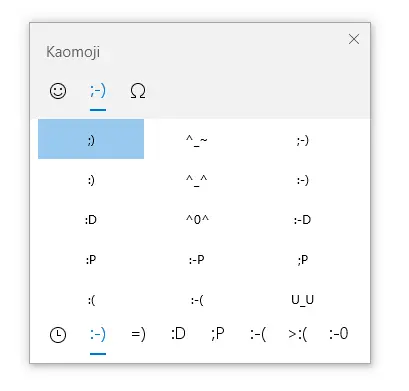 Kaomoji are categorized into different groups like classic ASCII emoticons, happy, greetings, sad, acting cute, angry and surprised / speechless.
Navigate to the correct kaomoji you want and click to insert on your document or chat conversation.
Remember, emoji keyboard works on all Windows applications wherever you can type text characters.
List of Kaomoji Symbols
If you are on older Windows 10 version or on different operating system, here is a complete list of kaomoji symbols. You can copy and paste these kaomoji symbols on your Word, Outlook, PowerPoint documents and also on Twitter, Facebook and WhatsApp conversations.
Classic ASCII Emoticons
| | | | | |
| --- | --- | --- | --- | --- |
| ;) | ^_~ | ;-) | :) | ^_^ |
| :-) | :D | ^0^ | :-D | :P |
| :-P | ;P | :( | :-( | U_U |
| :[ | :( | >"< | ): | :-O |
| O.O | :-() | ~_~ | ^o^ | |
Happy Kaomoji Symbols
| | |
| --- | --- |
| ヾ(≧▽≦*)o | φ(* ̄0 ̄) |
| q(≧▽≦q) | ψ(`∇´)ψ |
| ( ̄︶ ̄)↗ | *^____^* |
| (~ ̄▽ ̄)~ | ( •̀ ω •́ )✧ |
| []~( ̄▽ ̄)~* | φ(゜▽゜*)♪ |
| o(*^@^*)o | O(∩_∩)O |
| (✿◡‿◡) | `(>﹏<)′ |
| (*^▽^*) | (*^-^*) |
| (*^_^*) | (❁´◡`❁) |
| (≧∇≦)ノ | (´▽`ʃ♡ƪ) |
| (●ˇ∀ˇ●) | ○( ^皿^)っ Hehehe |
| ( ̄y▽ ̄)╭ Ohohoho….. | \^o^/ |
| (‾◡◝) | ╰(°▽°)╯ |
| (〃 ̄︶ ̄)人( ̄︶ ̄〃) | o(^▽^)┛ |
| o( ̄▽ ̄)ブ | (^-)db(-^) |
| o( ̄▽ ̄)ブ | ♪(^∇^*) |
| (≧∀≦)ゞ | o( ̄︶ ̄)o |
| –<-<-<@ | (o゚v゚)ノ |
| o(*≧▽≦)ツ┏━┓ | (/≧▽≦)/ |
| ( $ _ $ ) | (☆▽☆) |
| ヾ(@⌒ー⌒@)ノ | ㄟ(≧◇≦)ㄏ |
| o((>ω< ))o | ( *︾▽︾) |
| ヾ(≧ ▽ ≦)ゝ | ☆: .。. o(≧▽≦)o .。.:☆ |
| (((o(゚▽゚)o))) | \((( ̄( ̄( ̄▽ ̄) ̄) ̄)))/ |
| ♪(´▽`) | ( ^-^)ρ(^0^ ) |
| ~///(^v^)\~ | (^///^) |
| (p≧w≦q) | o( ̄▽ ̄)o |
| ( •̀ ω •́ )y | (o゜▽゜)o☆ |
| ƪ(˘⌣˘)ʃ | |
Greeting Kaomoji Symbols
| | |
| --- | --- |
| ヾ(•ω•`)o | ( ̄︶ ̄*)) |
| (*  ̄3)(ε ̄ *) | -O- |
| (* ̄3 ̄)╭ | ( ´・・)ノ(._.`) |
| (。・∀・)ノ゙ | o( ̄▽ ̄)ブ |
| (_ _)。゜zzZ | (ToT)/~~~ |
| (∪.∪ )…zzz | !(* ̄( ̄ *) |
| ( ̄o ̄) . z Z | (づ ̄ 3 ̄)づ |
| (^∀^●)ノシ | (づ ̄3 ̄)づ╭❤~ |
| (@^0^@)/ | ヾ(^▽^*))) |
| (~﹃~)~zZ | ☆⌒(*^-゜)v |
| ( ̄o ̄) . z Z | (* ̄;( ̄ *) |
| ||ヽ( ̄▽ ̄)ノミ|Ю | ☆⌒(*^-゜)v |
| (^U^)ノ~YO | o(°▽°)o |
| ヾ( ̄▽ ̄) Bye~Bye~ | ( ゚д゚)つ Bye |
| (๑•̀ㅂ•́)و✧ | (o゜▽゜)o☆ |
| ✪ ω ✪ | d=====( ̄▽ ̄*)b |
| <(^-^)> | o( ̄▽ ̄)o |
| o( ̄▽ ̄)d | (╹ڡ╹ ) |
| (u‿ฺu✿ฺ) | ♪(´▽`) |
| (╯▽╰ ) | ヽ(✿゚▽゚)ノ |
| ( •̀ .̫ •́ )✧ | (^^ゞ |
| (@^0^) | (。^▽^) |
| Ψ( ̄∀ ̄)Ψ | ★,°:.☆( ̄▽ ̄)/$:.°★ 。 |
| (。・∀・)ノ | ~(≧▽≦)/~ |
| b( ̄▽ ̄)d | o(^▽^)o |
| (☞゚ヮ゚)☞ | ☜(゚ヮ゚☜) |
| (¬‿¬) | (•_•) |
| ( •_•)>⌐■-■ | (⌐■_■) |
Acting Cute Kaomoji Symbols
| | |
| --- | --- |
| ( ̄y▽, ̄)╭ | (o|o) |
| (^人^) | §( ̄▽ ̄)§ |
| ψ(._. )> | (/▽\) |
| (o′┏▽┓`o) | (≧︶≦))( ̄▽ ̄ )ゞ |
| ( o=^•ェ•)o ┏━┓ | ◑﹏◐ |
| (○` 3′○) | (ಥ _ ಥ) |
| (⓿_⓿) | (❤´艸`❤) |
| (ง •_•)ง | (〃` 3′〃) |
| (●'◡'●) | o(〃^▽^〃)o |
| (。・ω・。) | (✿◠‿◠) |
| ˋ( ° ▽、° ) | (/ω\) |
| = ̄ω ̄= | ο(=•ω<=)ρ⌒☆ |
| (✿◕‿◕✿) | ╰( ̄ω ̄o) |
| ~( ̄▽ ̄)~* | (~o ̄3 ̄)~ |
| (っ´Ι`)っ | ԅ(¯﹃¯ԅ) |
| ( ̄﹃ ̄) | ༼ つ ◕_◕ ༽つ |
| o(////▽////)q | (^///^) |
| (/ω\*)ÖÖÖ (/ω•\*) | (o゜▽゜)o☆ |
| ( ‵▽′)ψ | ( ﹁ ﹁ ) ~→ |
| (❤ ω ❤) | (★ ω ★) |
| ヽ( ̄ω ̄( ̄ω ̄〃)ゝ | *(੭*ˊᵕˋ)੭*ଘ |
| ┏ (゜ω゜)=☞ | U•ェ•*U |
| ( ̄。。 ̄) | (°°)~ |
| m( =∩王∩= )m | o(=•ェ•=)m |
| (‧‧)nnn | (0^◇^0)/ |
| ~o( =∩ω∩= )m | –(˙<>˙)/ |
| –( ఠൠఠ )ノ | ≡[。。]≡ |
| (:≡ | .<{=.... |
| ฅʕ•̫͡•ʔฅ | ( ⓛ ω ⓛ *) |
| ᓚᘏᗢ | ( ¯(∞)¯ ) |
| ( ̄(工) ̄) | <。)#)))≦ |
| (:◎)≡ | ^(* ̄(oo) ̄)^ |
| ( ͡• ͜ʖ ͡• ) | ¯_(ツ)_/¯ |
Sad Kaomoji Symbols
| | |
| --- | --- |
| /_ \ | (;´д`)ゞ |
| >﹏< | (っ °Д °;)っ |
| ( ̄ 'i  ̄;) | ( *^-^)ρ(*╯^╰) |
| >︿< | o( ̄┰ ̄*)ゞ |
| (ノへ ̄、) | <(_ _)> |
| (#`-_ゝ-) | (>人<;) |
| {{{(>_<)}}} | ≡(▔﹏▔)≡ |
| (#_<-) | ⊙﹏⊙∥ |
| ヽ(*。>Д<)o゜ | /(ㄒoㄒ)/~~ |
| (;´༎ຶД༎ຶ`) | ::>_<:: |
| ╯︿╰ | இ௰இ |
| (┬┬﹏┬┬) | (´。_。`) |
| (;′⌒`) | ≧ ﹏ ≦ |
| 〒▽〒 | ━((*′д`)爻(′д`*))━!!!! |
| (T_T)(≧﹏ ≦)(′д` )Ö彡…彡 | <( _ _ )> |
| o(TヘTo) | >_< |
| ┗( T﹏T )┛ | (。﹏。*) |
| X﹏X | ಥ_ಥ |
Angry Kaomoji Symbols
| | |
| --- | --- |
| o((>ω< ))o | ╰(‵□′)╯ |
| (~ ̄(OO) ̄)ブ | o(≧口≦)o |
| (╬▔皿▔)╯ | (⊙x⊙;) |
|  ̄へ ̄ | (︶^︶) |
| (*  ̄︿ ̄) | ヽ(≧□≦)ノ |
| ╰(艹皿艹 ) | ___*(  ̄皿 ̄)/#____ |
| ( ̄ε(# ̄)☆╰╮o( ̄皿 ̄///) | <(  ̄^ ̄)(θ(θ☆( >_< |
| ( ̄ε(# ̄) | ╰(‵□′)╯ |
| (゚Д゚*)ノ | ○| ̄|_ =3 |
| ┗|`O′|┛ | (′д`σ)σ |
| (ノ`Д)ノ | (¬︿̫̿¬☆) |
| ~( TロT)σ | (〃>目<) |
| (/// ̄皿 ̄)○~ | <( ‵□′)>───Cε(┬﹏┬)3 |
| <( ‵□′)───C<─_-)|| | ε=( o`ω′)ノ |
| (o ‵-′)ノ"(ノ﹏<。) | ヾ(≧へ≦)〃 |
| (╯▔皿▔)╯ | (σ`д′)σ |
| ヽ(゜▽゜ )-C<(/;◇;)/~ | (╯‵□′)╯︵┻━┻ |
| ┳━┳ ノ( ゜-゜ノ) | (╯°□°)╯︵ ┻━┻ |
| (ヘ・_・)ヘ┳━┳ | o(一︿一+)o |
| ( ̄﹏ ̄;) | ಠ_ಠ |
| ಠಿ_ಠ | (¬_¬ ) |
| (¬_¬") | |
Surprised / Speechless Kaomoji
| | |
| --- | --- |
| w(゚Д゚)w | ┗|`O′|┛ |
| (⊙o⊙) | (#°Д°) |
| (*゜ー゜*) | (。_。) |
| …(* ̄0 ̄)ノ | o((⊙﹏⊙))o. |
| (⊙ˍ⊙) | (⊙_⊙)? |
| (⊙_⊙;) | (⊙o⊙) |
| ⊙.☉ | ¯(°_o)/¯ |
| (´・ω・`)? | ( ̄┰ ̄*) |
| o(><;)oo | Σ(っ °Д °;)っ |
| ∑( 口 || | ┌(。Д。)┐ |
| (°ー°〃) | ε=ε=ε=(~ ̄▽ ̄)~ |
| ( ̄m ̄) | (ノω<。)ノ))☆.。 |
| (ノ*・ω・)ノ | (#`O′) |
| щ(ʘ╻ʘ)щ | (o´・ェ・`o) |
| (Φ皿Φ)(・∀・(・∀・(・∀・*) | (○´・д・)ノ |
| ┬┴┬┴┤(・_├┬┴┬┴ | (o_ _)ノ |
| (@_@;) | ㄟ( ▔, ▔ )ㄏ |
| ( ̄_, ̄ ) | (+_+)? |
| (。>︿<)_θ | <( ̄ c ̄)y▂ξ |
| (๐॔˃̶ᗜ˂̶๐॓) | o_o |
| ━┳━ ━┳━ | ━━( ̄ー ̄*|||━━ |
| ÖÖ]((o_ _)'彡☆ | (。﹏。) |
| (⊙﹏⊙) | …( _ _)ノ| |
| ,,ԾㅂԾ,, | m( _ _ )m |
| (lll¬ω¬) | ╮(╯-╰)╭ |
| ( ̄▽ ̄)" | ( ̄_ ̄|||) |
| _〆(´Д` ) | (x_x) |
| ( ╯□╰ ) | ⊙﹏⊙∥ |
| ┌( ´_ゝ` )┐ | -_-b |
| (ˉ﹃ˉ) | ╮(╯_╰)╭ |
| ( ̄_, ̄ ) | ○| ̄|_ |
| (ˉ▽ ̄~) | (´ー∀ー`) |
| (。・・)ノ | (:з)∠) |
| ┑( ̄Д  ̄)┍ | ε=ε=ε=┏(゜ロ゜;)┛ |
| (* ̄rǒ ̄) | つ﹏⊂ |
| ( ̄、 ̄) | ╮(╯▽╰)╭ |
| (☆-v-) | (ˉ▽ˉ;)… |
| (◎﹏◎) | (((φ(◎ロ◎;)φ))) |
| <@_@> | →_→ |
| ←_← | |