YouTube is the largest video streaming website primarily focusing on Android and iPhone users. The smartphone apps are most popular for watching videos. Surprisingly Google does not offer any desktop apps for using in Windows and Mac. The only option for you is to open the website in browser and watch videos. However, you can follow some tricks to install YouTube app in Windows and Mac. This is the same case with Gmail and learn how to install Gmail as app using Chrome and Edge browser.
YouTube Desktop Apps
People confuse the YouTube app you can find in Microsoft Store as a desktop app. Unfortunately, this is an app for Xbox One OS and not for Windows OS.
Similarly, there are no official apps available for Mac App Store.
You can clearly see an information showing the app is only available on the App Store for iPhone, iPad and Apple TV.
Why You Need Desktop App for YouTube?
Ideally, you can get all the features in YouTube.com website and Google recommends to use Chrome browser for better user experience. However, there are multiple advantages in using app over a website.
You do not need to launch the browser every time for opening a video.
Browser history can create problem when you view private videos.
Getting app notifications is much simpler and easier compared to website notifications.
You can search and launch the app independently.
Though Google does not offer YouTube desktop apps for Windows and Mac, the website is a Progressive Web Application (PWA). Below is the formal definition of PWA as per Wikipedia, which is self-explanatory:
This is a cool feature that PWA websites do not need to have separate mobile or desktop apps thus saving huge development / maintenance cost.
How to Install YouTube App in Windows and Mac?
Being a PWA supported website, you can use YouTube.com in a browser like an independent app. However, it works only on Chromium based browsers like Google Chrome and the latest Microsoft Edge version.
Install YouTube App in Windows 11
There are multiple ways to install YouTube app in Windows 11.
Using Chromium Based Microsoft Edge
First make sure you are using the latest Windows 11 or 10 OS that has Chromium based Edge browser. You can check this by opening the URL edge://settings/help in the address bar. It should show that the message that "The browser is made possible by the Chromium open source project…..".
After confirming, open YouTube.com website like any other site. Wait for the website to load fully, as YouTube will load slowly in Edge. After complete loading, Edge will show you an "App Available" icon at the right end of address bar.
Click on the "App Available" icon and then confirm the installation by pressing "Install" button.
Alternatively, you can go to Edge settings by pressing "Alt + F" keys and then navigate to "Apps > Install YouTube" option.
Edge will install YouTube as an app and open it in a separate window. You will see the following options when the installation is finished.
Pin to taskbar
Pin to Start
Auto-start on device login
Select the options you need and click "Allow" button to provide permissions. Close the pop-up and you have successfully installed YouTube app in Windows computer.
Launching YouTube App in Windows 11
As mentioned, you need not to launch Edge browser to open YouTube app. You can simply click on the YouTube app icon from Start menu or taskbar or launch it from desktop shortcut.
You can also use the Windows Search to find YouTube app like any other apps.
The YouTube app will look like below. Though the app is an Edge browser app, you will see YouTube icon in the taskbar when using the app.
Uninstalling YouTube App in Windows 11
If you do not want to use the app anymore, you can simply uninstall the YouTube app from your computer. Click on Windows Search or Cortana icon on the taskbar and type "YouTube". On the right side pane, click on the small down arrow to expand the options and click "Uninstall YouTube".
You will see a message "YouTube is being uninstalled" and close the search to see all occurrences of the installed app are removed successfully.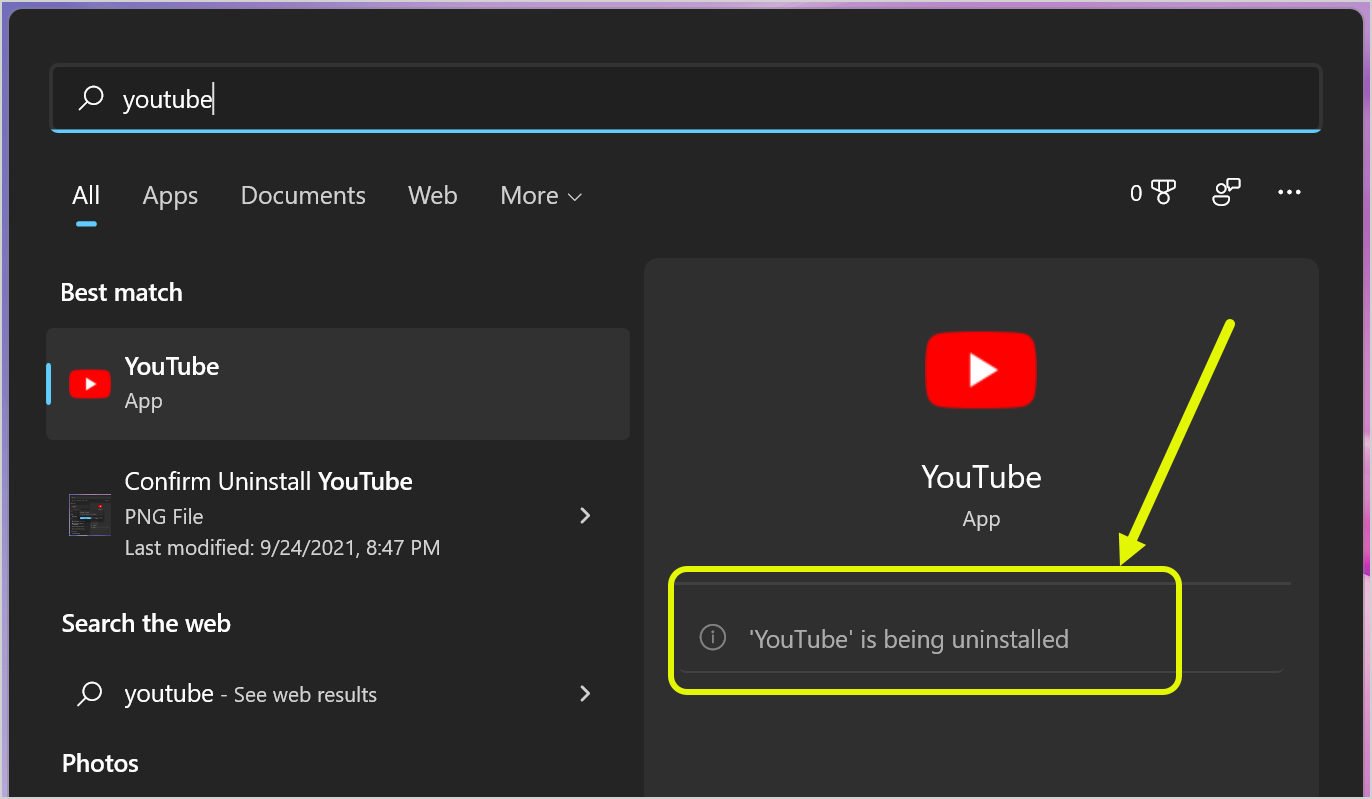 You can also go to "Edge Settings > Apps > Manage apps" menu and uninstall the app by clicking on the three dots icon. Otherwise, click "Details" to view the app details and select the "Uninstall" button to delete the app from Edge browser.
From the app details section also you can create shortcut and pin YouTube app to taskbar or Start menu.
Once you remove the installed YouTube app from Edge browser, you can anytime reinstall by following the same process.
Using Google Chrome in Windows 11
If you are not using Chromium Edge for any reasons, then use Google Chrome to install YouTube app. When you open YouTube.com website, Chrome will show you an "Install" icon in the address bar. Click on the icon and follow the instructions to install the app similar to Edge. We will explain this in the below Mac section as the process remains same.
Install YouTube App in Mac
Unlike Microsoft Edge, the default browser Safari on Mac does not support installing PWA apps. Therefore, you have to install Google Chrome or Edge for Mac to install YouTube app. The installation process in Mac Edge is same as Windows 11 as we have explained above. For complete understanding, we will explain here with Google Chrome in Mac.
Launch Chrome and open YouTube.com website. Chrome will show you an "Install" icon as YouTube.com is PWA supported website.
Click on the icon and confirm the app installation by pressing "Install" button.
After installation, Chrome will launch YouTube app and open the Finder window showing the installation folder of YouTube app like below.
The YouTube app will look like below as an independent app without any sign of it runs as a Chrome app.
Opening YouTube App in Mac
Unlike Edge in Windows PC, Chrome on Mac will not create shortcuts in the desktop or dock. Therefore, you have to manually create the shortcuts or access the app in different ways.
You can search YouTube app from Spotlight Search and launch without opening Chrome browser.
When you are in Chrome, go to chrome://apps/ or click on the "Apps" button showing on the left corner of the bookmarks bar. Click on the YouTube icon to launch the app. Note that, there will already an YouTube icon which is nothing but the website shortcut. Clicking on this will open YouTube.com within the browser instead of opening the app.
The best option to launch the app in Mac is to add it in the dock. When you are in chrome://apps/ section of Chrome browser, right click on the newly added YouTube app and select "Create Shortcut" option. This will open the Find window showing the app location. Simply drag and drop the app on your dock to create a permanent shortcut.
Removing or Uninstalling YouTube Mac App
If you want to remove the shortcut on the dock, simply right click on the icon and select "Options > Remove from Dock". This will delete the shortcut from the dock but you can open the app by searching through Spotlight Search. Follow the below instructions for permanently deleting the YouTube app.
Go to chrome://apps/ section in Chrome browser.
Right click on the app and select "Remove from Chrome…" option.
On the pop-up, select "Also clear data from Chrome www.youtube.com)" checkbox and click "Remove" button.
This will permanently delete the YouTube app from Chrome and Mac.
Using Chrome Desktop Shortcut in Windows and Mac
There is an alternate option in Chrome to create a desktop shortcut instead of installing a browser app though both options work similarly. You can use this option both in Windows and Mac as Chrome has a similar user interface.
Launch Google Chrome and open YouTube.com website.
Click on the three dots Chrome Settings menu and go to "More Tools > Create Shortcut…" option.
On the pop-up that appears, make sure to select "Open in new window" option and click "OK" button.
This will create an app under chrome://apps/ section in the browser. In addition, this will create a shortcut icon in Windows which you can pin to Start menu or taskbar and use like any other apps in Windows. In Mac, you have to open the app location and add to dock as explained above and there will be no desktop icons created.
Final Words
We hope now you can successfully install and use YouTube as an app without launching the browser. If you want to always use YouTube by signing in to your account, make sure to login before you install the app. In this way, you can launch the app which is already logged in to your account.