Microsoft announced Windows 11 will be available for public as earlier as 15th October 2021. However, the beta version available for testing contains plenty of bugs and needs improvement. If you have already updated from Windows 10 to Windows 11, you will find important functions like Windows Search may not work properly. In this article, we will explain how to fix Windows 11 Search not working issue with various options.
Windows 11 Search
Windows 11 has a new interface similar to macOS dock. You can find all running apps and other items like Start, Search and Widgets in the center of the taskbar. Simply hovering over the search icon will show the last three searches with an option to search further. Alternatively, you can click on the search icon to view frequently searched items and continue your search.
The problem is that when you click on the search box, it will show the progress bar running continuously without any results. Though you can able to type and hit enter to open the first search result, you will not be able to see any results below the search box.
Fix Windows 11 Search Not Working
There are various options you can try to fix the problem.
1. Windows Search and Indexing Troubleshooter
The first option you should try is to run the dedicated Windows Search troubleshooter and check if there are any problems found.
Press "Win + I" keys and open Windows Settings app.
Navigate to "System > Troubleshoot > Other troubleshooters" section.
Find "Search and indexing" that is meant for fixing problems with Windows Search function.
Click on "Run" button to start the troubleshooter.
It takes few seconds for the troubleshooter to initialize and will prompt to select the problem. Check the box "Can't start a search or see results" option and click "Next" button.
Troubleshooter will detect the problems and show the results like below. Click on "View detailed information" link to get more details about the problem.
You will see a list of items with the status. Click on the link that shows a warning or error to see further details.
You can get the complete details of the issues found using this troubleshooter. Click on "Next" button to go back to the initial troubleshooter screen and select the problem and click "Next" again.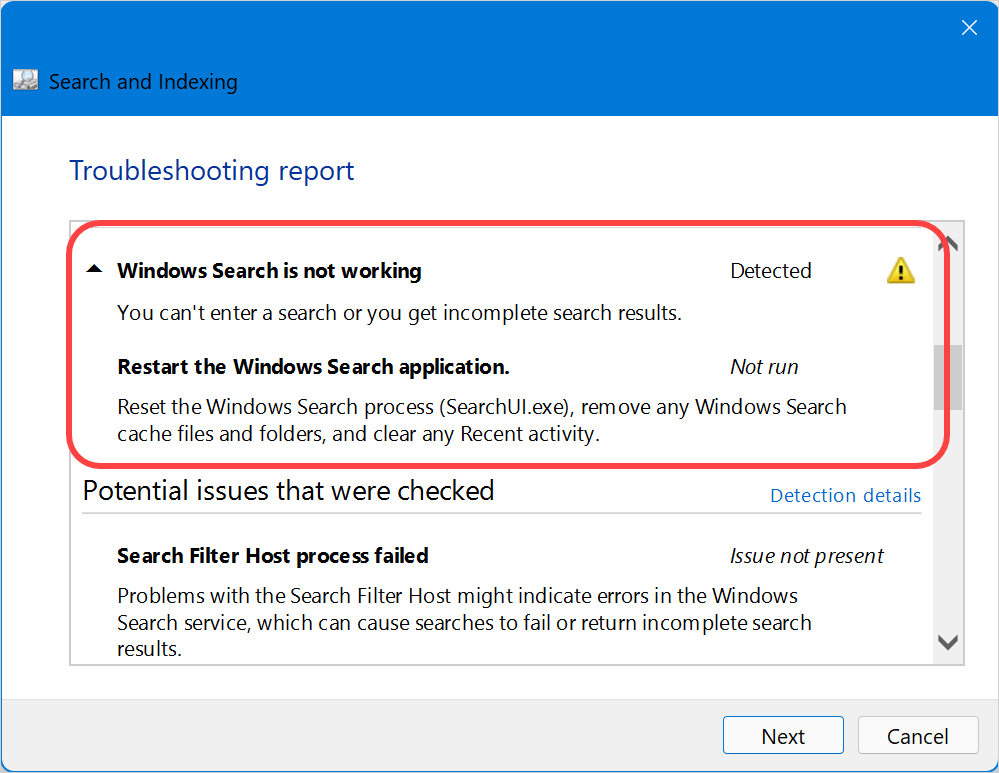 Now the troubleshooter will start fixing the problem and show you the result as fixed.
Close the troubleshooter and check the search is working properly now.
2. Restart Windows Search Service
When you use Windows Search function, there will be a service running in the background. This service will start automatically and you do not need to do anything in normal situation. However, when you have problems with search function, you can manually stop and restart this service to check if that can help you in fixing Windows 11 Search not working issue.
Right click on your Start menu icon in the taskbar and go to "Task Manager" option.
Go to "Services" tab and click on "Open Services" link showing at the bottom status bar.
When you are in "Services" window, scroll down and find "Windows Search" service. As mentioned, this service should start automatically and should be showing in "Running" status.
Right click on the service and select "Restart". Alternatively, you can first "Stop" and then "Start" again instead of restarting.
Now, check your search function is working properly.
3. Delete Temporary Search Data
Windows 11 stores the search data under the following folder:
C:\ProgramData\Microsoft\Search\Data
Press "Win + E" to open File Explorer, copy and paste the above path in the address bar and press enter key. You will see "Applications" and "Temp" folders and open the "Temp" folder. Delete the data and cleanup the folder. You can also move the content to different place so that you can restore back if needed.
You can check if cleaning up the temporary search data helps to fix the problem.
4. Reindex Search Content
Windows Search works similar any other search engines and needs to index your content before showing them in the results. This indexing can have two problems – one is slow due to your computer's performance and other is not including certain folders in your computer. In these cases, you will be able to see the search results but it will be slow or not including the file you search. You can resolve indexing related problems by following the instructions below:
Go to Windows Settings and navigate to "Privacy & security" section.
Click on "Searching Windows" option available under "Windows permissions" section.
On the resulting screen, you can view the index status. Windows by default uses "Classic" mode to search only limited sections on your computer. You can click on "Customize search locations" link and modify the locations for indexing. Alternatively, you can select "Enhanced" option to search entire computer and you can exclude the unneeded folders to speed up the search results.
Note that you can access search and indexing troubleshooter from this settings page also by scrolling down to the bottom and selecting "Indexer troubleshooter" from "Related settings".
5. Check Windows Updates
As Windows 11 is not yet stable, the updates can cause you problems in search function. There are two possibilities in this case:
New Update Available
In this case, you have new update available which could solve the problem. Go to Windows Settings page and check any pending updates are available under "Windows Update" section. Update and restart your computer to check if that resolves your problem.
Previous Update Causing Problem
If you have updated recently and find the search function stopped working, then do not worry. You can simply revert back the recent update and restore the system to its previous state. When you are in "Windows Update" section, go to "Update History" and click on "Uninstall updates" option.
This will take you to Control Panel where you can find all previously installed updates with the dates. Select the one you want revert back and click "Uninstall" button.
Uninstallation will start and your computer will be stored to previous state after successful restart.
Now, you can continue to work like before using search function.
Final Words
Since Windows 11 is a new operating system, you may get multiple issues depending upon the device you use. It may take sometime for all these issues to settle down to improve the stability of the OS. We hope the above options fixed Windows 11 Search not working issue and help you to use the search function. If you are not able to use Windows 11, then downgrade to Windows 10 or previous stable version as explained above. Alternatively, you can opt out of beta versions, if you are using Windows Insider Program to rollback to stable version when the next major update is available.