Google Chrome has lots of hidden features and one such feature is using the right click context menu. The browser will offer different context menus when you right click on different places. You can quickly access useful shortcuts by using these right click menu items. In this article, let us explore the possible actions you can do by right click context menu in Google Chrome. Note that some of the context menu items are different in Windows and Mac versions. Therefore we have explained with both versions of Chrome.
Right Click Context Menu in Google Chrome
Below are the options you can use right click in Chrome.
Right click on toolbar
On hyperlinks
Highlighted text content
On images
Right click on open tabs
Any empty area on the browser
On bookmarks bar
Right click on extension icon
Inside omnibox search
Right click on shortcut apps
On shortcuts showing on new tab page
Let us check out the options Chrome shows when you click on these areas.
1. Right Click on Chrome Toolbar
Chrome toolbar is the top bar that contains all open tabs. Right click on the toolbar to see useful options to set the size of the browser. You will see restore and minimize options enabled when you have opened the browser in maximum screen size. When you have the browser resized then you will see other options for move, size and maximize. In addition, you can open task manager, new tab, reopen closed tab and close the browser using the context menu.
On Mac, there are no right click option available on the Chrome toolbar
2. Right Click on Hyperlinks
Quickly open links in a new tab, new window or in an incognito window from the right click context menu. You can also copy or download the linked HTML page and inspect the element using developer tools.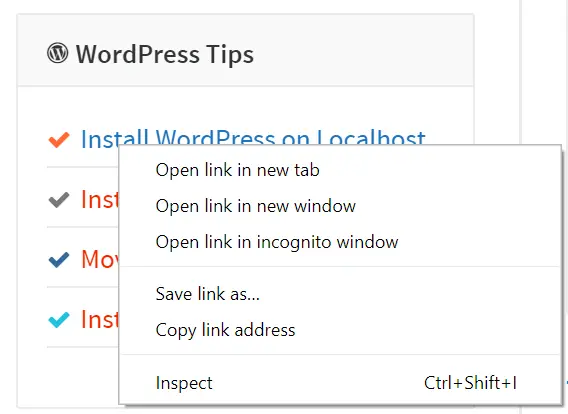 3. Right Click on Highlighted Text Content
Use the context menu to quickly search Google using the highlighted text content as keywords. You can also copy or print the selected content.
4. Right Click on Images
Similar to other browsers, you can download images by right clicking on it and choose "Save image as…" option. You can also open and copy images or copy the image URL to clipboard. The other option is to do reverse image search on Google to find the similar images by choosing "Search Google for Image" option.
5. Right Click on Tabs
Right click on a tab to manage tabs like open, reload, pin, mute / unmute, close and reopen recently closed tabs. You can bookmark all open tabs by right clicking on any of the tab and choosing "Bookmark all tabs…" option.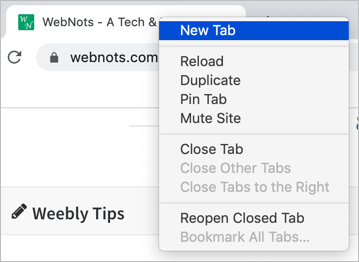 6. Right Click on Empty Area
View web page source or inspect element using developer tools by right clicking on the empty area of a web page. You can also go back or forward using the options.
On Mac, you can translate the page to the default language directly from the context menu.
7. Right Click on Bookmarks Bar
Right click on empty area on bookmarks bar to open all bookmarked pages in one click. You can also right click on any of the bookmarked folder and open all links.
8. Right Click on Extensions Icon
You can right click on the extension icon to view settings and get more options. It is also possible to access the installed extensions like Ad Blocker by right clicking on the content area.
9. Right Click on Omnibox
Right click on omnibox to copy the URL and edit the default search engines. On Mac, you can also see the option for inserting "Emoji & Symbols" which is not available on Windows version.
10. Right Click on Shortcut App
Go to "chrome://apps" and right click on any of your apps. You can create shortcut, open the app, remove from Chrome and get app info.
11. Right Click on New Tab Page Shortcuts
Chrome will show you shortcuts of recently accessed pages on new tab pages. you can right on the shortcut to open or save.
Wrap Up
As you see, you can do almost everything using right click context menu in Google Chrome. Though the options are different on Windows and Mac Chrome version, it is very useful to get things done quickly.