Billions of people use Gmail for both personal and business commitments. Gmail offers great features including large email storage capacity, critical and spam messages filtration, organization, and integration with other Google services. However, there is one drawback of using Gmail – it does not have desktop apps. Gmail does have excellent mobile apps for Android and iOS but it does not offer official desktop versions for Windows and macOS. If you wonder how to install Gmail as an app in Windows or Mac, here are the options for you.
Using Gmail as an App
Having Gmail as an app makes it easier for you to check emails frequently and get instant notifications without opening Gmail in the web browser. You can do this by using the feature called PWA in Edge/Chrome. Progressive Web Applications (PWAs) are type of installable applications which behave like native mobile or desktop apps. They are developed using modern technologies such as HTML, CSS, and JavaScript. PWAs offer great features including off-line functionality, the ability to receive notifications, and also the ability to launch from the home screen. Like any native apps, they are accessible through a web browser or a device on which they are installed.
This means that by installing Gmail as a PWA, you can access your inbox, receive push notifications and also work offline. These features make PWA a great alternative to native apps, especially when it comes to accessing emails. Generally, Edge and Chrome will show an icon in the address bar when you open PWA supported sites. You can see how it looks for YouTube site as shown below.

However, Gmail website does not show any app installation icon in the address bar. Therefore, you need to use different options from the menu item in Edge and by creating a desktop shortcut in Chrome.   
1. Install Gmail as an App in Microsoft Edge (Windows)
First let us explain in Windows using Microsoft Edge browser.
Open the Edge browser, go to the Gmail website and login with your Google account.
Click on the three dots at the top right corner of the page or simply press "Alt + F" shortcut keys.
Now click on "Apps" in the dropdown menu and then select "Install this site as an app" option.
A pop-up window will open to enter the name for your app. By default, the app name will appear as "Gmail" which you can change if required and click on "Install" button to get your Gmail account as an app.
Once the installation is done, you will get a standalone window for your Gmail on the screen. You will also see a notification showing "App installed" along with a list of options.
You can pin the Gmail app to your taskbar or Start menu and you can also create a shortcut to get quick access. Tick all the boxes in the pop-up window including "Pin to taskbar", "Pin to Start" and "Create Desktop shortcut". If you want to automatically launch Gmail when logging into your computer, then select "Auto-start on device login" option also.
Click on "Allow" button to provide the selected access.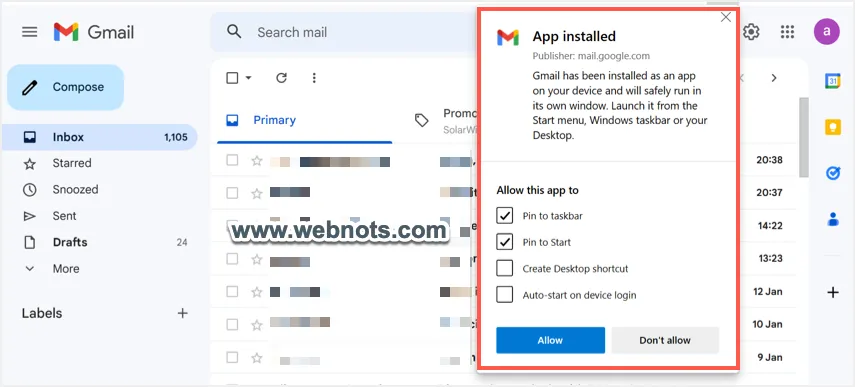 Now you can launch Gmail as an app from desktop shortcut or from the taskbar/Start menu. The app will directly take you to your inbox and you can use all other functionalities like accessing from web browser. It is also possible to create apps for multiple Gmail accounts and work seamlessly (make sure to provide proper name so that you can remember the accounts correctly).
Note: The Gmail app is nothing but an Edge browser window but opens separately as an app. The browser extensions you installed will continue to work in the app. You can also use the Edge shortcuts like "Control + N" from the Gmail app to open a new Edge tab in a new window. Within the app, you can press "Alt + F" to open the menu and use some functionalities like enabling/disabling extensions, settings app permissions and pinning to Start menu/taskbar.
Managing and Deleting Gmail App from Edge
If you want to delete the Gmail app for any reason, simply deleting the shortcuts or unpinning is not sufficient. The apps will be installed in Edge and available as part of Edge browser. Therefore, you should uninstall from Edge as explained below.
Launch Edge browser and press "Alt + F" keys to open the menu. Go to "Apps > Manage apps" menu. Alternatively, you can open edge://apps shortcut URL from address bar.
You will see all installed apps in Edge, click on the three dots icon against the app and select "Uninstall" option.
Otherwise, click on "Details" link and then click "Uninstall" button on the next screen.
Confirm the action by clicking on "Remove" button to permanently delete the Gmail app from Edge.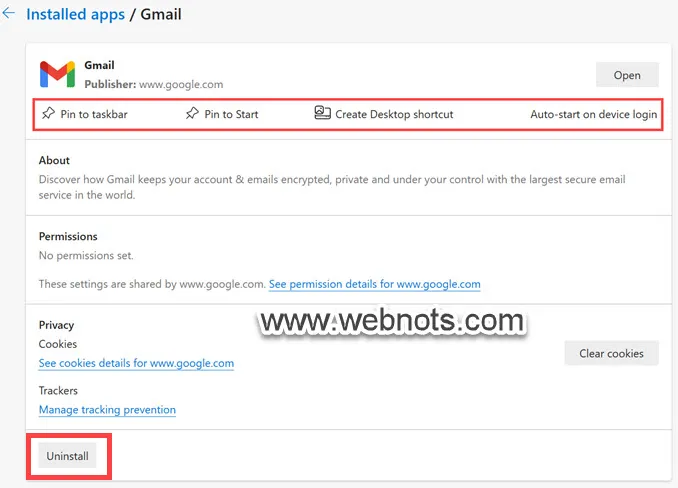 You can also pin to taskbar, Start and create a desktop shortcut from the app management page.
2. Install Gmail as App with Chrome (Windows and Mac)
Let us now show you how to install Gmail as an app from Chrome browser. Since Google Chrome is a platform independent browser, you can use this method both in Windows and macOS.
Open the Chrome browser, go to the Gmail website and login with your account.
Click on the three dots icon at the top right corner of the page.
Now select "More tools" from the dropdown menu and then click on "Create shortcut".
A pop-up window will appear to enter the name for your app. Make sure to select "Open as window" option and click on "Create" button. This will install Gmail as an app in Chrome browser.
On Windows, you will find a desktop shortcut for Gmail app. Double-click on the shortcut to open Gmail in your browser. Alternatively, right-click on the shortcut and select either "Pin to Start" or "Pin to taskbar" to add the app shortcuts in Start menu or taskbar. This will make it even more easier to access your Gmail.
On Mac, you will not find any shortcut created in your desktop. However, you will see the Finder app opens and show the location of the created Gmail app. You can drag the app and add to Dock for quicker access.
Note: As we checked on Mac, Chrome stores each created app as a separate file in the location "Macintosh HD > Users > Username > Applications > Chrome Apps". Here you can find Gmail app and open it without accessing the browser. On Windows, Chrome stores all the available apps as a single file in the location "C:\Program Files\Google\Chrome\Application\chrome_proxy". In this case, you can't launch the Gmail app from its location.
Managing and Deleting Gmail App in Chrome
Unlike Edge which shows a pop-up to create shortcuts, Chrome will not show any additional options. Follow the below instructions for opening, customizing and deleting the app.
Go to chrome://apps shortcut URL and you will find the Gmail app there. You can also click on the "Apps" option showing on the left corner of bookmarks bar in Chrome. Click on it to launch your Gmail inbox and check emails.
To delete Gmail app from Chrome, right-click on the app and select "Remove from Chrome" option.
Confirm the pop-up to permanently remove the app from Chrome.
For customizing the app usage, right-click on the app and select "Settings" option. From the app's settings page, you can enable or disable notifications, change permissions and allow the app to launch when you sign in. From here also, you can click on "Uninstall" button and delete the app from Chrome.
3. Accessing Gmail Offline
Probably you also want to access Gmail offline from the created app. For that you should follow a few simple steps:
Open your Gmail app and click on the cog wheel icon. Now click on "Settings" and then click "See all settings" option.
This will redirect you to a Gmail settings page. Click on the "Offline" tab in the top menu and then check "Enable offline mail" option.
Now select "Keep offline data on my computer" and hit "Save changes" button.
A pop-up window will appear and hit "OK". This is how you can use the offline mode of Gmail.
When you remove/delete the Gmail app, you will see an option asking whether you want to remove all the sored data in the browser. You can check that option to delete all offline data.
Final Words
The above two methods to install Gmail as an app in Windows and Mac are an easy and convenient ways to access your Gmail without opening a web browser. Not only these methods eliminate any third-party involvement, but they are also safe from the security point of view. As explained, you can even open and use Gmail offline using these methods.