Windows allows you to set custom wallpapers on the desktop to keep the appearance afresh. In addition to using still picture or color, you can setup slideshow or use Windows Spotlight images. These are the images from Bing and updated daily to keep your desktop live without boring. In this article, I will explain how to set Windows Spotlight image as desktop background in Windows 11. In addition, you can also learn where to find these images stored locally on your PC.
Windows Spotlight Images
Earlier, the option was only available to set Windows Spotlight images as your lock screen background. However, now it is possible to set as your desktop background without any third-party apps. The images will be automatically updated and refreshed on daily basis from Bing Search. So, all you need is to simply setup the option in Settings app.
Set Windows Spotlight as Desktop Background
Follow these steps for using Windows Spotlight as your desktop wallpaper:
Press "Window + I" keys to open Windows Settings app. Alternatively, you can right-click on the Start icon and select "Settings" option from the power user menu.
Navigate to "Background" option under "Personalization" section.
Click the dropdown against "Personalize your background" option and select "Windows spotlight" option.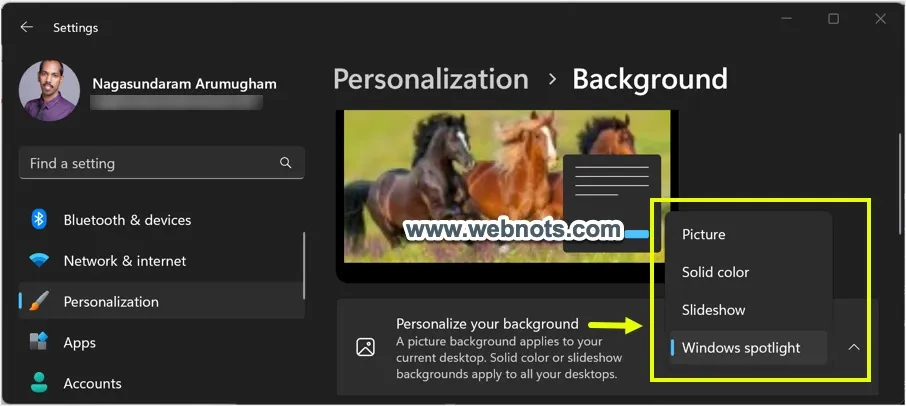 Wait for some time for the Spotlight image to show in your desktop background.
Set Windows Spotlight Image for Lock Screen Background
Follow the below instructions for settings Windows Spotlight as your lock screen background. Unlike desktop background, using Windows spotlight is the default setting for lock screen.
When you are in Settings app, go to "Personalization" section and click on "Lock Screen" option.
Select the dropdown against "Personalize your lock screen" and select "Windows spotlight" option.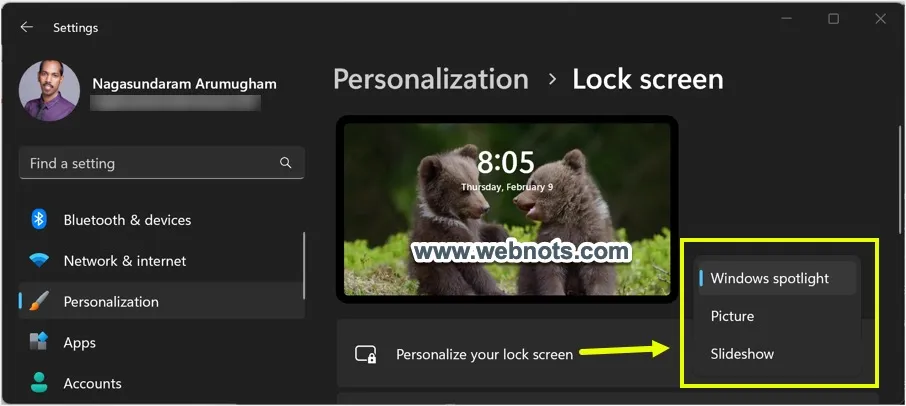 Changing Desktop Wallpaper with Windows Spotlight
Lock screen will show a camera icon, you can click on that to like or find the details of that image. However, you can't switch the image background on lock screen.
When the desktop shows wallpaper from Windows Spotlight, you will see a camera icon with "Learn about this picture" is added in your screen. Right-click on the icon to find additional menu items as shown below.
Click "Open" option to get the details of the image from the corresponding webpage or open Bing image search with your background.
Unlike lock screen, if you don't like the current desktop background, click "Switch to next picture" to manually change the image. Otherwise, the background will be automatically refreshed on daily basis.
You can also like or dislike the current background image.
Find Windows Spotlight Images in Windows 11
Sometimes, you may really like the Windows Spotlight background image. However, you can't download from desktop/lock screen or keep the same background for longer than a day. Fortunately, you can find the cached images from File Explorer and use it if you need.
After that, copy and paste the following path in your File Explorer and press enter key. Make sure to change the <Username> with your account's username.
C:\Users\<Username>\AppData\Local\Packages\Microsoft.Windows.ContentDeliveryManager_cw5n1h2txyewy\LocalState\Assets
You will see all cached Windows Spotlight images in this folder as shown below. These are the images cached at that point and the items will change when Bing refreshes the images next time.
It is possible to open each image file by double-clicking on it and selecting the Photos or other app to view. However, you can't preview the images as they do not have any file extension. What you can do is to create a new folder in your desktop and copy/paste all Windows Spotlight images in that folder. Now, you can rename the files with .png or .jpg extension to change them in proper image format and preview within File Explorer.
If you have too many images, then open Command Prompt and CD your new folder location. Type ren * *.png and press enter key to add .png extension to all the files in the folder. You can also use .jpg or any other image formats you like.
Now, all the images in your folder will have a .png file extension as shown below. You can view them as "Details" to navigate with preview pane or view them as "Extra large icons" to view the thumbnails clearly. Select your favorite image and then click "Set as background" option from the menu to use the image as desktop background. In this way, you can use the image from your computer instead of using Windows Spotlight images.
Note: When you set a background manually, Windows will automatically change the personalization settings for desktop background as picture and disable Windows Spotlight option. However, the lock screen setting will not change and continue to use Windows Spotlight images.