It is common to keep personal photos and instructional pictures on computer. Many people also use personal photo as a wallpaper or use for screen saver. However, there is always a privacy problem when dealing with images. Both Windows and Mac computers by default will show image thumbnail in File Explorer and Finder respectively. This could cause annoying problem when a private picture is shown in the preview and people nearby can accidentally see it. If you are struggling with image preview, here is how to disable image preview in Windows and Mac.
Related: How to remove thumbnails from Chrome new tab page?
Where Can You See Image Preview?
As far as we have checked, below are the places you can preview the images in Windows:
Files and folder icons in desktop and File Explorer
In File Explorer preview pane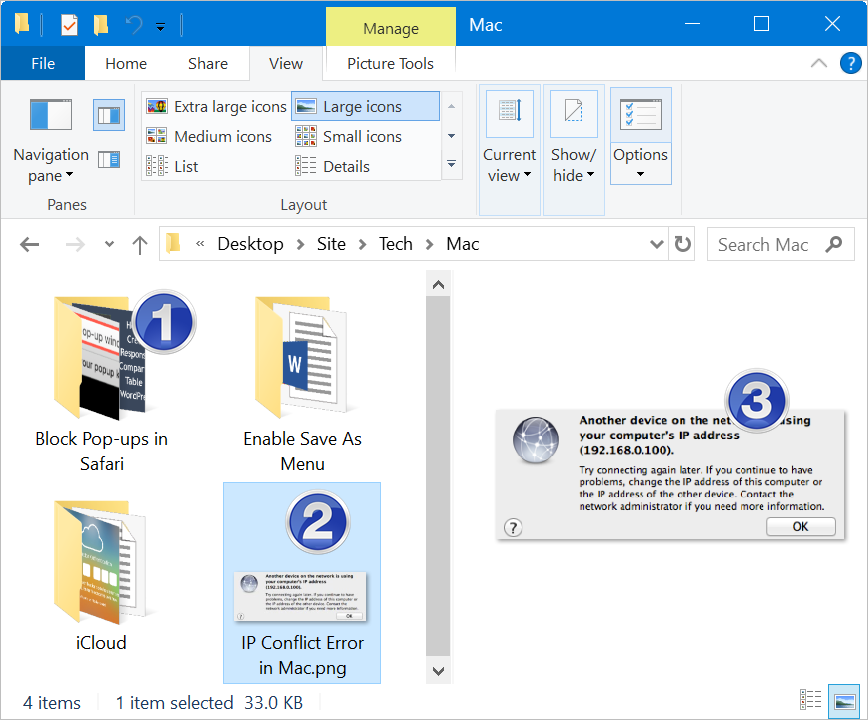 In addition, you can also see the image preview while browsing image files for opening or editing. Similarly in MacBook, you can see thumbnails on file/folder icons and image preview on the Finder app.
Image thumbnail preview will quickly help you to find the images you are looking for. However, automatically showing preview will become a problem when you are in a public place like in office or in a coffee shop. If privacy is most important for you then follow the below instructions to disable image preview.
1. Disable Image Preview in Windows
Press "Win Logo + E" keys to open "File Explorer" window. Alternatively, you can open any folders to open File Explorer. Go to "View" menu and depending upon your settings, you will see a layout something like below.
There are different things you can manage in File Manager to hide the image preview.
1.1. Change Panes and Layout View
Under the "View" menu, you can choose the panes and layout style to change the way you view the files. Click on "Preview pane" to disable the preview completely. However, the file icons may still show the preview. In order to change the icon style, select the layout as "List" or "Details".
File Explorer will remember your settings and will open the folders without preview pane and in list layout. This will also remove the image thumbnails on the folder icons, as they will show in a list view instead of icons.
Related: How to fix slow Windows computers?
1.2. Disable Image Thumbnails in Windows
Though the above method will work, it is very easy to change the pane and layout style. In addition, this will hide preview of all other file types as well. For example, File Explorer also show preview of other file types like Notepad text, Word/PDF document, Excel spreadsheet or PowerPoint slide. It is not a good idea to disable all those previews when you only want to disable the image preview.
Fortunately, there is another option available in Windows to only deal with image previews.
Open File Explorer and go to "View" menu.
Click on "Options" and select "Change folder and search options" from the dropdown.
This will open "File Options" dialog and go to "View" tab.
Select "Always show icons, never thumbnails" option.
Click on "Apply" and "OK" buttons to close the dialog box.
Now, all the folders, images and previews will be showing as icons instead of thumbnail.
Even you will not see thumbnail previews in the browse window when searching for image files from the applications like Paint.
However, you can still preview documents and other files in "Preview pane".
2. Disable Image Preview in Mac
Similar to Windows, Mac shows the image preview in desktop files and in the preview pane of Finder. Mac also shows image thumbnails in folder icons, hence the problem is same like using Windows computer.
2.1. Hide Preview in Finder
You can simply disable preview pane and make the file icons to look smaller.
Open Finder and go to "View" menu.
Select the option "as Columns" to view the items in a list view which will show smaller icons for files and view. You can also use the keyboard shortcut "Command + 3" to change the view as columns.
Select "Hide Preview" under "View" menu to disable the preview pane. You can also use "Shift + Command + P" to toggle the preview pane on or off.
2.2. Disable Thumbnail Previews in Icons / Folders
Mac does have settings for disabling the folder/icon thumbnail and disable preview pane in Finder.
Launch Finder and right click on the empty area.
Choose "Show View Options" from the context menu to open "Desktop" pop-up.
Disable the checkboxes "Show icon preview" and "Show preview column".
Close the pop-up and Mac will disable thumbnails and preview to protect your privacy.
Note: You can also right click on desktop and choose "Show View Options". However, you will only see "Show icon preview" option in the pop-up.