Desktop background is the first thing you will see when booting your computer. By default, Windows allows you to setup a picture, solid color and slideshow as the background of your computer. It is also possible to use Windows Spotlight image as your desktop background. However, do you ever wonder how to use a live video wallpaper or YouTube video as your desktop background? In this article, we will explain the step-by-step instructions of doing that.
Default Wallpaper Options in Windows 11
Right-click on the Start menu and go to Settings app. Navigate to "Personalization" section and click on the dropdown against "Personalize your background" option. You will see the list of options for selecting picture, color, slideshow or using spotlight image. There are no default options available in Windows 11 for using live video wallpaper as your desktop background like you can do in iPhone or Android smartphones.
Install Live Wallpaper App from Microsoft Store
To setup a live video wallpaper, you need to install a third-party app from Microsoft Store. Open Microsoft Store app and search for "video wallpaper". You will see many free and premium wallpaper apps. Find Lively Wallpaper app and click on "Get" button. This will download and install the app on your computer.
Here are the reasons to use Lively Wallpaper app:
This is a complete free and open-source app with no purchase required.
The video will pause when playing resource intensive games.
Wallpapers can use system audio to play sound.
You can use any video formats, aspect ratio and resolution.
The app supports multiple displays and dark theme.
Setting Video Wallpaper
After finishing the installation, click on "Open" button to launch the app on your computer. Alternatively, you can open the Lively Wallpaper app from "Start menu > All apps" list.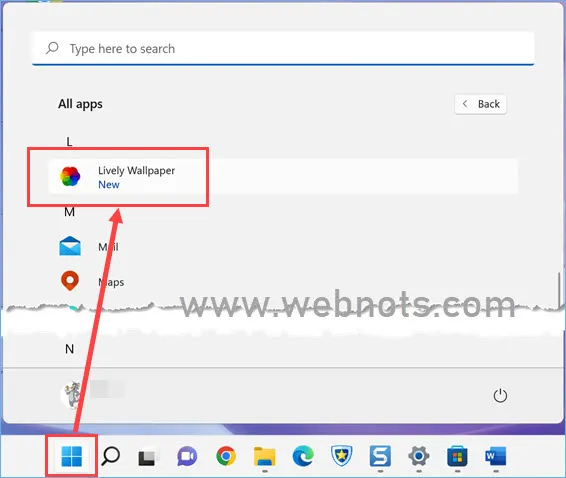 The app will show a list of free videos under "Library" section and simply click on any video in the list to set it as your live wallpaper.
The app will show "1 Active Wallpaper(s)" and click on the option in the title bar.
This will open customization options for the selected video wallpaper. If you have multiple monitors connected to your computer, select the display on which you want to show the video wallpaper. You can show it only on the selected display, span across screens or duplicate the wallpaper on all connected displays.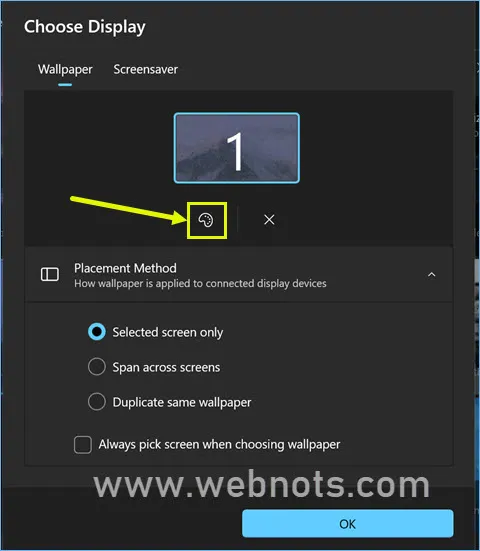 Click on the color palette icon to see additional customization options for setting the speed, intensity, zoom and brightness level for the video wallpaper.
If you want to use video wallpaper as your screensaver, click on the "Screensaver" tab and install an additional plugin. With the help of additional plugin, you can use the same video wallpaper as your screensaver also.
The app will be always running on the taskbar tray, you can right-click on the app icon and pause, close or change the wallpaper.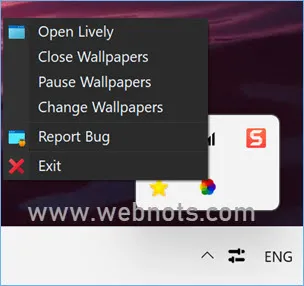 Set YouTube Video as Desktop Wallpaper
The app only provides handful of sample videos for setting as your wallpaper under "Library" section. These videos are collected from third-party sites like GitHub, CodePen, etc. The "Gallery" section is still under coming soon mode which you can expect to have additional gallery of videos. However, you can upload your own custom video or use YouTube video as your desktop wallpaper.
Click on "+ Add Wallpaper" option from the title bar.
On the pop-up that appears, click "Browse" button against the "Choose a file" option and add video file from your computer.
For adding YouTube video, simply copy the page URL of the YouTube video and paste it in the "Enter URL" text box and click on the arrow button.
If the video is supported, you will see the preview along with options to enter title, description and author details. The details you enter here will show on the app's library list. If you are adding many YouTube videos, then make sure to provide the title and description that you can easily remember.
Finally, click on the "OK" button to add the video to your library list.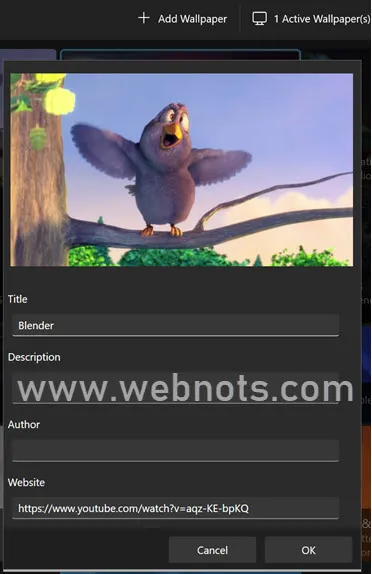 After the video is added in the list, simply select the video and set as your wallpaper.
Remember, the app will play audio as well. You can hide all the icons on the desktop (by right-clicking and disable "Show desktop icons" under "View" menu) and start watching the YouTube video as a movie on your desktop.
Additional Video and App Settings
Each video in the library list shows a three dots icon. Click on that icon to see additional options for deleting or editing the video. If the audio is disturbing, you can mute the video by selecting "Customize" option and then checking the "Mute" box.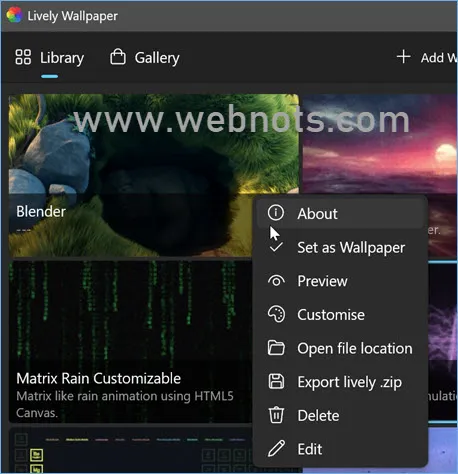 You can click on the "Open file location" menu to open File Explorer showing where the video files are stored on your computer.
The app also provides lot of settings which you can access by clicking on the gear icon showing on top right corner of the app screen. We recommend you to thoroughly go through these settings before start using the app and here are some of the important settings in the list:
General – toggle system tray icon, change dark or light theme or allow the app to use Windows theme settings. Select the wallpaper directory and set to play audio only when you focus the desktop. This will help to avoid unnecessary audio when you are doing work on some other app.
Performance –choose whether to pause the wallpaper when you have fullscreen apps running or focusing on other app, when on battery power/saver mode.
Wallpaper – select plugins for video player and stream resolution quality. If you have any problems in playing the video wallpaper, you can change the plugins here and check if that works.
System – set custom theme for your taskbar.
Final Words
Lively Wallpaper is a super cool app that helps to set video wallpaper in Windows 11 PC. You can use videos from supported third-party website URLs like YouTube or upload your own videos. The app allows you to play audio and pause the video when resource intensive programs run. You also have plenty of customizations to control playing behavior of the wallpaper video. However, playing video desktop wallpaper will consume the battery, hence avoid video wallpapers while you are on battery power.