Earlier days it was common to use the 25 characters product key to activate Windows. However, nowadays it is mostly with digital license linked to your device and Microsoft account. The problem comes when you are done with the old PC and want to migrate to a new PC. I have recently transferred the device license from Windows 10 to Windows 11 and here I will explain for those who are looking on how to do it.
My Example Case
Here was my situation:
I had an old Acer TravelMate with Windows 10 Pro installation with digital license. So, this device was added in my Microsoft account for a long time. However, I am not using this as I do have another Huawei MateBook purchased recently running on Windows 11 Pro digital license.
Recently, I bought an iMac and installed Windows 11 Pro using Parallels Desktop. The problem is that I need to activate Windows for using the system.
In theory, I need to purchase another Windows 11 Pro license which will cost $199.99. However, here is how I transferred my Windows 10 Pro license for Windows 11 Pro and activated the iMac.
Transferring Windows Digital License
As you may know, most Windows 10 digital licenses are eligible for Windows 11 updates. So, this was not a problem in my case at least. Here are the two things you should remember:
Make sure your old device is available in your Microsoft account and DO NOT REMOVE the device even if you are not using it.
The license transfer is under the same Microsoft account (not from one account to another).
1. Check Devices in Microsoft Account
It is super easy to confirm the details of all devices connected to your Microsoft account.
Go to Microsoft site and login with your account. Click your profile picture and select "My Microsoft Account" link to go to your online account.
Check under "Devices" tab and confirm that your old device is showing up.
You can click the device to see which OS is running on the device along with its serial number.
2. Login with Microsoft Account on New System
In case, if you are using local admin account on your new system, you should login with Microsoft account. This will help to add the new device in your account's list. For me, the Parallels Desktop app will automatically create local admin when installing Windows. Therefore, I need to login with Microsoft account to convert local account. You can do this from the "Accounts" section in the Settings app.
3. Activating Windows 11 on New System
Go to "System > Activation" section in Settings app on your new system running on Windows 11. You will see the "Activation state" as "Not active" and find an error mentioning "Windows reported that no product key was found on your device. Error code: 0xC004F213".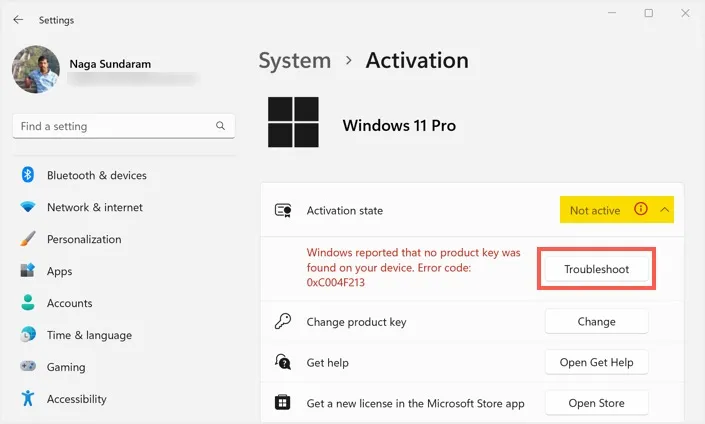 If you have a product key, click on "Change" button against "Change product key" option and activate your license. For transferring digital license, click on the "Troubleshoot" button. The blue color pop-up will show a misleading message that troubleshooting has completed and Windows can't be activated on the device. It will also ask you to open Store and purchase a new license. Ignore that messages and click on the "I changed hardware on this device recently" link showing last.
Now, you will see the devices available from your Microsoft account in the list. As you can see, it shows the Acer TravelMate Windows 10 Professional laptop from my account. Check "This is the device I'm using right now" option and click on "Activate" button.
This will remove the old device and reactivate the Windows 11 Pro license in the new device. You will see a "Re-activating Windows" message as shown below:
After successful activation, you will see a message showing "Windows is activated" and click on the close button.
You will still see the blue pop-up and close that as well.
4. Check Windows 11 Activation is Successful
Now, go to "System > Activation" section in the Settings app. You should see Windows 11 Pro and the "Activation State" showing as "Active" with a green check mark. This will allow you to edit the settings and customize the appearance of your Windows 11 as you need.
You can also go to your Microsoft account and confirm the old device is removed and replaced with the new device. In my case, the old Acer TravelMate is replaced with the new Parallels ARM Virtual Machine (and another in the picture is the Huawei MateBook).
Final Words
I was about to purchase a new Windows 11 Pro license and luckily tried the "Troubleshoot" button showing in the "Activation" section. This saved me $199.99 license purchase fee and perfectly replaced my unused device with the recent device also with the latest Windows 11 version. Hope, this article helped you to transfer Windows 10 license to Windows 11 on another PC without hassle. Though it was a Pro version transfer in my case, it should work in the same manner for Home edition as well.