Microsoft 365 package covers you whether want to create a simple text document, prepare slides for work or create a chart. You can purchase the yearly subscription from App Stores from your devices or through your Microsoft account. However, the problem comes when you want to switch the subscription from Apple App Store or Google Play Store to your Microsoft account as they are different vendors. In this article, we will check out the possible ways and the restrictions on switching Microsoft 365 subscription from Apple App Store or Google Play Store to Microsoft account.
Purchasing Microsoft 365 Apps from App Store
You can purchase the package from any of the Apple's app store like Mac App Store or iPhone App Store. Since Apple uses single account for managing your subscriptions, you can easily purchase the app from Mac and start using it on iPhone. This works as long as you are using the same Apple account on the devices. It is the same process if you purchase Microsoft 365 app from Google Play Store.
On Windows and other devices, you can sign in with your Microsoft account to use the same subscription without any problem.
Changing Subscription from Apple to Microsoft Account
When you purchase through App Stores, Microsoft account will show the apps are purchased from App Store. The problem comes when you are in one of the following situations:
You may want to use Microsoft account to manage all your subscriptions for managing your payments and devices easily.
You have activation problem when purchased from Apple or Google and do not want to go through the pain again.
You no more use Apple or Android device and want to switch back to Windows device based on Microsoft account.
You travelled to another country and changed to your Google Play or Apple ID's country. Since App Store subscriptions work only in country level, your subscription will expire and you will not be able to renew it from your account.
Grace Period After Subscription Expiry
Whatsoever is the reason, it is not possible to change the payment to Microsoft account when you are currently using the subscription. But do not worry, Microsoft offers plenty of grace period after the expiry for you to resubscribe. At that point, you can directly resubscribe to the same plan or choose to upgrade directly from your Microsoft account. For example, the subscription purchased through Apple Mac App Store was expired on 27 Sep 2022 as shown in the Microsoft account.
When you open Word or other app, it shows the subscription features will be removed on 6 Feb 2023. At first, the date was showing in December 2022, later in January 2023 and then moved to February 2023. So, we do not know how long the exact grace period for renewing Microsoft 365 subscription is. But it is 4+ months in this case when we choose to switch the payment to Microsoft account. The apps were working fine with complete access including features like Editor and Designer. All files in OneDrive were available and synchronized across devices without any deletion or warning.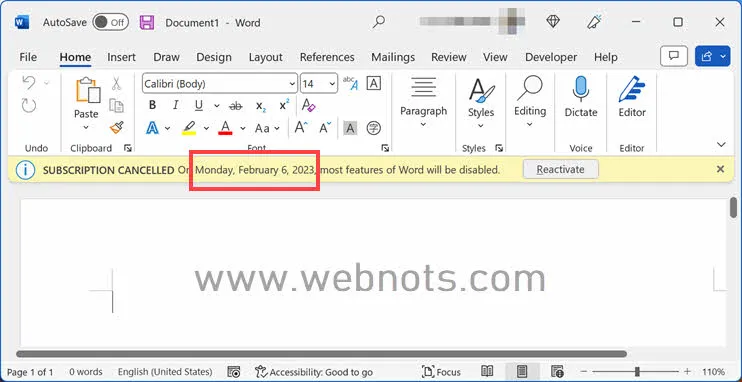 Make sure your Microsoft 365 subscription through other vendor is expired and follow one of the following methods to resubscribe from your Microsoft account.
1. Resubscribing from Microsoft Account
This is the easy way that you can directly renew the expired subscription from your Microsoft account.
Login to your Microsoft account and go to "Services & Subscriptions" section.
As mentioned above, you should see the subscription is expired with the date and click on "Resubscribe" link.
This will open the pop-up showing the plans for renewing or upgrading your existing subscription purchased through Apple or Google. Click on the "Renew now" button.
On the next screen, you will see the plan, price to confirm the details and click on "Next" button.
You will see a list of payment methods and select the method to pay your bill. Since the payment will be setup in a recurring mode, you need to authorize the setup. Remember, the available payment methods will change based on your country. For example, PayPal and Mobile phone methods are available in US when you pay in dollar.
Follow the instructions based on selected payment option and finish your purchase. You will see a confirmation and the subscription will be renewed from the date of your purchase. Note that the subscription will start on the new purchase date and NOT on the previous expiry date. This means you will get free usage during the grace period between expiry and renewal.
Click on "Install: Office apps" link showing in "Services & Subscriptions" section. Here, you can view all your previously signed in devices including Mac and Windows. As mentioned, you can use Microsoft 365 personal plan subscription on up to 5 devices at the same time by logging into same Microsoft account.
2. Change Subscription from Microsoft 365 App
You can also renew the subscription from the app without going to your Microsoft account.
First, make sure you are logged into correct Microsoft account in one of the apps like Word.
After the expiry of subscription purchased through Apple/Google, you will see a notification when opening Office apps. Click on the "Reactivate" button showing in the notification.
This will show you options for resubscribing your plan and click on "Buy" button.
You can either choose current plan to resubscribe or upgrade to higher plan. In our case, we will continue with the "Personal" plan and click on "Renew now" button.
On the next screen, select your payment method and finish the purchase to change the subscription to your Microsoft account.
Note: If you want to upgrade 2019/2021 single app purchase to Microsoft 365 subscription, then you can do that either from app or by going to your Microsoft account. After purchase, the license will be upgraded to annual subscription to use Microsoft 365.
Final Words
After purchasing, the apps may continue to show the notification with "Reactivate" button when you open. Simply sign out and then sign in to your Microsoft account from the app to synchronize the purchase as it may take some time for this to happen automatically. Henceforth, you can manage the subscription from your Microsoft account like downloading the apps on new devices, cancelling the recurring subscription or changing the payment method. Note that you can cancel the subscription within 30 days to get refund or cancel the subscription before 2 days to stop the recurring billing.