Content is the heart of any website whether you want to show advertisements or sell products. Though there are many online and offline apps are available for creating your content, Microsoft Word is an undisputable app when comes to word processing. The latest Microsoft 365 Word version has many features that removes the need of using plagiarism checker, grammar checker and many other tools. In this article, we will explore how to use Editor in Microsoft Word for creating best content copy that stands out from the crowd.
Note: You can download Microsoft Editor for free with limited options for spelling and grammar check. In this article, we will focus on Editor interface that comes free with the premium Word app in Microsoft Office 365 subscription.
Microsoft Editor Interface
Old Word versions had a simple tool for checking spelling and grammar mistakes in your document. This happens while you type and you can visually see the red and blue underlines whenever there are mistakes. However, the latest version of Microsoft Office 365 has a beautiful Editor interface which is completely different than previous spell checker used only for spelling and grammar. The new Editor interface offers comprehensive tools to check errors and fix them to produce professional copy. With the Editor interface, you no more need to be a content writing expert or need to hire writers for proofreading your articles.
There are many ways to access the Editor in Microsoft Word.
Simply press F7 key (you may need to press Fn and F7 key in some laptop models).
Click on the "Editor" button under "Home" tab which is available at the extreme right in the ribbon.
Go to "Review" menu and click on "Editor" icon.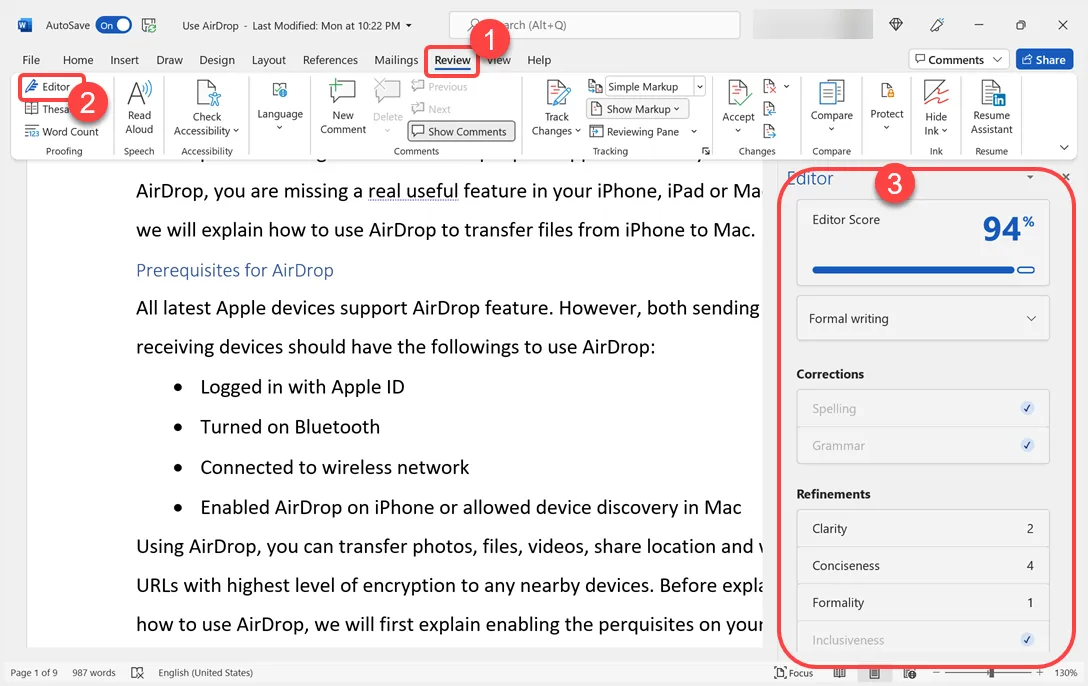 All the above options work in both Windows and Mac versions. In addition, you can access Editor by navigating to "Tools > Spelling and Grammar > Editor" from the top menu in Mac.
Microsoft Word Editor Options
Word Editor has the following sections to check errors and suggestions in your document:
Editor Score
Writing Style
Corrections
Refinements
Similarity
Readability Statistics
Note that some options in this Editor panel is only available in Windows version, we will explain the Windows Word version as a base for further explanation in this article.
1. Editor Score and Writing Style
Based on the quality of your document, Word will automatically calculate the score and show in the Editor. You need to have at least 100 words for Word to do this for you. The target score should be 100 which should be easier by fixing your mistakes in the document. Under the score, you will see the options to change your writing style. You can change the style to formal, professional, or casual and the Editor will recalculate the score accordingly.
The formal version will consider every aspect of the writing while other two options will ignore certain errors. For example, you will see a dotted blue line when you write "somewhat different" in formal writing while professional and casual styles will ignore this error. Make sure to select the correct style so that you will get appropriate suggestions.
2. Corrections
This is the typical section showing spelling and grammar errors in your document. You can click on the "Spelling" or "Grammar" section and go through the errors with suggestions. Editor allows you to select up to 3 languages and check the spelling mistakes.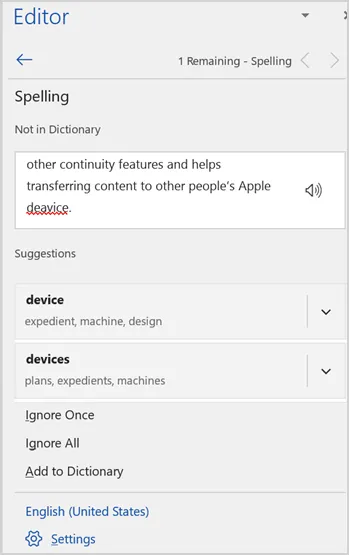 2. Refinements
Here, you can find suggestions related to clarity, conciseness, formality, inclusiveness, punctuation conventions, resume, sensitive geopolitical references, and vocabulary. As you can see, these suggestions will help you to make a clean and better copy which is not available with many popular writing tools.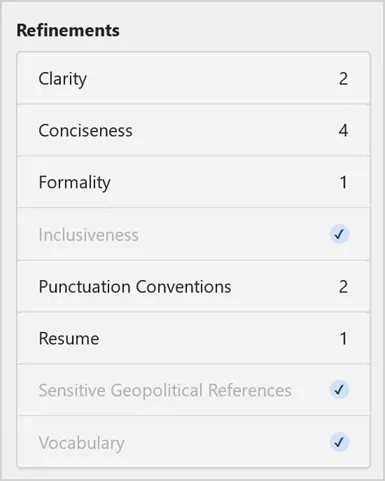 Click on each section to find the related words with suggestions. You can slowly improve the writing skills when proofreading multiple documents over period. For example, clarity section will show issues related to writing in passive voice. Though you will not find any suggestions for this issue you need to change your style and start writing in direct sentences.
3. Similarity Checker
This is the best part of the Microsoft Word Editor which allows you to check plagiarism in your article. Simply, click on "Similarity" option in the Editor interface and you will get the results. This check is based on Bing search, and you will see the % of similarity with number of occurrences.
You have the options to insert citation or correct the similarity to have plagiarism free content.
4. Readability Statistics
After finishing the checks with Editor, it will show the readability statistics along with different scores for your document. You can check the Flesch Reading Ease score and improve the readability for addressing specific audience group. However, you should first fix all the suggestions to get the readability statistics details.
Make sure you have enabled "Show readability statistics" option in "File > Options > Proofing" section under "When correcting spelling and grammar in Word".
You can also click on the "Settings" button showing against the "Writing Style" and setup the items Word should check in your writing.
Note: On Mac, the Editor interface will show you an additional "Insights" section which you can click on get the readability score.
Fixing Document Errors
Good part is that you do not need to go through the Editor error one by one for fixing them. What you can do is to check the document whether it shows any word with underlines in wavy red, wavy blue or dotted blue. No matter the color and style of the underline, simply click on the word. Editor will show you the type of mistake and suggest the options for fixing the mistake. For example, below is an example of a spelling mistake error showing with red wavy line. Clicking on the word will show suggestions with correct words and few additional options.
Each suggested word will have three dots at the end of it. Click on it to view options for reading aloud, spell out, change all and add to AutoCorrect. If you know the word is correct and do not want Word to show the error again, add the word to AutoCorrect or click "Ignore All".
Click on the three dots showing next to "Ignore All" option. Here you have useful options for only ignoring one instance of the word, adding the word to dictionary, show or hide the context and show or hide synonyms for each suggested word.
For example, the context will show the full sentence and the synonyms will show the meaning of each suggested word as you can see in the below image.
Fixing Errors from Editor Interface
If you do not have time to manually go through each item in your document, the best option is to quickly go through the Editor interface. It will show the consolidated errors with limited information, and you can replace the words with suggestion or ignore the check. However, we recommend you going through as explained above to learn proper writing style and improve your copy writing skills.
Note: sometime, you might have wrongly ignored a word from the Editor check. If you want to include the ignored words again, simply close and reopen the document and check the Editor again. The ignored words will appear again with suggestions in the Editor.
Final Words
Microsoft Word Editor is a super useful tool powered by AI and anyone can write a professional copy with the help of this. Best part is that you can check the plagiarism within Word document and insert the references if required. If you really like Word Editor, it is also available as Chrome and Edge extensions. You can install these extensions and do free spelling and grammar checks in any content you write in the browser like emails, messages, etc.