Showing a pop-up message is an effective way for website owners to attract user's attention. However, this can also easily annoy users if the pop-up is affecting the reading experience. Especially some sites will show a pop-up and redirect to you different domain that is not safe for work. If you fed-up with the pop-ups showing on the websites, here is how you can block them in Microsoft Edge browser.
Types of Pop-ups
There are many types of pop-ups to show based on time and user intent. Here are some of the popular types many website owners use:
Pop-ups open in a new tab or window to show content on a different page. Sometimes, these pop-ups may also redirect you to an illegal website resulting in security risk.
Show email subscription form when user trying to close the browser's tab or based on time on page. Site owners can send newsletters to the collected email owners.
Send push notifications immediately after the page loads asking to subscribe. Once you accept push notification request, you can get notification alerts directly on the browser.
Show display advertisements called interstitials when navigating from one page to another.
In this article, we will focus on blocking first type of pop-up which is the one Edge considers as a pop-up. Unfortunately, email subscription forms are considered as part of the webpage and hence they are not generally blocked. You can block push notifications from Edge settings and easily block interstitial ads using an ad blocker extension.
Block Pop-ups in Edge for All Websites
Follow the below instructions to get rid of all the pop-ups in Edge.
Launch Edge browser and press "Alt + F" shortcut keys to open the menu.
Select "Settings" from the list of menu items.
When you are in Edge settings page, go to "Cookies, and permissions" section from the left sidebar.
Scroll down to "All permissions" section where you can view list of items to set the permission.
Click on the "Pop-ups and redirects" option to open its setting.
On the next screen, turn the switch off against "Block (recommended)" option.
That is it!!! Edge will block pop-ups on all websites and you can read the content without interruption. You will see a "Pop-up blocked" notification in the address bar when Edge blocks a redirection or pop-up.

Allow or Block Sites Manually
When you are in "Pop-ups and redirects" settings page, you can also manually add the sites under allow/block sections. All what you need is to click the "Add" button against block/allow section. Input the site's URL in the text box and click the "Add" button.
You can enter the site name like https://example.com to block/allow that domain.
If you want to block including all subdomains, then you can use the wildcard input like [*.]example.com. This will block/allow pop-ups from the primary site example.com as well as from all subdomains like abc.example.com or xyz.example.com.
Changing Pop-up Settings for Sites
Let us say, you have wrongly accepted the request from a website to show pop-ups and wanted to change the settings later. When you are in the "Site permissions / Pop-ups and redirects" settings page, Edge will show the list of sites blocked and allowed under "Block" and "Allow" sections respectively.
Check under "Allow" section and click on the three horizontal dots showing against the site that for which you want to block the pop-up. Select, "Block" option from the list to remove the site from allowed section.
When you block a site from allowed section, Edge will automatically add it under "Block" section.
On other hand, you may also want to allow pop-up from a webpage that you have previously blocked. In this case, you can manage the setting right from the Edge address bar. When you see a "Pop-up blocked" message in the address bar, click on that message or icon. Select, "Always allow pop-ups and redirects from……" option to allow pop-up from that site.
When you allow the site, Edge will automatically add the site under "Allow" section in the pop-up settings section. So, you can anytime go to pop-up settings and manage them in bulk.
Using Ad Blocker to Block Pop-ups in Edge
You can block intrusive ads by enabling "Block on sites that show intrusive or misleading ads (recommended)" option under "Site permissions > Ads" section. However, this will not work effective as Edge will consider most of the ads showing are acceptable for users. In addition, sometimes Edge will not block the annoying pop-ups that open in a new window though you have enabled that setting for all sites. If you want to get rid of all pop-ups and ads, then the best option is to use an ad blocker extension.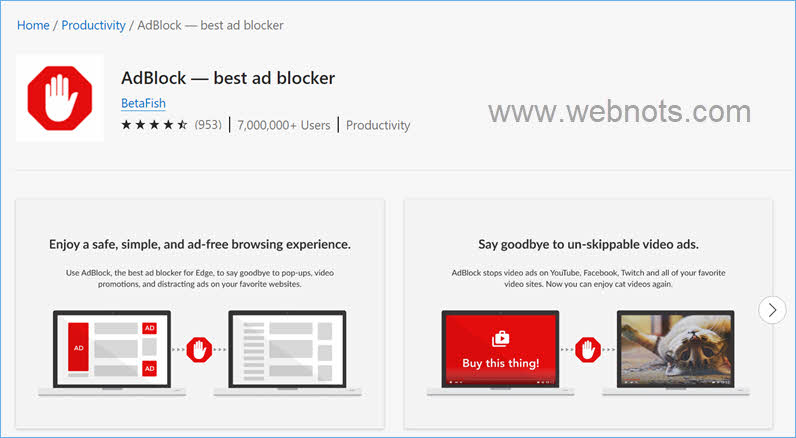 After installing, the extension will be automatically enabled and block ads and pop-ups on all websites including YouTube, Facebook, Twitter, etc.
If you want to allow the ads, click the puzzle icon showing next to the address bar and select pause option from the extension's settings.
You can also select "Extension options" to go to the extension's page on the browser and configure numerous settings like allowing specific sites.