Almost all websites use trackers to get various details from the visitors. It could be a social tracker, Google Analytics or tracking for showing personalized advertisements. In iPhone, Apple prevents apps from tracking across other apps and offers a privacy report to understand what is going on in your device. Similarly, you have lot of privacy features to protect yourself when using the default Safari browser in Mac.
Protecting Privacy When Browsing
The major privacy problem comes with the trackers and Safari browser by default prevents all the trackers from profiling you. There are various other privacy settings you can make use of to improve the privacy and keeping things clean when using the browser.
1. Disable Website Tracking and Use Safari Privacy Report
You can use the "Privacy Report" from the Start Page to get an overall idea of the trackers used by your favorite websites. You can open Start Page for new windows/tabs by going to "Safari > Preferences…" menu. Select "Start Page" option for both "New windows open with" and "New tabs open with". The Start Page in Safari will show look below showing number of trackers stopped by the browser in last seven days.
Click on the report to open complete Privacy Report details. You can find the websites and name of trackers along with the most used tracker. While Google preaches privacy and speed to others, they have the highest number of trackers with analytics and advertisements.  
You can also access the report through "Safari > Privacy Report…" menu.
Viewing Single Site Tracking Information
If you want to find the real-time tracking details for your favorite site, just open the site in Safari. Click on "Show the privacy report for this site" icon showing left to the address bar. You can click on the information icon to open the overall "Privacy Report" as explained above.
Disable Website Tracking
By default, Safari will prevent these trackers from monitoring browsing activities across other websites to collect your browsing information. However, you should enable cross-site tracking option in preferences for this. Otherwise, you will see the Start Page report is turned off with an option to "Turn On".
Similarly, individual sites will show the tracking prevention is disabled with an option to "Turn On".
You can simply click on the "Turn On" button from Start Page to enable Privacy Report and cross-site tracking. Otherwise, go to "Safari > Preferences" menu and then navigate to "Privacy" tab. Enable the checkbox for the option "Prevent cross-site tracking" against "Website tracking" heading.
2. Other Safari Privacy Preferences
The privacy preferences section of Safari also has few other settings to prevent tracking:
Hide IP address – enable this option to hide your IP address from the trackers.
Web advertising – you can disable this option to stop advertisers from tracking ad effectiveness though there are no personal tracking involved with this.
Make sure not to block cookies, otherwise you will not be able to use some of the websites like logging into forum or membership sites. If you have setup Apple Pay, you will see an additional option for allowing websites to check for Apply Pay and disable that option.
3. Use Blank Page for Windows and Tabs
Though Start Page is useful, it shows favorites, reading list and the top sites you have previously visited. If you have visited private websites, it will be annoying to see the big preview images whenever you open the browser. It will be an awkward moment especially when someone is standing next to you or participants accidentally see your screen when sharing in video conference.
Open Safari and press "Command + Comma" shortcut keys.
Go to "General" tab and select "Empty Page" option for "New windows open with" option.
Similarly, click on the dropdown against "New tabs open with" and select "Empty Page" from the list.
You can always open Privacy report from the privacy icon showing next to address bar as explained above.
4. Clear Browsing and Download History
If you are using a shared computer, then it is important to clear your browsing and download history. This will avoid others using the computer to view the websites you have previously visited from the history. For manually clearing history in Safari, go to "History > Clear History" menu. Select "all history" option from the dropdown and press "Clear History" button to permanently delete all historical data stored in your browser. However, you can also setup automatic deletion of history from the preferences section.
Open Safari and press "Command + Comma" shortcut keys to open preferences.
Go to "General" section and select "Upon successful downloads" or "When Safari quits" option for "Remove download list items".
Similarly, select "After one day" option for "Remove history items".
Though you can automatically delete the download history immediately, browsing history can be only deleted after a day interval.
5. Disable iCloud Sync with Other Devices
It is a good idea to sync your browsing activities with Mac, iPhone, iPad and Apple Watch. However, if your kid or someone is frequently using your iPhone then you should disable iCloud sync for Safari. This will prevent sharing the tabs and browsing history across devices using iCloud.
If you are using "Start Page" option, it is possible to disable sharing Start Page across all your devices. Click on the options icon showing at the bottom right corner of the Safari browser on your Mac. Disable "Use Start Page on All Devices" option.
For completely disabling iCloud sync, go to "Apple menu > System Preferences…" and click "Apple ID". The latest macOS version will have the Apple ID in the sidebar while older version will have grid type icons.
Select "iCloud" and disable "Safari" option from the list.
6. Disable Auto-fill Feature in Safari
As mentioned, you can disable websites checking Apple Pay under privacy preferences section. If you want to prevent other auto-fill options, then go to "AutoFill" tab in Safari preferences section. Disable all options to prevent auto filling of your contact details, passwords, credit cards and other details in website forms.
7. Manage Website Permissions
If you provided permissions for websites to access your microphone or camera, it is better to revoke the access when you are done. Go to Safari preferences and navigate to "Websites" section.
Select the item from the sidebar and change the permission to "Deny" or "Ask".
For setting permission for all websites, click the dropdown against "When visiting other websites" and select "Ask" or "Deny".
You can share the same permissions across devices (using iCloud) or disable that option to use separate permissions.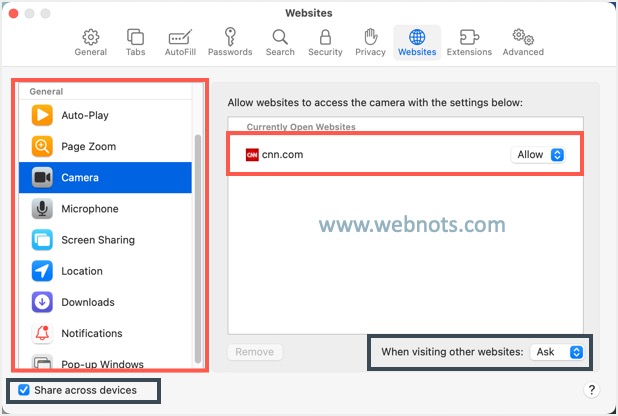 8. Block Ads and Pop-ups
If ads and pop-ups intrude your privacy, then you can disable to certain extent using default Safari setting. When you are in Safari preferences, go to "Websites" section. Select "Content Blockers" and disable for any specific website showing in the list. For disabling ads for all websites, select "On" for "When visiting other website" option. Similarly, you can disable pop-up windows and auto-play videos.
Unfortunately, default content blocking does not work effectively to block advertisements. The alternate option is to use third-party apps like Ad Blockers for preventing content trackers.
Go to "Safari > Safari Extensions" menu to open App Store and navigate to "Categories > Safari Extensions" section.
Search and install ad blocker or any other privacy extension.
After that go to "Safari > Preferences" section and navigate to "Extensions" section.
Enable the extension from the list to allow it for preventing ads and pop-ups.
9. Disable Search Suggestions and Change Search Engine
If you are worrying about Google tracking your activities with their search engine, then the good idea is to use DuckDuckGo.
Go to "Safari > Preferences" section and go to "Search" tab.
Click the "Search engine" dropdown and select DuckDuckGo or any other local option other than Google. Make sure to disable "Include search engine suggestions" checkbox showing just below the search engine name.
Also, disable all the options against "Smart Search Filed" to improve your privacy with Safari browser.
10. Use Private Browsing and VPN
If you want to privately browse without any tracking, then follow the below options:
Private browsing – Open Safari and go to "File > New Private Window" to start using incognito browsing. You can use normal and private windows at the same time, Safari will keep your private history separately and delete when close the window.
VPN – if you completely want to hide your identity while browsing, then you should go for a VPN. It helps to hide your IP address, browse anonymously and access blocked websites. However, make sure to use premium VPN services like ExpressVPN with zero log policy so that your browsing activities are not recorded by them.
Final Words
Websites track your activities for serving personalized ads and collecting personal information like IP address. Safari browser in Mac prevents content trackers used by these websites from profiling and offers summary with Privacy Report. You can make use of other preferences in Safari to improve the privacy while browsing. If the default options are not sufficient, then you can go for third-party extensions and VPN apps to browse anonymously.