Spotlight has been a very longstanding feature of macOS, offering an easy and convenient way to search for files and launch applications. You can see the results category wise including Photos, Help, Music, Mail & Messages, etc. However, Spotlight has limited functionalities and sometimes has indexing problems too. If you are looking for alternate options, then Raycast is one of the apps you should consider. In this article, we will explore how to use Raycast, a powerful productivity tool for macOS to replace the default Spotlight Search.
Spotlight Problems
Spotlight, a native macOS feature, has served users faithfully over the years by offering a convenient way to search for files, launch applications, and even perform basic calculations and unit conversions. While Spotlight is a handy tool for basic searches and launching applications, it falls short in terms of customizations, extensibility, and advanced functionalities. For power users and developers, these limitations can be frustrating. That's where alternate apps like Alfred and Raycast comes to the rescue.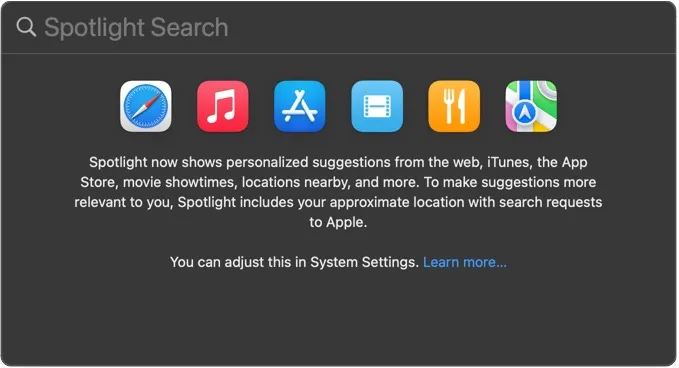 Though Alfred is also a good option, Raycast takes these functionalities to the next level. It provides unique set of features and customization options that make it an attractive alternative.
Why Raycast?
First, Raycast is not a simple search tool. It is a versatile productivity package designed to streamline various tasks on your Mac. Here's an overview of its key features:
Quick Access to Apps and Files: Raycast allows you to easily locate and launch applications, files, and folders using a few keystrokes. It outperforms Spotlight with its speed and accuracy.
Custom Shortcuts: The app allows you to create custom shortcuts to perform tasks like opening specific folders, executing scripts, or integrating with third-party services. (For example: You can set quick links for the URLs that need to be accessed quickly using keyboard shortcuts.)
Extensibility: You can extend Raycast's functionality by installing extensions from their Store. With more than 1K extensions, you can cover various use cases from project management to system control.
Clipboard History: You have a nice built-in clipboard history feature in Windows 11 which is missing in macOS. Raycast keeps a history of your clipboard, making it easy to access previously copied items.
If you are convinced, here is how to setup and use some of the prominent features of Raycast.
Setup Raycast
Go to the official Raycast website at and click on "Download for Mac" button prominently displayed on the homepage. This will initiate the download of the Raycast application.
Once the download is completed, locate "Raycast.dmg" file in your "Downloads" folder or in the default download location. Double-click on the Raycast.dmg file to open it. A new window will appear, showing the Raycast application icon.
To install Raycast, simply drag the Raycast icon into your "Applications" folder like installing any other app in Mac. This action will basically copy Raycast application file to your "Applications" folder.
You can launch the app with "Option + Space" which is the default keyboard shortcut. If required, go to "Raycast > Settings > General" section and change the default shortcut in "Raycast Hotkey" box. Unlike Spotlight, Raycast works based on commands. You can type the keyword(s) and select the command from the suggestions to start working with the app.
Note: You can also disable Spotlight Search and use its shortcut "Command + Space" for launching Raycast.
Quick File Search
Raycast's quick File Search feature is a lightning-fast way to locate your files. Type "file search" in the box and select "Search Files" command from the suggestion list.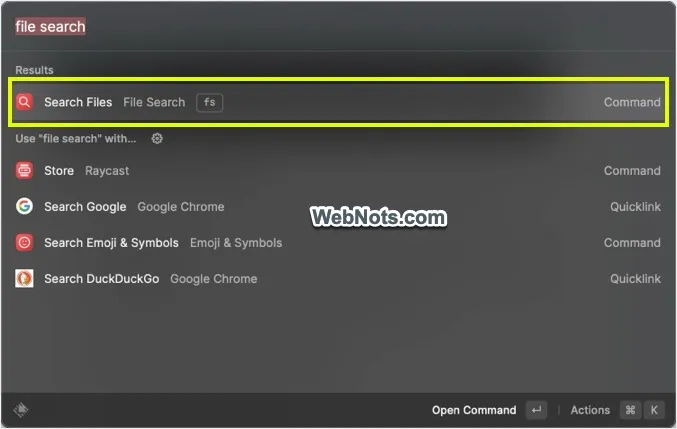 This will initiate file search mode and you can type the keyword(s) to filter the results. Raycast will instantly display matching files in real-time. As you can see, each file will show its meta data like location, size and created / modified date.
Clipboard History
Raycast conveniently maintains a history of your clipboard, granting you easy access to previously copied items. Here's how to utilize this feature:
Open Raycast, type "clip" in the search bar and select "Clipboard History" command.
The app will show a list of your recent clipboard items. Simply scroll through the items and press enter on the item to paste it in the application name showing.
If you have some items that you need frequently (for example: link to an important webpage), you can also pin those entries on the top of clipboard history. For pinning any item, press "Cmd + K" on your record to open "Actions" and select pin entry.
Integrating Third-Party Apps with Extensions
Apart from the basic features, Raycast also provides advanced configurations using extensions. One such feature is integrating with third-party apps like Visual Studio Code which will be very useful if you are working on a project. Here are the detailed steps for integrating VS Code with Raycast to showcase how it works.
· Type "store" in Raycast search bar and select "Store" command to access the Raycast store.
In the store menu, you will find a list of available extensions. Use search bar to find the "Visual Studio Code" item.
Click the "Install" button and Raycast will download and install the extension automatically.
After installation, press Escape key and return to the main Raycast window. To configure VS Code, type "extensions" and open "Extensions" command.
Under "Extensions" tab, select "Command" and search for "visual". You will see the complete list of commands available for Visual Studio Code extension.
Here you can configure hotkey, alias and enable / disable commands for VS Code extension. For example, we have set the hotkey for "Search Recent Projects" command to "Ctrl + [".
Whenever you need to launch a recent project, simply press "Ctrl + [" shortcut keys. Raycast menu will pop-up showing your recent projects.
In this way, you can easily access your favorite code editor by integrating Raycast with the Visual Studio Code extension. This is just one example of how Raycast can be customized to work with third-party apps, and there are many other extensions available to enhance your productivity in various domains.
Creating Custom App Shortcuts with Raycast
Raycast empowers you to define custom keyboard shortcuts for launching apps, making it effortless to launch your preferred applications quickly.
Open Raycast and navigate to the "Extensions" section.
Simply select an app and tap on "Record Hotkey" showing under "Hotkey" column.
Type a keyboard combination and assign your shortcut.
Once you've configured app shortcuts, you can instantly open your chosen applications using the assigned keyboard combinations. No more hunting through the Dock or Applications folder.
Conclusion
Raycast is a power packed tool for not only replacing Spotlight Search but elevates your Mac's productivity to new heights. Features like quick app and file search, clipboard history management and custom app shortcuts can easily help you to fine-tune your workflow. No matter whether you are a developer or normal Mac user, Raycast can significantly improve your daily tasks and boost productivity. If you really like the app, check the Pro version which is available from $8 per month. You will additional AI features, Cloud sync and custom themes.