All of us use copy paste functions in Windows computer using Control + C and Control + V keyboard shortcuts. However, copying multiple items can be a painful task. Have you ever frustrated after copying text or image to clipboard and realized that the previously copied content was lost? Well, the latest version of Windows 10 has an answer to your problem. You can enable clipboard history and keep multiple copied content in the clipboard.
Related: How to stop Windows 10 auto updates?
Copy Multiple Items
Clipboard History is a new function in Windows 10 operating system. It helps you to copy multiple items to clipboard and paste any of the previously copied item. You can copy text or images and paste on any application or document.
Enable Clipboard History in Windows 10?
First ensure you are using the latest version of Windows 10.
Press, "Windows Logo + I" shortcut keys to open Windows Settings app and click on the "System" option.
Navigate to "Clipboard" section on the right sidebar.
Turn on the slider against "Clipboard history".
Keyboard Shortcuts
Instead of going through the lengthy settings route, you can also activate the clipboard history using keyboard shortcuts. Press "Windows Logo + V" keys to open the Clipboard app.
After activating, you will see clipboard history is empty by pressing "Win + V" keys.
Keeping Multiple Items in Clipboard
Now copy any text or image content using "Control + C" shortcuts. Again press, "Windows Logo + V" keys to open Clipboard app. It should have the copied content.
Copy another image or text and press "Win + V" keys.
Click on any of the item in the clipboard to insert on the cursor position on your Word, Outlook, Excel or any other document. Remember, you can use any keys like "Print Screen", "Alt + Print Screen" and "Control + Print Screen" to copy screenshots to your clipboard.
Managing Items in Clipboard
As you know, keeping large number of items in clipboard will occupy the memory and affect your system performance. You can manage the items in the history as per your need.
Pinning Item in Clipboard
If you have copied any important content, then pinning it can help you to retain the item. Unlike pinning tabs on browsers, pinning item in clipboard history will not move the item to the top. However, Windows 10 will keep the item in the memory and allow you to paste after you clear the history or restarted the computer.
Press "Win + V" keys and in earlier Windows 10 versions you will see a small pin icon on the item and click on it. After pinning, the pin icon on the item will changed to the tilted position indicating you have pinned that item.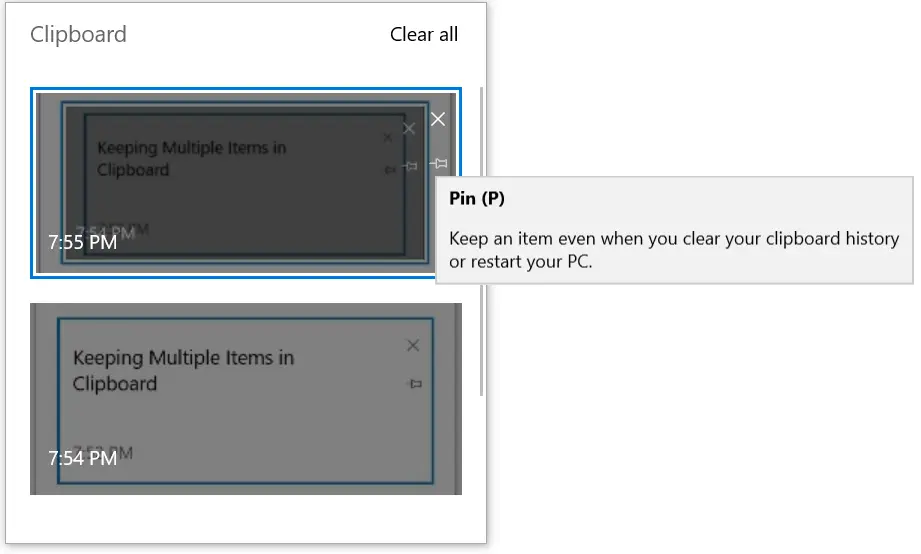 On later Windows 10 version, you can click on the three dots showing on the item and choose "Pin".
You can pin multiple items on the history to retrieve later. Similar manner, you can also unpin the items on your clipboard.
Related: How to fix copy paste issues in Windows 10?
Clearing Clipboard History
After completing your pasting work, we strongly recommend to clear the clipboard history to free up the memory. This will also protect your privacy if you have copied confidential or personal items on shared computers.
On earlier Windows 10 versions, press "Win + V" keys and click on the X icon on each item to delete that item. Click on "Clear All" option to delete all copied items with single click.
On later Windows versions, you can choose "Clear All" option by clicking on the three dots on any of the copied item.
Alternatively, you can go to the Windows clipboard settings page and clear the history except the pinned items.
Sync Clipboard Across Devices
If you have used Apple's Mac and iPhone, you can realize the importance of using the Continuity features like Clipboard, Handoff and AirDrop. These Continuity features allow you to continue the work across all your devices. Similarly, on Windows 10, Microsoft allows to share the clipboard history to copy content from one device and paste it on another device.
Go to settings page as explained above or using the menu "Start > Settings > System > Clipboard".
Look under "Sync across devices" section on the right side and select "Automatically sync text that I copy".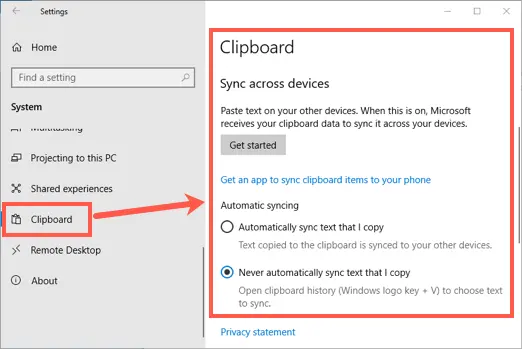 You need to login to all the devices using the same Microsoft account for this feature to work. Otherwise, you will not see any option under sync section and see a "sign in" link to login with your Microsoft account.
You can also select "Never automatically sync text that I copy" option. In this case, you should manually sync each clipboard item by pressing "Win + V" keys and choose "Sync" option.
After enabling the sync, you will see a "Get Started" button below that heading. You can click on the "Get Started" button and link your iPhone or Android phone for using the clipboard history.
Microsoft will send an app link that you can open with Edge app on your phone and use the clipboard feature. However, we this is not working when we write this article. Microsoft also mention, currently the sync will not work on phones and they will introduce this feature soon.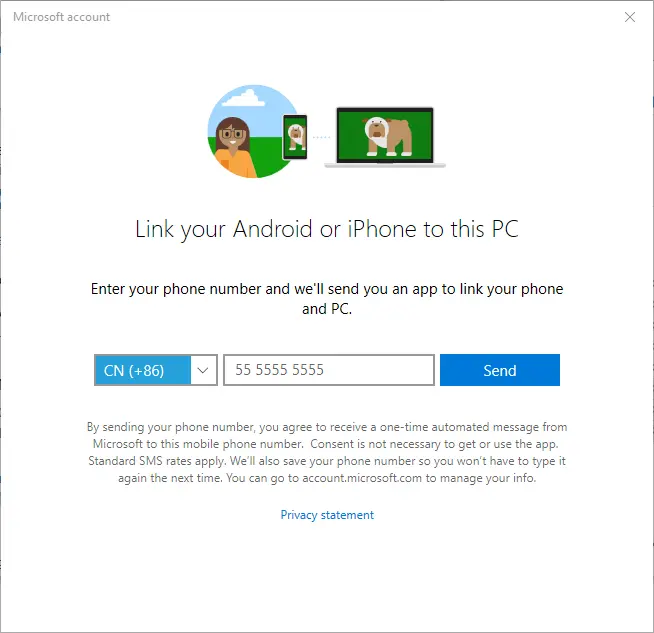 Remember, Microsoft will store the content on cloud account and share across your devices. If you have privacy concerns, disable the sync feature.
Limitations of Using Clipboard History
The clipboard history in Windows 10 has the following limitations:
You can copy up to 25 as the maximum number of clipboard items.
Each copied item should be less than 4MB in size and can be a text or image.
The sync feature only works for text items on the clipboard.
Sync also works only across computers and laptops. It does not work on mobile devices. This is contrast to Apple's continuity feature that works seamlessly across all devices.
Third-party Clipboard Manager Tools
If the default Windows 10 clipboard history is not sufficient, you can try one of the following third-party clipboard managed tools:
These tools offer similar function like Clipboard History to copy multiple items to clipboard. In addition, you can get additional options like custom text templates, password protection, screenshot tool, etc.