Spotlight is a default search feature that comes with macOS (and iOS). Though this is a powerful tool, it has lot of limitations. So, many Mac users prefer to use alternate options like Raycast or Alfred. If you have decided to use another app, it is good to disable the Spotlight feature in Mac.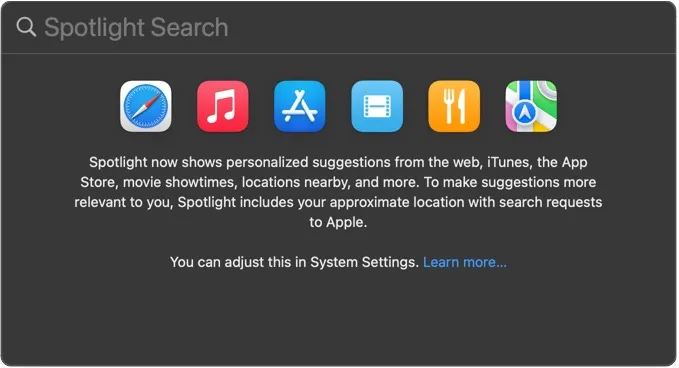 Disabling Spotlight in Mac
You can access Spotlight in one of the two ways:
By clicking the icon showing on top menu bar.
Otherwise, press "Command + Space" keyboard shortcuts to reveal.
So, disabling these options will prevent the use of Spotlight in Mac. Remember that Spotlight is not an app that you can access from "Applications" folder. Once disabled, you need to again reenable it to start using.
Note: If your Mac keyboard has a Spotlight key in the top function key rows, then obliviously you can't remove that.
1. Remove Spotlight Icon from Menu Bar
Click the Apple logo and select "System Settings…" menu.
When you are in Settings app, navigate to "Control Center" section in the left sidebar.
Scroll down to bottom on the right pane to reach "Menu Bar Only" section.
By default, Spotlight will have "Show in Menu Bar" option assigned in Mac.
Click on the dropdown and select "Don't Show in Menu Bar".
This will instantly remove the Spotlight icon from top menu bar.
2. Disable Spotlight Keyboard Shortcut
Go to "Apple logo > System Settings…" to open Mac Settings app.
Navigate to "Keyboard" section from the left sidebar.
Click on "Keyboard Shortcuts…" button showing on the right pane below "Keyboard navigation" section.
On the pop-up that appears, go to "Spotlight" section.
Uncheck "Show Spotlight search" option to disable the "Command + Space" keyboard shortcut.
Click "Done" button to close the pop-up and then close the Settings app.
Using Another App
Since you have disabled the default keyboard shortcut, it is possible to use the same "Command + Space" key combinations for another search app. For example, you can use Raycast app launcher with the same shortcuts instead of Spotlight search.
Install and activate the Raycast free version.
Open the app and press "Command + Comma" keys or go to "Raycast > Settings…" to open its settings.
Make sure you are in "General" tab where you can see the default "Raycast Hotkey" is set as "⌥ Space".
Click on the box and replace it with "⌘Space" and close the Settings window.
Now onwards, pressing "Command + Space" will open Raycast app instead of Spotlight.