Spotlight Search is an internal search engine comes with Apple devices like iPhone, iPad and Mac. You can press "Command + Space" keys or click the lens icon showing on the right section of top bar to open Spotlight Search. You can use these options to quickly find files and folders instead of every time opening Finder app for searching. Earlier, Spotlight Search used to show only files and folders in your Mac. However, now it will show all kind of unnecessary items like web results and nearby locations based on Siri suggestions. If you are annoyed with these distractions, here is how you can remove Siri suggestions from Spotlight Search in Mac.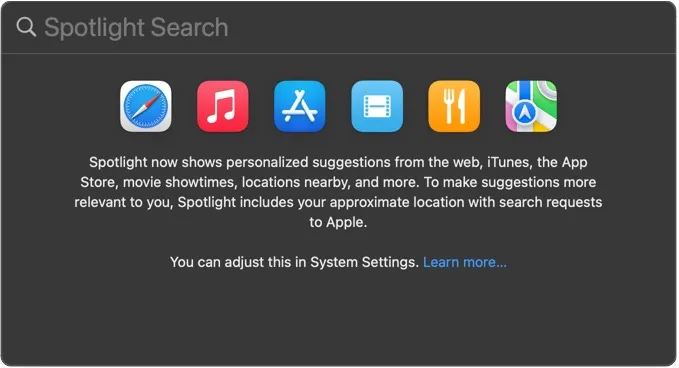 Why to Disable Siri Suggestions and Exclude Folders in Spotlight Search?
There are multiple reasons to disable unnecessary items showing in Mac search result:
Remove clutter from result and show only the relevant items from your Mac.
You do not want to get embarrassed to see a personal or private picture showing up unexpectedly.
Web results are pure distraction when you only want to search files on your Mac. Also, this information is sent to Apple for providing personalized results for you.
You may have some confidential or personal items and do not want to see them in Spotlight Search results.
1. Exclude Web and Other Siri Suggestions in Spotlight Search
Click on Apple logo showing on top left corner of your Mac and select "System Settings…" menu.
Navigate to "Siri & Spotlight" from the left sidebar.
Scroll down to "Spotlight" section on the right pane where you can see a long list of categories under "Search results" heading.
Simply uncheck "Siri Suggestions" category to remove all local and web-based suggestions based on Siri recommendation.
2. Exclude Photos and Videos from Spotlight Search
Disabling Siri Suggestions option will ONLY remove web-based pages, images and other recommendations. However, you will still see images and videos on your Mac in the results. For example, when I search for "maps" to open the app, it shows large number of images under "Photos From Apps" section.
To disable all images and videos from Spotlight search:
Go to "Apple menu > System Settings… > Siri & Spotlight" section.
Scroll down to "Search results" section and disable "Images" and "Movies" categories.
You can also disable other categories like "Presentations" and "Spreadsheets" to exclude them from search results. Here is a complete list of categories available for you to remove from Spotlight Search in Mac.
| | |
| --- | --- |
| Applications | Bookmark & History |
| Calculator | Contacts |
| Conversion | Definition |
| Documents | Events & Reminders |
| Folders | Fonts |
| Images | Mail & Messages |
| Movies | Music |
| Other | PDF Documents |
| Presentations | Siri Suggestions |
| Spreadsheets | System Settings |
| Tips | |
3. Exclude Folders from Spotlight Search Index
It is a good idea to exclude folders that have personal and confidential items that you do not want to show in search results.
As explained above, go to "Apple menu > System Settings… > Siri & Spotlight" section.
Scroll down to bottom and click on "Spotlight Privacy…" button.
On the "Privacy" pop-up that appears, click the + icon.
Browse and select the folder that you want to exclude.
Click "Done" button to finish and return to settings page.
I have added "Downloads" folder in the above example and henceforth no items from that folder will show up in the search results. Anytime you can go back to the "Privacy" pop-up and remove the folder by selecting and clicking on the – icon.
Note: You can exclude your username folder or entire Macintosh HD folder to kind of disable Spotlight Search in Mac.
4. Disable Only Location Based Siri Suggestions
Another problem with Spotlight Search is that it will also show nearby locations based on your current location. This feature also works based on Siri suggestions. Let's say, you want to use all other Siri suggestions but do not want to see location based results. In that case, you can disable Location Services for Siri to use in Spotlight Search.
Click the Apple logo and select "System Settings…" menu.
Go to "Privacy & Security" section and click "Location Services" option.
Scroll down to the bottom and click the "Details…" button showing against "System Services" option.
On the pop-up that appears, turn off the switch against "Location-based suggestions" option.
Note that the grey arrow symbol next to these services indicate they you're your location in past 24 hours.
Final Words
Whether it is Windows 11 or macOS, this internal search within computer has become the target point for showing lot of junk results in recent days. At least, Apple is not showing any ads in Spotlight Search as of now compared to Windows 11 (but that would be the next step). I hope now you can remove Siri Suggestions and other unnecessary results showing in Spotlight Search in Mac and work without clutter.