Most Windows keyboard layouts come with a Windows Logo key. Generally, this key appears next to left alt key and is also called Win key or Windows key. There are plenty of useful keyboard shortcuts available using Windows key combination. However, certain times it may annoy you to activate some shortcuts unintentionally. For example, your game may get disturbed when pressing Windows hotkeys. If you wonder, here is how to disable Windows key hotkeys in Windows 11.
Windows Key Hotkeys
You can use one of the below two methods to disable Windows key hotkeys. It means all keyboard shortcuts combination with Windows key will stop working. However, simply pressing Windows key will still open the Start menu as it is not a combination.
1. Disable Windows Key Hotkeys Using Group Policy Editor
The first method is the easy way; however, it works only with Windows Pro, Education or Enterprise editions.
Click the Search button in taskbar and type "run" in the box. Find Run app from search results and open the app. You can open also Run app by pressing "Win + R" keys. However, this shortcut combination will not work after disabling Windows key hotkeys.
Type gpedit.msc in the "Open" text box and press "OK" button.
This will open Local Group Policy Editor and select "Administrative Templates" option available under "User Configuration" section.
You will see a list of items on the right pane and double click on "Windows Components" option.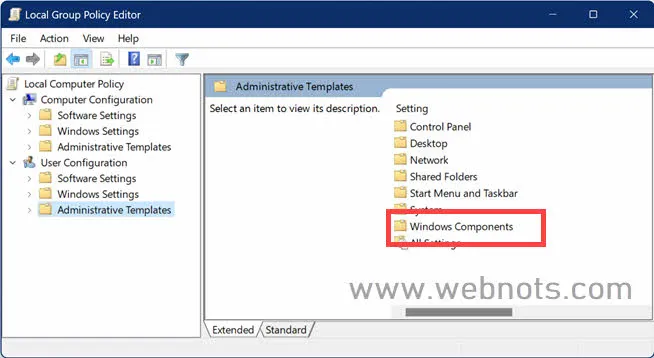 Now, double click on "File Explorer" to view its options.
Scroll down the list and select "Turn off Windows key hotkeys" policy. You can find the policy description clearly explaining Windows key shortcuts help to access common shell features like Win + E and you can disable it using this policy.
Go to "Action > Edit" menu or double click on the "Turn off Windows key hotkeys" policy or simply press enter key. This will open the editing option for that policy and select "Enabled" option. Press "OK" button to close the pop-up and close Local Group Policy Editor app.
At any point of time, you can go back to policy editor and edit the policy settings to "Not Configured" or "Disabled" to enable Windows key shortcut combinations.
2. Disable Windows Key Hotkeys Using Registry Editor
If you are using Windows Home edition or do not have access to policy editor, then the next option is to use Registry Editor. If you worry about editing registry entries, you can always take a backup for restoring purposes.
Press "Win + R" hotkeys to open Run prompt. Type regedit and press enter.
When you are in Registry Editor app, go to Computer\HKEY_CURRENT_USER\Software\Microsoft\Windows\CurrentVersion\Policies\Explorer section.
Under the empty area on right side, right-click and select "New > DWORD (32-bit) Value" option.
Name your DWORD as NoWinKeys as shown below. Double click on the newly created item and set the "Value data" as 1.
Click "OK" button to close the pop-up and close Registry Editor app.
Restart your computer and check all Windows key hotkeys are disabled.
When you want to enable Windows key shortcuts, simply set the "Value data" for the newly create item to 0 or delete the item from Registry Editor. Make sure to test after restarting your computer for the changes to take effect.