Microsoft Word is an indisputable leader among text processing applications. Whether you are using Windows or Mac, Microsoft 365 is an essential package for creating documents. However, Word can create some problems that can easily annoy you. Spelling and grammar checker not working issue is one of the problems many users face when using Microsoft Word. In this article, let us explain how to fox this issue and write error free content like a pro.
Spelling and Grammar Checker in Microsoft Word
Earlier Word versions used to check two things – one is spelling and other is grammar. Word used to underline spelling errors with red wavy line and grammar errors with green wavy line. However, the new AI powered Editor interface has slew of checks like clarity, conciseness, formality, etc. including similarly checker in addition to spelling and grammar checks.
However, sometimes Word will not highlight the spelling / grammar checks making you crazy. You will not find any red or green lines even though the document has misspelled words and the Editor will also show you 100% perfect without detecting the errors.
Here are some of the suggestions that you can try to fix the spelling and grammar checker in Microsoft Word.
Fix Spelling and Grammar Checker in Word
Let us explain the available options primarily for Microsoft 365 for Windows. We have mentioned the applicable cases for Mac version since features like repairing Word are only available for Windows.
1. Check Dictionary Language
Proofing tools in Word uses the language set in the dictionary for checking errors. If the document language is different than your dictionary language, you will see all the words are underlined with red or green wavy line. You can simply check the status bar in Word to confirm the language. Click on the language in status bar to change to English or the document's language to remove all the red/green underlines.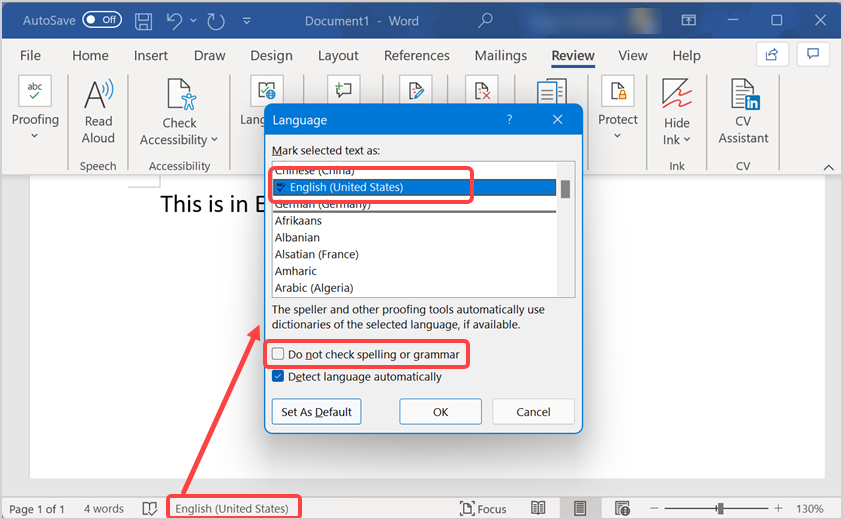 In addition, make sure the option "Do not check spelling or grammar" is not checked. Otherwise, Word will ignore the spelling and grammar errors leading to confusion that you might think it is not working. If the document language is not installed, Word will suggest installing the proofing language for checking spelling and grammar. You can opt to download and install the required language pack for proofing.
Good part is that this dictionary language check from the status bar option is available in Word app comes with Microsoft 365 subscription in Mac also.
2. Check Proofing Options
Word by default will check your document in the background while you type and suggest the spelling and grammar errors. If you have changed the default behavior, it will result in not showing any red or green lines while you type. In Windows, open "Word Options" dialog box  by going to "File > Options" menu in Word app. When you are in "Word Options", go to "Proofing" section and check the followings:
Auto Correction – if Word is not capitalizing the first word and correct other suggestions automatically, then click on "AutoCorrect Options…" button. Check your settings and make sure everything is fine as per your need.
Spelling Correction – by default Word ignores the words in capital, containing numbers and mark repeat words. You can check these options are set correctly in this section.
Spelling and grammar checking – this is the main section that you might have changed. Make sure to enable "Check spelling as you type" and "Make grammar errors as you type" options. This will enable Word to show red and green underlines instantly after you type the words.
Exceptions – under this section make sure the options "Hide spelling errors in this document only" and "Hide grammar errors in this document only" options. Ensure to check this especially when you have received the document from someone else. The author of the document might have set these options mistakenly or for different purposes.
In addition, check the proofing language under "Language" tab from the sidebar and make sure you have the required language installed for doing spelling and grammar check.
In Mac, you can check these settings under "Spelling & Grammar" section by going to "Word > Preferences…" menu.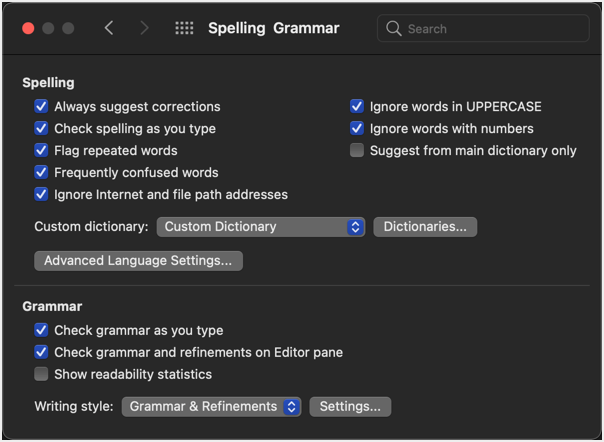 Note: Changing settings may affect other Office applications like Outlook. Therefore, make sure to change the options with care.
3. Disable Add-ins
There are large number third-party add-ins available for Word Windows version. These add-ins can easily create problems with the default spelling and grammar checker. When you are in "Word Options" section, go to "Add-ins" tab. Select the type of add-ins from "Manage" dropdown box and click "Go…" button. Simply, disable the add-ins by unchecking the box. Now, check the problem is fixed and spelling checker is working. If yes, you can enable the add-ins one by one to find the actual one causing the problem.
4. Check in Safe Mode
Though the above method works to find the problematic add-in, it may take long time. The alternate option is to open Word in a safe mode which will automatically disable all installed add-ins.
Press "Win + R" to open Run command prompt.
Type winword / safe and press "OK" button.
This will open Word in Safe mode and check the spelling checker is working.
If it is working, you can follow the above explained method to find and disable the add-in that causes the problem.
5. Repair Microsoft Word
If none of the above methods work and you also feel Word is not working properly on your computer, then you can use repair option to fix all problems in your installation. However, if you have Microsoft 365 subscription, this will repair the entire Office installation that includes other Office apps.
Press "Win + I" keys to open Windows Settings app.
Go to "Apps" section and click on "Apps & features" tab.
Here you will find all installed apps in your computer. Search for 365 or Word to find the Office installation.
Click on the three dots vertical icon and select "Modify" option.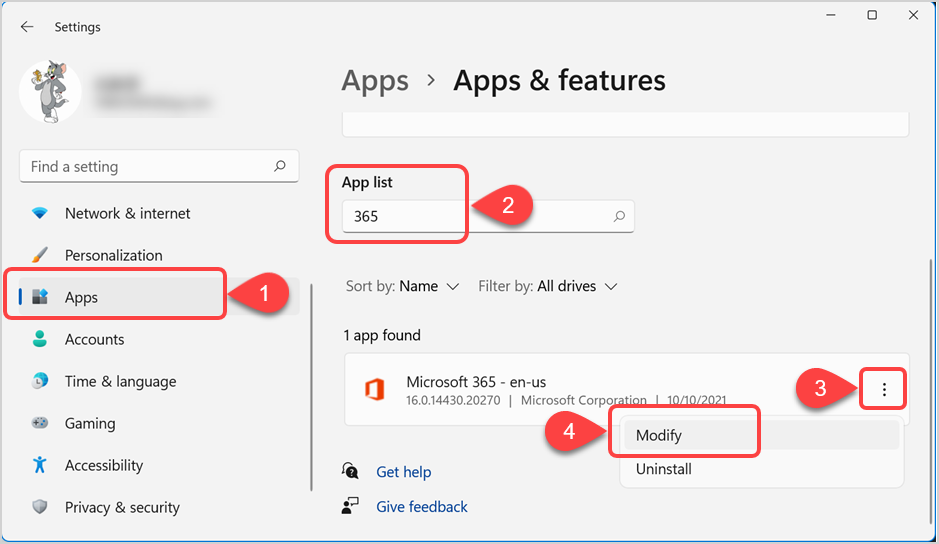 This will open Office Repair wizard. First select "Quick Check" and click on the "Repair" button to start repairing the installation. If this did not fix the issue, then try "Online Repair" and follow the instructions to repair your Office applications.