Microsoft revamped Windows 10 and planned to release the next version Windows 11 by end of 2021. However, you can register for Windows Insider Program to install and test Windows 11 features on supported computers. Windows 11 introduces a new feature called widgets. In this article, we will explain how to manage widgets in Windows 11.
Windows 11 Widgets
If you are aware, Apple introduced widgets in iOS to add custom widgets in notification area and home screen. This is helpful to quickly view weather, photo stream, stock market data, etc. Windows widgets is a similar feature that shows useful widgets in a pop-up when you want to view them. At this moment, we see there are few default widgets available from Microsoft. However, you can expect many more useful widgets will be available when third-party developers integrate this feature with their apps.
Open Widgets in Windows 11
By default, Windows 11 will show a shortcut to widgets in the taskbar. You can click the widgets shortcut in taskbar to open the widgets area.
If you are not seeing the shortcut in the taskbar, you can enable this from the settings app.
Press "Win + I" to open Windows Settings app.
Go to "Personalization > Taskbar" or use the search box to search and go to taskbar settings.
Enable "Widgets" under "Taskbar items" to show the shortcut icon in the taskbar.
If you do not want to clutter the taskbar, press "Win + W" shortcut keys to open the widgets in Windows 11. This will slide out the widgets on your screen as shown below: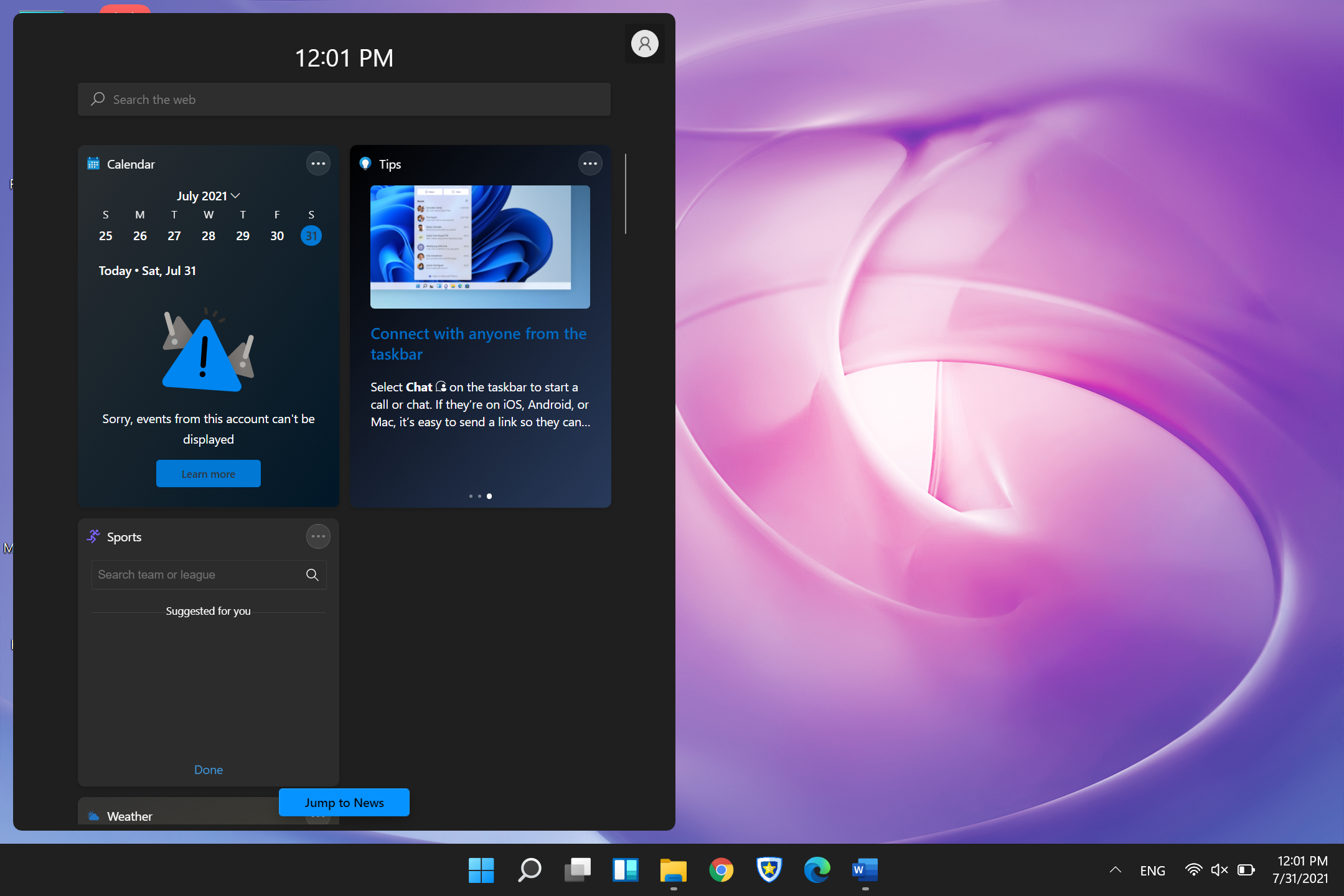 Adding and Arranging Widgets
The area will show some default widgets and you can add custom widgets from the available list. Click on the profile icon to open "Widget Settings" pop-up screen. You can view the list of available widgets under "Add Widgets" section.
Click the + icon showing against a widget you like to add it in the widgets area section. Remember, the list of available widgets varies depending on your country and the apps installed on your computer. Here are some of the widgets available for you, all from Microsoft at this point of time.
Calendar from Microsoft Outlook app
Weather from Microsoft Weather
Tips from Microsoft Tips
Traffic from Microsoft Maps
Sports from Microsoft Sports
Photos from OneDrive
Watchlist from Microsoft Finance
Family Safety from Microsoft Family Safety
Esports from MSN Esports
To Do from Microsoft To Do
After adding a widget, you can drag and move the widgets to rearrange them. In this way, you can keep your favorite widgets on top and move remaining items down.
Remove and Customize Widgets
If you do not like a widget, click on the three dots settings icon showing on that widget. Select "Remove widget" to delete the widget from the area. Remember, this will only delete the widget from the area, and you can anytime add the same widget from the "Widget Settings" section.
Similarly, you can customize the look of the widget if it offers additional settings by selecting "Customize widget" option. For example, you can change the location in weather and calendar widgets.
It is also possible to change the size of the app from the available large, medium, or small options.
Managing Top Stories and Feed
The widgets area will also show you two more items below the widgets – top stories and news feed. These items are syndicated from specific version of MSN website for your country. If this is annoying, click on your profile icon to open "Widgets Settings". You can manage the feed by clicking on the "Manage your news and interests" link showing under "Microsoft News Feed". This will take you to the feed page of MSN website where you can enable or disable your interests.
In addition, you can do the followings with each card showing in top stories and feed section.
Share and like individual article from top stories.
Click on the three dots settings on individual card and save the item for reading later. The saved items will be stored in your feed settings on MSN website.
You can hide a specific story or choose to hide all stories from particular publisher.
Similar to top stories, you can also hide share and like individual feed item.
Final Remarks
Widgets can change the way users use Windows 11. It is more like a mobile interface and increase productivity especially with touch interface. You can expect many more widgets from third-party developers to get things done quickly right from the widgets area without opening the app.