Microsoft Office applications are the most popular even on macOS. Literally all computer professionals use Word, Excel, PowerPoint or Outlook on daily basis. Sometime, these applications may work slow or crash frequently. One of the easy ways to continue working or troubleshooting is to start the app in safe mode. In this article, we will explain how to open Office applications in safe mode. You can use the process for all Office applications like Word, Excel, PowerPoint and Outlook.
Related: How to slow Word when opening and typing in documents?
Why Safe Mode is Useful?
Safe mode is useful in many situations.
When the app crashes in opening, you can use safe mode to open the app and create new document or send email.
Open corrupted files that do not open with normal mode.
It is possible to open normal and safe mode in parallel. This is useful to open the corrupted documents using safe mode while using normal model for other documents.
How to Open Word, Excel, PowerPoint and Outlook in Safe Mode?
If you are not able to open the application, then try one of the following method to launch with safe mode.
1. Using Run Prompt
This is an easy way and works perfectly in all Windows versions.
Press "Win Logo + R" shortcut keys to open Run prompt.
Type one of the below commands and hit enter.
| Office Application | Safe Mode Command |
| --- | --- |
| Word | winword /safe |
| Excel | excel /safe |
| PowerPoint | powerpnt /safe |
| Outlook | outlook /safe |
| Publisher | mspub /safe |
| Visio | visio /safe |
| Access | msaccess /safe |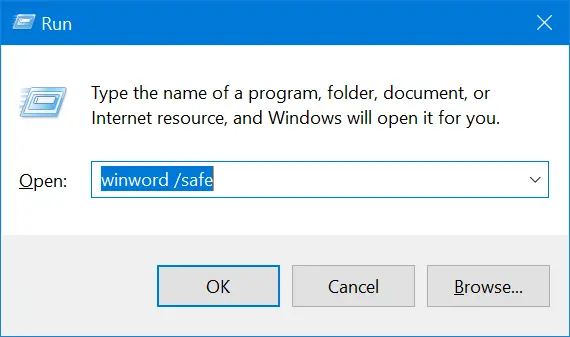 Related: How to slow Excel and speed up your spreadsheet work?
2. Using Windows or Cortana Search
Instead of using Run prompt, you can type the application name with .exe extension in Windows search box. Add /safe suffix and choose the "Run command" to open it in safe mode.
| Office App | Search Command |
| --- | --- |
| Word | winword.exe /safe |
| Excel | excel.exe /safe |
| PowerPoint | powerpnt.exe /safe |
| Outlook | outlook.exe /safe |
| Publisher | mspub.exe /safe |
| Visio | visio.exe /safe |
| Access | msaccess.exe /safe |
Basically, this will open the application using the same Run command prompt.
3. Holding Control Key
Microsoft suggests you can open Office applications in safe mode by holding control key.
First, you have to find the shortcuts for the applications or find the executable file's location in your computer.
You can check in the Start menu, which should generally contains tiles or menu items for Office applications.
Hold control key and click on the app shortcut.
If you do not find the shortcuts, type "winword.exe" (or other applications name with .exe extension) in the Windows search box and choose "Open file location" option.
Generally, you can find the executable files under "C:\Program Files (x86)\Microsoft Office\Officexx" (where xx is your Office version).
When you find the .exe file, press control key and double click on it.
You will see a prompt like below informing you "You're holding down the CTRL key. Do you want to start Word in safe mode?"
Choose "Yes" and you will see the application opens in safe mode.
4. Using Desktop Shortcut
For this method, you have to create a desktop shortcut for the application you want to open using safe mode. As explained above, locate the executable location on your computer and follow the below instructions.
Right click on the executable application file and choose "Send to > Desktop (create shortcut)" option.
This will create a shortcut icon on your desktop.
Again, right click on the shortcut icon on your desktop and select "Properties". Alternatively, you can highlight the icon and press "Alt + Enter" keys to open the "Properties" dialog box.
Go to "Shortcut" tab and click in the "Target" text box.
Add /safe at the end of the file path in the target.
Click "Apply" and "OK" buttons to save your changes.
Double click on the desktop shortcut icon to open the application in safe mode.
Related: How to slow PowerPoint and speed up your presentation?
Opening Corrupted Files in Safe Mode
When you have successfully opened the app in safe mode, go to "File > Open > This PC" menu. Search the corrupted file in your PC and open with the app.
Quitting Safe Mode
Office applications can work in safe and normal modes in parallel. This means you can open two files one in normal mode and other in safe mode. Simply close the file in the safe mode window to quit. From next time onwards, the app and the file will automatically open in normal mode.
What Will Not Work in Safe Mode?
Remember, safe mode is for emergency use and mainly for troubleshooting purposes. Therefore, it will not have all the features of the app like normal mode. However, the situation differ for each application and below are some of the general limitations of safe mode.
Most of the option are disabled like toolbar customization settings in safe mode.
It is not possible to save changes to template documents.
You will be logged out of your account and cannot see recent file history.
AutoCorrect and auto save functions will not work in safe mode.
You cannot use command line functions with safe mode except /a and /n.
You cannot open the documents with permissions.
Add-ins and Safe Mode
Many believe Office applications will not load add-ins with safe mode. However, this depends on the situation.
Add-ins will load when you manually launch the app in safe mode. Office applications will disable the safe mode automatically when you open a good file that do not have any problem.
Whenever you try to open a corrupted file, Office applications will open it in automated safe mode by default. You can see a prompt showing the reason for opening the file in safe mode. In this case, mostly there could be an add-in causing conflict or incompatibility. You can go to add-ins section and check the disabled add-ins to find the root cause.
Go to "File > Options" menu and click on "Add-ins" section.
Click on the dropdown against "Manage" and select "Disabled Items".
Click "Go…" button.
You can see the list of disabled add-ins in the pop-up window.
This will help you to find which add-in is causing trouble. If multiple add-ins are listed, enable one by one and check whether you can access the file properly. If safe mode does not help in launching the app or opening the file, you may need to uninstall and reinstall Office package.
Note: Windows safe mode and Office safe mode are completely different. If your computer is having problem, then launch your Windows operating system in safe mode to troubleshoot the issue. Check out our separate article to learn more about using safe mode in Windows.