Windows operating system has many features that we do not use many of them. However, learning a simple tip or trick can change the way you use your computer on daily basis. In this article, we will list down 21 tips for Windows 10 users to improve your productivity.
21 Power Tips for Windows 10 Users
Use virtual desktops
Use Windows Ink Workspace
Calculator options
Focus assist
Magnifier for zooming
Focus on working app
Hide desktop icons
Arrange working apps
Reduce photo size
Use address bar in taskbar
Pin apps in jump list
Use Win Logo key shortcuts
Windows power user menu
Enable dark mode
Print to PDF
Setup AutoCorrect
On-screen keyboard
Search content quickly
Use offline maps
God mode
Multiple clipboard
1. Virtual Desktops
Are you are struggling with managing multiple apps on the desktop? Virtual desktops are easy way to keep apps in multiple desktop screen and follow your workflow without interruption.
Click on the "Task View" icon on your taskbar.
Click "New desktop" option shown on the top left corner.
Select the desktop you want to work and follow different tasks on different desktop screens without interfering.
Again, click on the "Task View" icon to switch between desktops.
2. Windows Ink Workspace
Using Windows Ink, you can quickly access apps like sticky notes, sketchpad and screen sketch. Click on the Windows Ink Workspace icon on the taskbar tray to access these apps.
3. Switch Modes in Calculator App
Calculator app is much more powerful than what you think. You can do multiple tasks like data calculation and conversion by toggling the mode. Click on the three horizontal lines icon on the top right corner of Calculator app to switch modes.
Standard – this is default mode you can use for basic mathematical calculation.
Scientific – for advanced calculations.
Programmer – for binary code.
Date Calculation – find differences between any dates and add or subtract dates.
Converter – convert currency, length, volume, length, weight / mass, temperature, energy, area, speed, time, power, data, pressure and angle from one unit to other. For example, you can convert degrees to radians using angle converter.
4. Focus Assist
Did you ever get distracted with the popping email notifications when doing important task? Windows 10 has a solution for distraction free working. Focus assist (earlier known as Quiet Hours) allows you to work without distracting notifications.
Click on the "Action Center" icon on the bottom right corner of the taskbar.
Enable "Focus Assist" by clicking on that button.
You can click again to toggle from on priority to alarm only mode.
5. Using Magnifier
Magnifier is part of the Ease of Access Center that allows you to magnify the screen. You can use Magnifier to zoom particular section of a screen for better visibility or readability. Good part is that you can quickly enable or disable Magnifier with shortcuts.
Press "Win Logo + Plus" keys to launch Magnifier.
Turn it off by pressing "Win Logo + Esc" keys.
If you want to turn on Magnifier with mouse or touchpad, go to "Start > Settings > Ease of Access > Magnifier".
6. Focus on App
You can stay focused on one app by minimizing all open apps quickly.
Click and hold on the title bar of the app you want to focus.
Joggle the app up and down to minimize all other open apps.
You can again joggle the app to open other apps.
7. Hide Desktop Icons
When sharing screen with others, it is a good idea to hide all your personal stuff on the desktop.
Right click on the desktop.
Disable "Show desktop icons" under "View" menu.
This will instantly hide all your desktop icons.
You can again enable the option to bring the icons back.
8. Arrange App Side by Side
Sometime you need to work on two apps in parallel. If you do not have two monitors, Windows allows you to arrange the apps in parallel on single desktop screen.
Move the app with your mouse to the right or left side of the screen.
Windows will show a transparent boundary to split the screen equally.
Leave the app to occupy that section.
You will show all other open apps on the other section.
Click on the app you want to view on other section.
In addition, you can right click on the taskbar to arrange applications in cascading, side-by-side and stacked manner.
9. Resize Photos Quickly
Windows 10 comes with an in-built Photos app that you can use for quick picture editing.
Launch Photos app and open the picture you want to resize.
Right click on the picture and select "Resize" option.
Adjust the size and save your picture.
10. Add Address Bar in Taskbar
With Windows 10, you do no need to open the URL every time by opening the browser. You can easily add the address bar to taskbar and open webpages quickly.
Right click on the taskbar and enable "Address" option under "Toolbar" section.
You can directly paste the URL to open the page using default browser (generally Edge).
It is also possible to type search query in the address bar to get search results from your default search engine.
You can anytime disable the address bar from the task bar.
11. Pin to Jump List
Jump list is a list of recent files you can view by right clicking the application's icon on the task bar. You can hover over the item and pin it to the jump list for quick access. Pinned items will appear on top of jump list under "Pinned" section. You can unpin the item to move the "Recent" section.
12. Win Logo Quick Shortcuts
In our earlier article, we have provided list of Windows Logo key shortcuts. Here are some most useful shortcuts:
Win + D – Show or hide desktop
Win + E – Open File Explorer
Win + I – Open Settings app
Win + K – Show Connect options
Win + L – Lock computer
Win + M – Minimize windows
Win + Shift + M – restore minimized windows
Win + P – Show Project options
13. Window Power User Menu
The default Start menu does not show many useful links like Device Manager. Press "Win Logo + X" keys to open power user menu that contains quick access to various features. You can easily access Command Prompt or PowerShell, Sign out menu and system settings.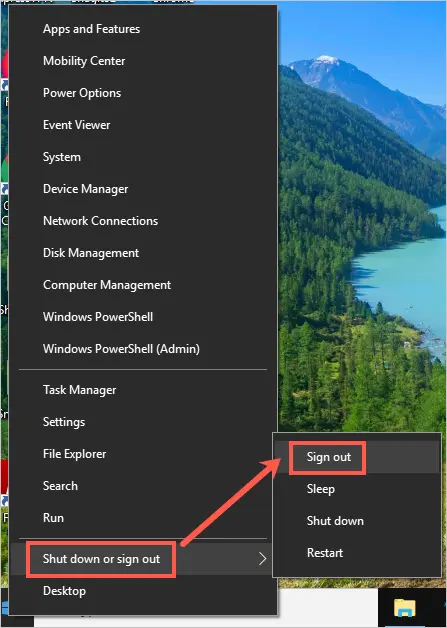 14. Dark Mode
If you are bored with the white and grey appearance of apps, Windows 10 allows you to switch the appearance to dark mode.
Go to "Start" button and click on "Settings" option.
Click on "Personalization" and got to "Colors" section.
Choose "Dark" option under "Choose your default app mode".
15. Print to PDF
Most of us do not use printer with our computer. However, we would like to take the copy of documents in PDF format for future use.
After opening a file, go to "File > Print" menu or press "Control + P" shortcuts to open print options.
Select "Microsoft Print to PDF" as your printer and click on "Print" button.
Type a name for your file and save the file in PDF format.
16. Use AutoCorrect
Windows helps to you automatically correct the spelling mistakes or highlight the misspelled words.
Press "Win + I" keys to open Settings app.
Go to "Devices > Typing" section.
Enable "AutoCorrect misspelled words" option under "Spelling" section.
This will work on the operating system level though you can setup AutoCorrect separately in Microsoft Office documents. Open a Word document or PowerPoint presentation. Go to "Files > Options > Proofing > AutoCorrect Options…" and setup your preferences.
17. On-Screen Keyboard
Windows 10 offers a soft keyboard for typing when you do not have physical keyboard. Though this is an accessibility feature, you can use this when some keys are not working on your keyboard or with touch screen laptops.
Press "Win Logo + S" keys to open Windows Search.
Type "on-screen keyboard" and open On-Screen Keyboard app.
Alternatively, go to "Settings > Ease of Access > Keyboard" and enable "Use the On-Screen Keyboard" option. You can also toggle the soft keyboard using "Win Logo + Control + O" keys.
18. Windows Search
Windows offer powerful search function. You will have either Windows or Cortana Search depending upon your location.
If you have Cortana, press "Win Logo + Shift + C" keys to open the search. You can talk and search files on your computer.
For Windows Search, press "Win Logo + S" keys and type search keywords.
In addition, Microsoft Office applications offer an in-built search function. You can type any keyword right on the title bar in the text bar that says, "Tell me what you want to do…".
19. Offline Maps
Do you know that you can download the maps to use when you are offline? First, you have to download the maps; the Maps app will use the download offline map when you are not connected to internet.
Press "Win Logo + I" settings and open Widows Settings app.
Click on "Apps" and go to "Offline maps" section.
Click on "Download maps" to choose the location map you want to download.
The offline map can help when you are searching for local shops and directions.
20. God Mode
Windows 10 assigns a Global Unique Identifier (GUID) key for each application. You can create folders with this GUID to duplicate the functions of the app. God Mode is the popular Master Control Panel for duplicating Control Panel settings.
The name "God Mode" has no real meaning; you can call it anything else you want.
21. Cloud Clipboard
With Windows 10, you can copy multiple items and keep all of them in cloud clipboard.
Go to "Settings > System > Clipboard" and enable "Clipboard history" option.
Copy two or three items. You can copy text as well as images.
Press "Win Logo + V" keys to open cloud clipboard that contains the list of copied items.
Click on the item to paste.
Final Words
We hope you enjoyed reading these tips and tricks for Windows 10. Using features cloud clipboard will resolve your copy / paste problems and permanently change the way you work.