Microsoft Excel is the best spreadsheet processing apps available as part of Microsoft 365 apps. By default, Excel will save the files in .XLSX format which may not be compatible when opening the file with other platforms like macOS. For example, Numbers app in Mac will show missing fonts and distort the sheet's content created in Windows platform. To avoid all formatting and unauthorized editing problems, the best option is to convert your Excel into PDF format before sharing with others.
Sending Excel as PDF in Email
There are multiple ways to convert your file depending upon whether you want to save PDF file or directly send email without saving the PDF on your system. Generally, users export or save the file as .pdf extension and then open email app to attach the file. However, you do not need to go for this lengthy process. Here is how you can simply send Excel file as PDF with one click. You need two things:
Microsoft Excel app (here I explain with Microsoft 365)
Email client setup in your computer as a default app to open/send email. Here I use Outlook app which also comes as part of Microsoft 365.
Send Excel Sheet in Email as PDF in Windows
Excel has a Quick Access Toolbar located at left corner on top / bottom of the ribbon. By default, you will find few tools like save, undo, redo, etc. All what you need is to add email as PDF tool in Quick Access Toolbar and use it whenever you need.
If you do not see Quick Access Toolbar, then right-click on the ribbon area and select "Show Quick Access Toolbar" option.
You will see the toolbar added either on top or bottom position of the ribbon. In my case, it shows below the ribbon as a small icon which I do not like.
Click on that icon and select "Show above the ribbon" option.
Note: Some Excel version may show three horizontal dots icon (that says, "Customize Quick Access Toolbar") showing at the right end of Quick Access Toolbar. You can click on that icon and select "Customize Quick Access Toolbar" option.
After that, click on that icon again and select "More Commands…" menu.
This will open "Excel Options" dialog box and select "File Tab" in "Choose commands from" dropdown. You will see lot of commands listed in alphabetical order. Find "E-mail as PDF Attachment" command and click the "Add >>" button to move to right column. Click "OK" button to save your changes and close the dialog box.
Now, you will see "E-mail as PDF Attachment" command is added in your Quick Access Toolbar and click on that icon.
This will first convert your Excel sheet into PDF format. You will see Excel opens your default email client (Outlook in my case) and attaches the converted PDF file.
Fill up To address and email content and send the file instantly as a PDF attachment.
Sending Excel as PDF in Mac
Though Excel for Mac version has Quick Access Toolbar, there are no commands available for sending email with PDF attachment. You can follow the alternate method:
Open your Excel sheet and go to "File > Share" menu.
Select "Send PDF" option from the list.
This will open your default email app and attach the Excel sheet as a PDF file.
You can fill up the receiver and other email content to send the document quickly.
Other Excel to PDF Conversion Options
There are many reasons the above methods may not work for you:
The above methods do not save the PDF file in your computer but you want to have the PDF document.
You do not have any email app setup on your device and want to use online services like Gmail.
You do not have Excel app at all or using a mobile device and want to convert Excel to PDF.
In all these cases, you should first convert Excel to PDF and save to your device using one of the following methods.
Method 1 – Save or Save As in PDF Format
Open your Excel sheet and click "File" menu.
Select "Save a Copy" option and choose the file extension as PDF.
Enter file name, select the location and click "Save" button to get your converted PDF document from Excel sheet.
Method 2 – Export Excel in Different File Type
Open Excel and click the "File" menu.
Select "Option" menu and go to "Excel Options" dialog box.
Click "Quick Access Toolbar" option and select "File Tab" from the "Choose commands from" dropdown.
Scroll down in the left column to find "Save As Other Format" command and click "Add" button to add the item in right column.
Click "OK" button to close "Excel Option" dialog box and you will find the "Save As" icon added in Quick Access Toolbar. The icon as two parts – one is a floppy with pencil and other is small down arrow. You can either press F12 or click the floppy with pencil icon to open the "Save As" dialog box. Click the "Save as type" dropdown and select "PDF" option to save your Excel file as a PDF document.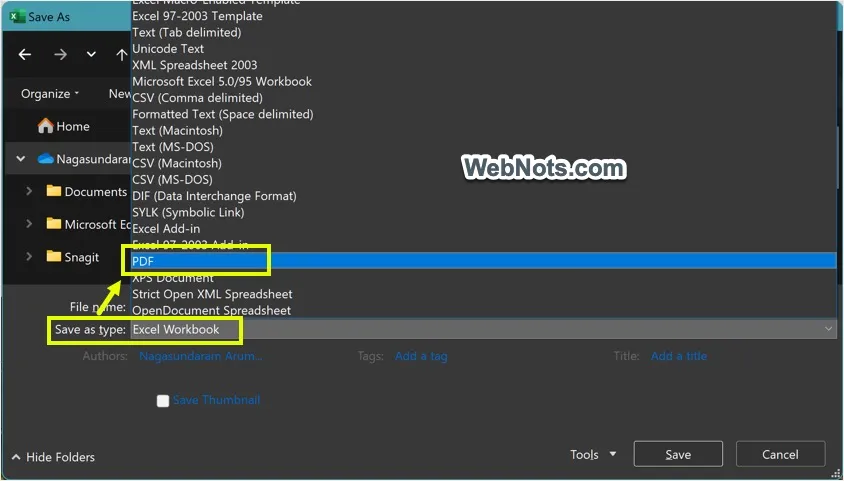 Alternatively, you can click on the small down arrow in "Save As" icon and select "PDF or XPS" option.
This will also open the same "Save As" dialog with the PDF option preselected. You can simply type the name, change the location and save your Excel file as PDF.
Method 3 – Convert Using Online Services
There are hundreds of free Excel to PDF converter websites available online. You can use one of them especially when you do not have Excel on your mobile devices. However, I do not recommend the online converters as the file will be saved on the third-party servers and kept for some time before deletion. You have no guarantee who has access those stored files. So, you can't use third-party services for your organization sales pitch or proposal spreadsheet data. You can still try them for converting personal files with no confidential data.
Final Words
The best and simple solution to send your Excel sheet as PDF in email is to add the command in Quick Access Toolbar and use whenever needed with single click. If you want to convert Excel and save it as PDF for later use, then you can save a copy in PDF format.