Microsoft Edge is the default browser in Windows 11. Since, Microsoft retired IE, you either need to use Edge or look for other browsers like Google Chrome. Though the latest Edge browser is promising with Chromium based backend, it can still cause some problems. This will happen especially if you play around the settings and do not know what you have done. One of the popular problems with Edge is that it will stop showing images on websites. If you are stuck with this problem, then here are some of the solutions you can try.
Images Not Showing in Edge
Nowadays, images are part of every website and the page will become unreadable without seeing the images. However, images not optimized properly can consume high bandwidth especially when loading the pages on mobile devices. Also, they can be a distraction when you want to simply read the text content. So, browsers like Edge allow you to disable the images for any specific website. If you or someone using your computer wrongly enabled this setting, then you need to check and disable for loading images. In addition, there are few other factors that could potentially stop the images from loading. Below is how the CNN website will look with and without images, which shows the site will become unreadable without seeing the images.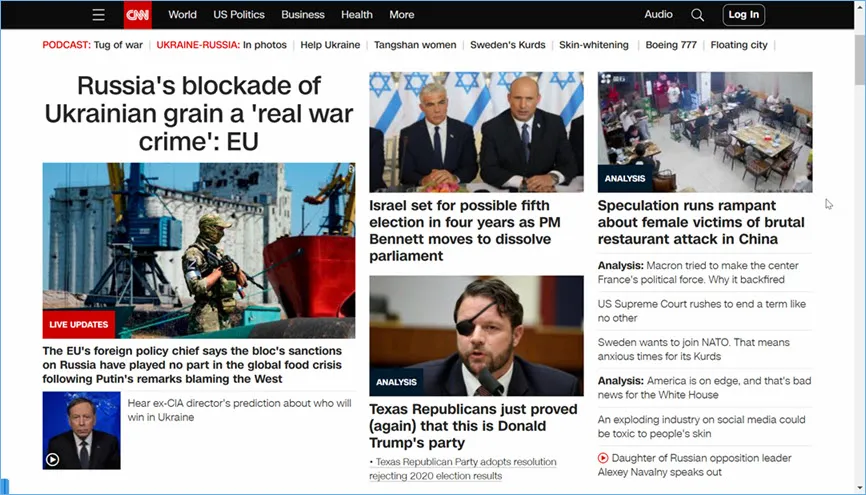 Follow the instructions below and check which one is working for you.
1. Check With Other Browsers
Before digging deep into the problem, make sure the issue happens only on Edge. You can confirm this by opening the same website in other browsers like Google Chrome or Mozilla Firefox. If you do not use any other browsers on your computer, you can also check the site using your mobile device.
If the site loads with images, then the problem is within your Edge browser. You can try the below listed options from point 2 in this case.
Otherwise, it could be a problem with your network, check point 3 for this case.
Sometimes the problem maybe from the website side that the server might be configured wrong. In this case, the only solution is to contact the site owner for fixing the issue.
If you are using Chrome and having problems with images check our article on how to fix the images not loading problem with Google Chrome browser.
2. Update Edge Browser
If you are the only person using your computer and never changed the settings, then this is the first option you should check. By default, Edge will automatically update to the latest available version without any intervention from your side. In case, if you have disabled this autoupdate or find the update is not working, then you can manually update the browser.
Open Edge and press "Alt + F" shortcut keys. This will open the browser menu and select "Settings" from the list.
Go down to the bottom on the sidebar and click "About Microsoft Edge" option.
This will run the autoupdate and make sure the status is showing as "Microsoft Edge is up to date".
If you see any error message, probably you need to reset the browser as explained in point 9 below.
3. Check Content Blocking in Network
Most website owners serve the images through Content Delivery Network (CDN) to improve the loading speed. In addition, some site owners also embed images from image hosting sites like imgur or from Google services. The images will not load properly if the CDN or services are blocked by your ISP. For example, the images embedded from sites like imgur or from any Google sites will not show in countries like China. Since websites use different services or may not use any third-party service at all, you will not find the image problem with all websites.
In this case, you can confirm with your ISP to find if they block any specific services (like Google in China). The only solution here is to use VPN or proxy and access the site without blocking.
4. Check Images Permission Settings for All Sites
As mentioned, check whether you have wrongly blocked images in browser settings.
Go to Edge settings page and navigate to "Cookies and site permissions" section. Alternatively, go to edge://settings/content shortcut URL to access the settings page.
Scroll down to "All Permissions" section and click on "Images" option. It will by default show "Show all" indicating Edge will show the images from all websites.
When you click on "Images" option, the next screen will show you the list of blocked and allowed sites to show images on Edge. By default, there should be no sites under both categories. However, if you find a site is added under "Blocked" section, simply delete the site to enable image loading.

4.1. Check Site Specific Image Permission Settings
Instead of going through settings page, you can directly enable images from Edge address bar.
Open the site which has problem and click on the padlock icon showing in the address bar.
For a normal case, the section "Permissions for this site" will show like below.
If the images are blocked by Edge settings, then you will see the "Block" option is selected for "Images".
Click on the dropdown and change the setting to "Allow (default)".
Edge will show aa message that settings are updated and prompt you to refresh the page for the changes to take effect.
Click on "Refresh" button to reload the page and now you should be seeing all the images on the website loading properly.
5. Allow JavaScript
You may wonder what is the relationship between JavaScript and images. Nowadays, almost all the sites use lazy loading technique to delay loading of images to improve the page loading speed. It helps to load the images only when you scroll to that position instead of loading all the images at once. This can create many problems when you block JavaScript in the browser's setting. Because this will also block lazy load script and show the images as blank.
Edge has options to disable JavaScript for all sites and for specific sites similar to image permission settings as explained above.
For all sites – go to settings page edge://settings/content/javascript and remove blocked sites.
For single site – open the site and click on the padlock icon in the address bar. Select "Allow" option for JavaScript to enable the permission for that site in Edge.
Refresh your page and check whether this helped you to resolve the issue.
5. Check Internet Connection Speed
Your internet connection speed is another important factor affecting loading of images on webpage. As mentioned, lazy loading scripts will allow the images to show only when you reach that position on the page. If the network is too slow, you will see empty or white space instead of images. Some website owners also show spinning wheel or progress bar indicating the loading of images are delayed and in progress. This will happen if you are trying to view large image sizes like photography website or infographics.
Therefore, make sure to check your internet connection speed and discuss with your ISP if you are consistently facing slow loading.
6. Disable All Extensions
Extensions, add-ons and apps are another point of concern especially when they are outdated. For example, ad block add-ons in Edge will block content based on the keywords. If the image title, caption or alt text contains keywords like "advertisement", then ad blocker will block those images. The best way is to open Edge in InPrivate browsing mode and test the problem is existing or not. The private browsing mode will disable all installed extensions thus allowing you to find any extension related problems. You can open InPrivate browsing window by pressing "Control + Shift + N" keys or selecting the option from the settings menu.
If the images are loading in InPrivate browsing mode, then open Edge in normal mode and go to edge://extensions/ page. Here, you can view all the installed add-ons and extensions on your browser. Disable the extensions one by one to narrow down which item id causing the problem. After finding the extension causing problem, you can delete it and find alternate option for that.
Note: Some extensions may still work in InPrivate mode depending on your settings. In addition, Edge also allows to install extensions from Chrome Web Store. Therefore, make sure to disable all the extensions when troubleshooting.
7. Delete Browsing Data and Cookies
The stored cache and cookies can create problem when the website owner changed the content recently. If the above options did not resolve your problem, then try deleting the cache and cookie data. Simply press "Control + Shift + Delete" when you are in Edge. This will open the "Clear browsing data" pop-up and select "All time" for the "Time range". Make sure to select "Cached images and files" and "Cookies and other site data" options. Click "Clear now" button to delete the data.
Now open the page and check if the images are loading properly. Remember, the pages will load slowly for the first time as you have deleted the cached files. After first time, the speed will improve as the browser will use the cached data.
8. Disable Hardware Acceleration
Hardware acceleration helps to speed up loading of Edge during startup. Sometimes, this can impact loading of graphical assets like images when your graphics card does not support this option. Go to edge://settings/system page and disable "Use hardware acceleration when available" option. You need to restart the browser after disabling this option. Check if this helped to resolve your issue.
9. Reset Edge Browser
The final option is to reset the browser which can help to resolve most of the problems. However, resetting will to factory settings will remove all your customizations. You can go to edge://settings/reset page and reset Edge browser. Learn more on what data will be retained and what will be deleted when you reset Edge.