Nowadays, most compact laptop models do not even come with an ethernet port. You have no options other than relying on wireless or Wi-Fi connection for carrying on with routine internet tasks. What if your Wi-Fi connection stops working or the system tray icon disappears all of sudden? Though it will be frustrating, don't get panic. Here are some of quick solutions to fix Wi-Fi connection issues in Windows 11 computers. If you are facing Wi-Fi problems in Windows 10, check our separate article on fixing Wi-Fi issues in Windows 10.
Wi-Fi Connection Issues in Windows 11
Below are some of the problems you face when the wireless connection is unstable or not working properly:
Interrupted internet connection and dropping frequently.
Message showing no or limited internet access in the Taskbar Wi-Fi icon.
Slow connection speed affecting your productivity.
Wi-Fi icon doesn't appear on the Taskbar system tray confusing whether you have a connection or not.
Apps crashing or stop working when the Wi-Fi connection drops.
Basic Checks Before Troubleshooting
There could be different reasons like corrupted files, missing drivers, problems within OS or any hardware issues affecting Wi-Fi connection. Before trying any fixes, make sure the following basic checks are done.
First restart your computer and the router/modem. Some users never shut down the computer and restarting will help to properly close all processes and fix momentary issues.
Check the router/modem cables are working properly.
Make sure you have not turned on the airplane mode mistakenly. In this case, you will see an airplane symbol in the Taskbar's system tray and click on it to disable it.
If you do not have internet connection, system tray will show a globe icon with a crossed circle instead of Wi-Fi icon. Click on that globe icon to open Action Center. Again, click the Wi-Fi icon and make sure you are connected to the network.
Connect your smartphone or another device to the network and confirm they are working properly.
After doing these basic checks, try the below-mentioned solutions to fix Wi-Fi connection issues in your Windows 11 device.
Note: It is always a good idea to take a complete backup of system and create a restore point before troubleshooting a problem. Also, keep your Wi-Fi password handy to reconnect and check the connection as some options will reset system's network setup.
1. Run Windows 11 Troubleshooter
Windows 11 comes with an in-built troubleshooter to diagnose and fix Wi-Fi connection issues. There are three tools available for fixing common Internet Connections, Incoming Connections and Network Adapter related problems. You can run these tools for analyzing network settings and configurations to find the issues and then automatically resolve them.
The Settings app by default will open with "System" section, scroll down a little on the right-side section and then click on "Troubleshoot" option.
Then click on "Other troubleshooters" option.
You will see a list of items and find the "Internet Connections" option which normally shows as a first item under "Most frequent" section.
Click on "Run" button to start the troubleshooting.
Troubleshooter will start detecting the problems and show two options to connect to internet. Select "Troubleshoot my connection to the internet" and it will start scanning the system for network problems.
After that, it will show the results of automatically repaired issues along with errors that can't be fixed by the troubleshooter. If there are unfixed errors, check the details and fix them manually.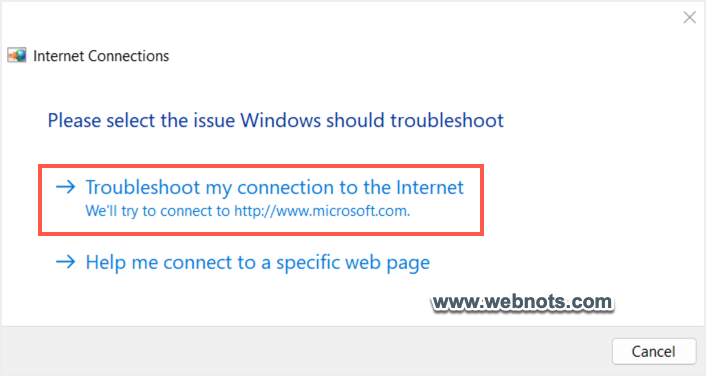 Similarly, you can run "Incoming Connections" and "Network Adapter" troubleshooter to check whether it helps to fix your Wi-Fi connection issues.
2. Update Network Adapter's Driver
If troubleshooters couldn't identify and fix the problems, you can try other options. The next option to fix the issue is to update your network drivers. Sometimes outdated network drivers result in frequent dropping of Wi-Fi connection. To update the network drivers:
Right-click on the Start button and open the "Device Manager" option.
Expand "Network adapters" in the list and then right-click on the device to choose "Update driver".
Among the two options shown, select "Search automatically for drivers".
System will start searching for the driver files and update them to the latest version. After updating driver, restart your computer and check the Wi-Fi problem is fixed.
3. Uninstall and Reinstall Network Adapter
If the issue doesn't resolve even after updating network drivers, try reinstalling network adapter. Before reinstalling, you need to first uninstall the device.
Open Device Manager and expand "Network adapters" option.
Right-click on the device and this time choose "Uninstall device" option.
After that, click on "Action" in the top menu and then choose "Scan for hardware changes".
The system will scan for the missing devices and reinstall them.
Now, you can restart the system and check if Wi-Fi is working properly.
4. Reset Network Adapter to Factory Settings
If the above method doesn't fix the issue, try resetting the network adapter. Resetting the adapter will remove all network settings and restore them to their default values. This will also delete VPN profiles and you may need to reinstall VPN apps again.
Open Settings app and go to "Network & internet" section.
Choose "Advanced network settings" from the right pane.
Now click on the "Network reset" option.
Click on "Reset now" button to start resetting all your network settings.
5. Restart Windows Explorer Process
You can try this quick fix if you are not seeing the Wi-Fi icon in Taskbar. Windows Explorer is responsible to manage File Explorer, desktop, and other Taskbar settings. Issues in Windows Explorer affect the functioning of Taskbar settings which in turn could cause the Wi-Fi icon to not show. Follow the below instructions to restart Windows Explorer:
Right-click on the Start menu or press the "Windows Logo + X" keys and then select Task Manager.
Find "Windows Explorer" option and right-click on it. Then select "Restart".
Close Task Manager and then restart the computer to check whether this solves the problem or not.
6. Restart WLAN AutoConfig
The next method to fix Wi-Fi connection issues in Windows 11 is to restart the WLAN AutoConfig feature. It is the default service in Windows 11 that manages as well as configures wireless network connections. To restart this service:
Press "Window Logo + R" keys, type "services.msc" in the box and then press "OK" button.
Now scroll down and find the "WLAN AutoConfig" option and double-click on it.
Click on "Stop" and then "Start". After this click on the "Apply" button and press "OK".
Restart your system to check if this works for you or not.
7. Update Windows
Sometimes outdated Windows 11 can also result in this issue. Updating Windows to latest version will fix any bugs or issues that are causing Wi-Fi connection issues. To update Windows 11:
Open Settings app and go to "Windows update" section on the left side menu.
Click on the "Check for updates" button so that the system starts to look for Windows updates.
If you see any available updates, click on "Download & install" button to download the updates and wait till the Windows gets updated. Then restart the system and check for the Wi-Fi connection.
8. Try Enabling and Disabling Wireless Network Adapter
Sometimes you might have mistakenly disabled wireless network or adapter. In this case, you will not see the Wi-Fi icon and the Taskbar will show a globe with a crossed circle indicating wireless connection is disabled. Also, toggling the wireless network and adapter to on and off can also help to fix the issue.
Open Settings app and go to "Network & internet" from the left-side menu.
Click the "Advanced network settings" option showing at the bottom of the page.
Click on the "Disable" button in front of the "Wi-Fi" option to disconnect wireless network. Then choose "More network adapter options".
Right-click on the Wi-Fi option and enable the wireless adapter.
9. Reset Network Settings
You can reset the network from Command Prompt by using the following command:
netsh int ip reset C:\resetlog.txt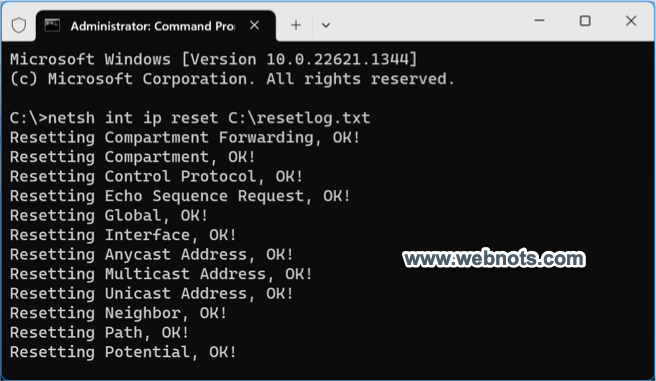 If the problem still persists, then use the following commands. Type or copy/paste each command and press enter and you will see "OK" as a result.
netsh int tcp set heuristics disabled
netsh int tcp set global autotuninglevel=disabled
netsh int tcp set global rss=enabled
You can also run these commands in PowerShell and make sure you opened the app in admin mode.
10. Unblocking and Speed Up Connection
Sometimes, the problem is at your ISP side due to corrupted DNS or blocking of websites. This is a common problem in countries like China where most global services are blocked. If you are facing slow internet connection or want to unblock websites then below are the options for you:
Final Words
Hope one of the above-mentioned methods help to fix your Wi-Fi connection issues in Windows 11 computer. If not then you may need to contact your ISP or laptop manufacturer for fixing the issue.