Microsoft continuously releases updates for Windows operating system with new features and bug fixes. This will help to keep your system up to date and secure. By default, these Windows updates will be automatically installed in your system though you can manually pause or delay the updates. However, Windows updates do not always work smoothly due to various reasons. If you are system stuck with update errors, here are some of the reasons behind these errors along with how to fix Windows 11 update errors.
Windows 11 Update Errors
Note that this article deals with the solutions for Windows 11 update errors and not about upgrading from Windows 10 to 11. If you have problems in upgrading Windows OS, then first check your system requirements are sufficient for Windows 11. After that, follow the items in the general check list from Microsoft to find and fix the problem.
Though some of the solutions are same for fixing upgrade and update problems, you need to consider them in different context. For example, at least 20 GB storage space is needed for upgrading Windows 11 64-bit OS. However, you do not need such huge space for updating Windows 11 (for example – Windows 11 22H2).
You can update Windows OS from Settings app by navigating to "Windows Updates > Check for Updates" section. System will show error when the update fails and Windows 11 update errors are generally in the format like 0x8024a206.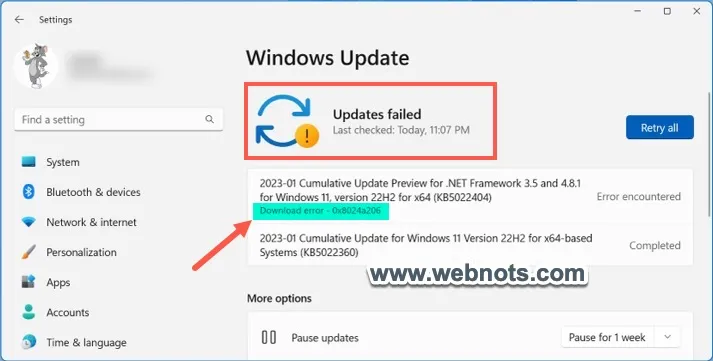 These error codes have a meaning and a name for you to narrow down the issue and find a solution. For example, error code 0x80246007 will have a name WU_E_DM_NOTDOWNLOADED indicating the update was not downloaded from Microsoft server. The above screenshot clearly shows the error code 0x8024a206 is a "Download error". In such cases, you can simply check your internet connection and try again later to download the available updates. Check out the complete list of Windows 10 and 11 error codes from Microsoft with the name and reason.
Fix Windows 11 Update Errors
Though you can find the error code and details, it is not an easy task to find the solution to generic error codes like 0x80244022. This error code means HTTP 503 response from server indicating, the server is currently overloaded. As a simple guideline, check the followings when you see Windows 11 update errors:
Check internet connection – make sure you are connected to Wi-Fi and disconnected VPN or proxy.
Try after some time – this will help to fix when Microsoft server is overloaded and not available temporarily.
Not paused or disabled updates – make sure you did not pause or manually disabled the updates using some tricks.
Missing or corrupted system files – if you are the one always playing around with system files like Registry Editor, then you may need to restore system files to fix update errors.
If these things do not fix the update, try other generic steps listed in the following sections.
1. Use Windows Update Troubleshooter
The first option is to run Windows Update troubleshooter which comes as part of Windows 11. This will help you to find issues causing update errors and fix them. Follow the below steps to run Windows Update troubleshooter,:
Press "Windows + I" keys to open the Windows Settings application.
Go to "System" tab from the left sidebar. Scroll down on the right pane and click on "Troubleshoot" option.
Here you will see an option for "Other troubleshooters" and click on it.
After selecting "Other troubleshooters", you will see the "Windows Update" tab. Click the "Run" button showing against the "Windows Update" option.
Windows Update troubleshooter will run and start detecting if there are any issues found in your system.
You will find the problems found along with the status. Click on the "View detailed information" link to get more details about the found problem and applied solution.
In most cases, the troubleshooter will automatically resolve the problem and show the resolving status as "Completed" as shown below.
Close the troubleshooter and restart your system. Now, check whether you can run Windows Update to get the latest release.
2. Free Up Storage Space
Next option is to cleanup your system so that the update can be downloaded and installed. You can free up the space by manually deleting the files or enabling automatic clean up with "Storage Sense" option.
Press "Windows + I" keys to open Windows Settings app and go to "System" tab.
Click on "Storage" option and click "Cleanup recommendations" option showing under "Storage management" section.
On the next screen, you will find different sections like "Temporary files", "Large or Unused files", "Files synced to cloud" and "Unused apps". Expand each section and select the files to delete them from your computer. under "Temporary files" section, make sure to click on the "see advanced options" to view the complete list of temporary files available in your computer and delete them to free up space.
After that go back to "Storage" section and turn on the "Storage Sense" option under "Storage management" heading.
Click on "Storage Sense" again, select appropriate options and click "Run Storage Sense now" button.
This will take some time and you will see a message showing the space cleaned up with Storage Sense. Make sure to enable "Automatic User content cleanup" so that system will automatically cleanup the files when running on low disk space. Now, you can try to download and install the latest Windows updates.
3. Enable Windows Update Service
Windows uses a dedicated service to check and download all the available updates. It is necessary that this update service is enabled so that Windows Update will work smoothly.
Press "Windows + R" keys to open the Run prompt.
Type services.msc in the box and click "OK" button.
When the "Services" dialog box opens, scroll down on the right pane until you find "Windows Update" service.
Double click on it to open the service's properties.
On the properties dialog box, go to "General" tab and ensure the "Startup type" is set to "Automatic". Also, make sure the "Service status" is running.
Click the "Apply" button and then "OK" button to close the dialog box.
This will automatically run Windows Update service whenever you boot your computer. As the description of the service says, it will allow you to detect, download and install Windows and other updates available for programs.
4. Scan System Files
As mentioned, missing or corrupted system files can cause issues and terminate updates. In such a case, you can scan the system files to check and repair the files.
Type Command Prompt in Windows Search box and open the application in administrator mode.
Type the command sfc /scannow in Command Prompt and press enter.
This will start the scanning and wait some time to finish 100% of scanning.
This will automatically fix the corrupted files and repair them. you can now restart the system and check Windows Update works properly without any errors.
5. Disable Third-Party Anti-Virus Software and Firewall
Windows by default comes with a Windows Security app to protect your system. However, most Windows users use third-party antivirus software like Norton, McAfee, etc. If you are using antivirus app, temporarily disable it and then run Windows Update to see if it works.
Similar to antivirus apps, sometimes Microsoft Defender Firewall can also cause problems for Windows Updates. To check whether this is the case, you can temporarily disable the Defender Firewall and check if the update works without error.
Use Windows Search and open Windows Security app.
When you are in Windows Security app, click on "Firewall & network protection" option from the sidebar or from the right pane.
You will see both private and public networks link showing "Firewall is on" and click on the "Public network" link.
On the next screen, turn off the Microsoft Defender Firewall option.
Restart your computer and check whether the update issue is resolved. You can enable the firewall again after updating Windows.
6. Manually Download Window Update
If none of the above options resolve your Windows 11 update errors, then the last option is to go for a manual update. You can download and manually install the required updates from the official Microsoft site following the below steps.
First you need to find the version (KB number) of the Windows update that you want to download. You can find the version number from "Windows Settings > Windows Update" section, if you could download the update. If you are not able to find the version from Settings app, then you can use the online Microsoft support page to find the latest Windows 11 KB version.
Note down the version and go to official Microsoft Update Catalog page.
Type the KB number in the search box and press "Search" button. This will show the list of available updates for the given KB number.
Click "Download" button to get the required update files in your system.
Use the downloaded file and manually install the Windows update.
Final Words
We hope one of the above mentioned solutions helped to fix your Windows 11 update errors. Using troubleshooter, checking Windows update services and system scanning will help in most cases. As mentioned, you can also go for a manual update if you really want to use particular feature from an update.