Windows 11 comes with a sleek new user interface with plenty of changes compared to previous Windows 10 version. Notable changes include the placement of the Start menu, Taskbar design, etc. But not every user likes this new feel of Windows 11 and they want to change it according to their taste. Windows 11 also comes with fair amount of customization options consolidated in single Settings app.
However, these options may not be sufficient when you want to change the taskbar, Start menu or customize the right-click context menu. For that, we have many useful apps available on the internet. They come with handy customization features that will change the whole look of your Windows 11.
Top Tools to Customize Windows 11
Here we are discussing the top 5 tools to customize Windows 11 desktop features. It includes customizing taskbar, widgets, wallpaper, Start menu, etc.
| Sl. No | App Name | For Customizing |
| --- | --- | --- |
| 1. | RoundedTB | Taskbar |
| 2. | Windows 11 Classic Context Menu | Right-click menu |
| 3. | Start11 | Start menu and Taskbar |
| 4. | BeWidgets | Widgets |
| 5. | Lively Wallpaper | Desktop wallpaper |
1. RoundedTB
This is an excellent Taskbar customization app for Windows 11. You can change the shape and appearance of your Taskbar using this app without modifying system files. RoundedTB app is available in Microsoft Store and is free to use. Click the "Get" button to download and install the app in your system.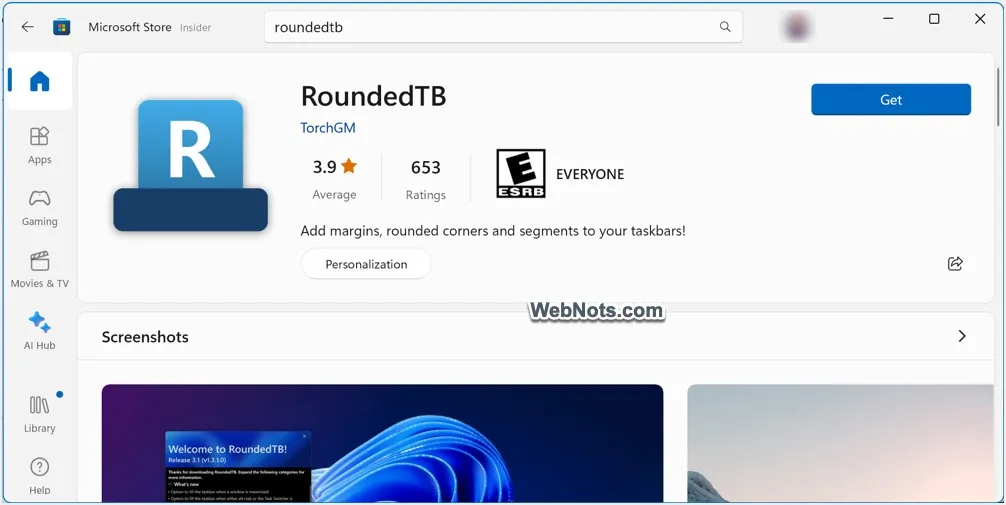 After installation, open the app and you will see a welcome screen and click on "OK" button to close that. Now, you will see the app interface showing options to adjust margin and corner radius of Taskbar.
The Taskbar will also be automatically changed to rounded corners and separated from edges with the default settings.
If you want to create a macOS like dock, click on the "Advanced" option and select "Dynamic mode".
This mode will split the Taskbar into different segments. You can increase the corner radius to adjust the appearance of center Taskbar portion as a dock.
For more customization, you can also modify the margins of the Taskbar to your liking. Click on the three dots in the "Margin" box to allow editing the values. Add the value in the right, left, top, and bottom margin spaces to customize it.
You can find the app icon in System Tray section of your Taskbar. Right-click on the icon and select the corresponding menu to launch or quit the app any time. When you quit the app, the Taskbar will be changed back to its default Windows 11 appearance.
2. Windows 11 Classic Context Menu
Right-click context menu is the one of the important changes you notice in Windows 11 interface. There are 2 context menus, one with fewer options and the other with more options which is not liked by many users. Some important options are hidden, like "Send to" for which you need to click "Show more options".
Windows 11 Classic Context Menu is an excellent tool to customize this context menu like the older version seen in Windows 10. It will provide you the classic context menu with all the options in a single panel. This is a freeware tool and you can download it from Sordum.org.
Windows 11 Classic Context Menu has a very simple interface with a button that will help you toggle between the old and new versions of the context menu.
Click on the "Enable Win11 Classic Context Menu Style" to remove "Show more options". Click on "Yes" to restart the Windows Explorer for changes to take place. And if you want to disable the classic context menu, click on "Enable Win11 Default Context Menu Style".
Right-click on any file or folder and you will get the classic context menu.
3. Start11
Start11 is an amazing free-to-use customization tool for Windows 11 users. This tool is mainly used to customize the Start menu of Windows 11 like classic Windows 7 or 10 version. You can also move the Start menu anywhere on your desktop. The app also offers few other customization options like transparency effect, rounded corners, versatile styles and colors, etc.
Unfortunately, Start11 is not free to use but you can avail its 30-day free trial version to check the features. Go to Stardock.com to download Start11 and install it on your PC.
As soon as you run the app, it will ask you to configure the Start menu alignment to left or center position.
Select "Left aligned" option and you will see all Taskbar items will be moved to left side.
Go to "Start Menu" section where you can select the Start menu style from the available options. As you can see, you can change the style to Windows 7 or Windows 10 from here.
After that, go to "Start Button" section and select the option for changing the appearance of your Start button.
Using Start11, you can also enhance your Taskbar alignment, customize the transparency and colors under "Taskbar" section.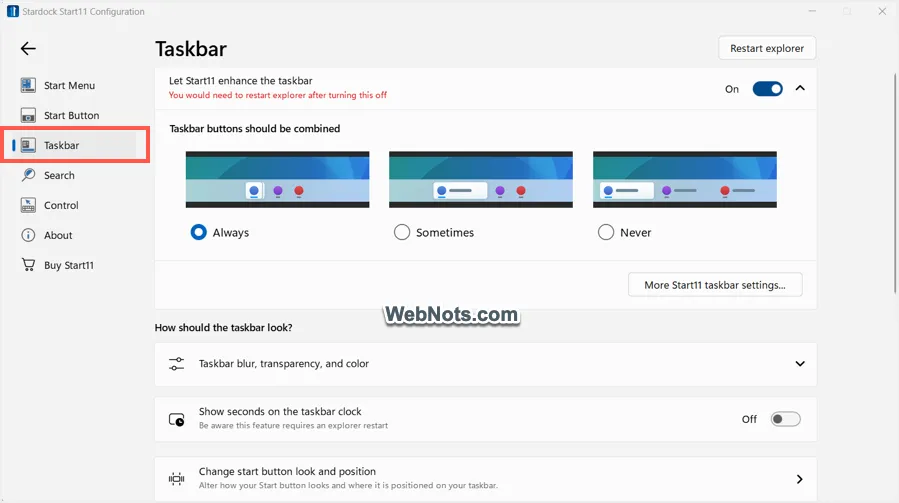 4. BeWidgets
If you like widgets, BeWidgets is a perfect tool to personalize and create customized widgets for your desktop. It helps you to make personalized date, time, financial, photos, weather, and application shortcut widgets. This is a free tool with a simple interface and is available on the Microsoft Store. Download it and you will find it sitting in the System Tray.
If you want to add any widget, launch the app and simply click on the "New Widget" option.
After creating a new widget, you can customize it accordingly by clicking on the "Customize" button. You can select the position of the widget, its appearance, its color, and size.
Select one of the available widgets from the list and customize the layout to place it on your desktop in a convenient position.
5. Lively Wallpaper
Windows 11 allows you to use picture, slideshow, solid color or image from Windows spotlight as desktop wallpaper. However, you may easily get bored using them. If you want live wallpaper for your desktop, Lively Wallpaper is the app you should be looking for. This is a free and open-source app found on the Microsoft Store. It allows you to set GIFs, videos, and webpages as wallpaper on your desktop as well as a screensaver.
You can select the live wallpaper of your choice from the library where there is a fine collection of images available. You can simply use any GIF or webpage as wallpaper by clicking "Add Wallpaper" option.
Click on the three dots in your favorite item and select "Set Wallpaper" or you can customize it according to your taste.
Final Thoughts
These are the top 5 tools to customize Windows 11 Taskbar, Start menu, context menu, widgets and wallpaper. If you are looking alternate options for default File Explorer, then checkout this article. Microsoft also offers a free app called PowerToys with features like screen splitting, always on top, color picker, etc. You can read the guide on how to use Microdot PowerToys to improve your productivity.