File Explorer (earlier known as Windows Explorer) is the default app in Windows operating system for browsing through folders and find the needed files. You can view and manage files located in your computer's drives, external drives like USB as well in your OneDrive account. Though Microsoft introduced tabs for File Explorer in Windows 11, the app did not change much and still got limited features. If you are looking for more customized features, here are some of the best alternatives for default File Explorer in Windows 11.
File Explorer Alternatives
The apps explained in this article are a complete replacement for File Explorer app. However, there are also extensions available which you can use to enhance the existing features.
1. Directory Opus
This is an excellent file manager app and a perfect replacement for default File Explorer. It comes with single or dual pane display, tabbed interface, color coding of files and allows you to add tags / descriptions for files. Other than these features, Directory Opus lets you view and edit metadata, supports FTP, and contains tools like duplicate file finder.
First, download the latest Directory Opus setup file (version 12 when we wrote this article) and install the pro-version on your PC. The free version offers 60 days of trial period and you need to purchase the Pro version after evaluation. The cost for single machine license starts from 49 AUD for light version and $89 AUD for pro version.
After installing, open the app and click on the "New Lister" link showing in the welcome screen.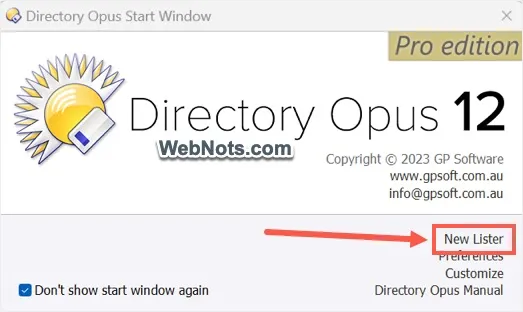 As you can see in the below screen, the app interface has dual pane with plenty of menu items and toolbar icons. Let us go through some important menu items to understand the available features. First, click the "View" button on top menu and select the way you want to see your files/folders.
Click on the "Folder" button and you will see all the options including Folder Formats, Folder Tabs, Filter by Name, Navigation Lock, etc.
Next, click on the "Flat View" button next to the "Folder" option. This will show all sub-folder contents of the currently selected file.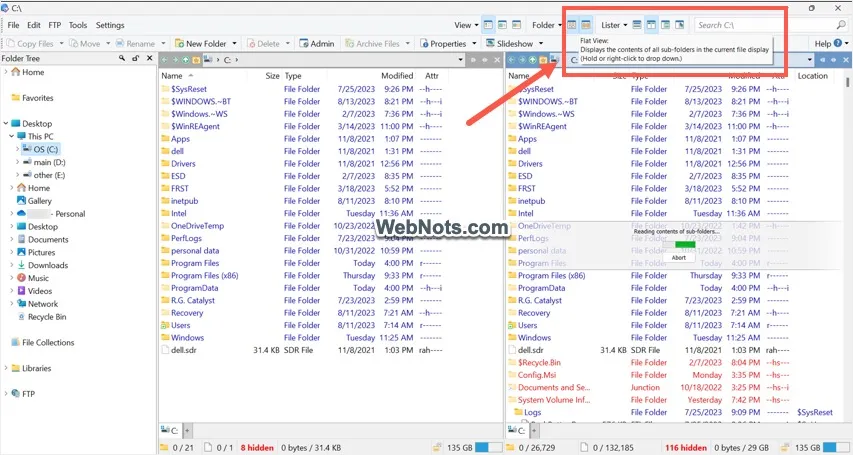 Click on the "Lister" button to view all the available options to customize the appearance of file display. For example, you can turn on dual pane display and change the style to show the files in horizontal or vertical pane.
To connect to FTP server, select the "FTP" option from the top left menu and then connect to the host server to transfer files.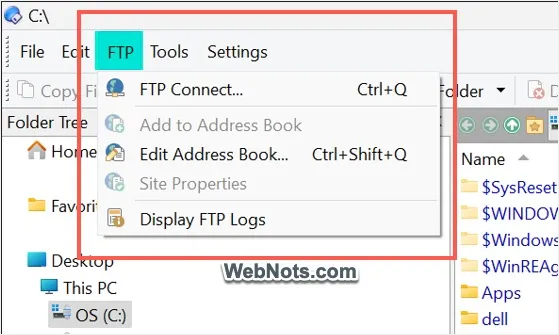 You can find other important options and tools under "Tools" menu. For example, you can use the "Tools > Find Duplicate Files" menu to find and delete unnecessary files in your PC.
2. XYplorer
XYplorer is another File Explorer alternative packed with customized features. It offers a user-friendly interface, a powerful file manager, tabbed browsing, support for custom scripts, and much more. Good part is that the app doesn't require any installation. You can easily run it even from a USB flash drive if required. Go to the official website of XYplorer and free trial version. After the trial period, you need to buy a license which will cost $34.95 for a single person use.
The app interface offers various menu and toolbar on the top section. Click on "View" menu and select an option from the sub-menu items to arrange the display of files / folders.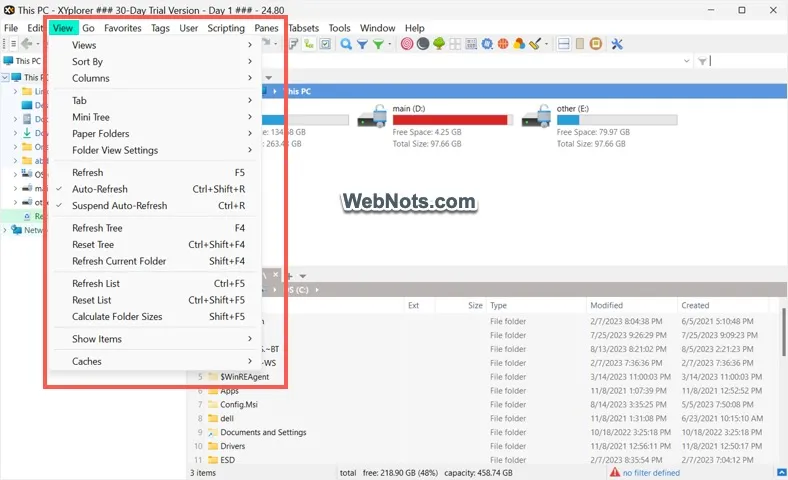 You can add tags ad labels using the options available under "Tags" menu.
"Scripting" menu allows you to run a custom script from your computer.
To use the tabbed browsing, click on the "Tabsets" and select "New" to create a new tab.
Click on the "Mini Tree" toolbar icon to see previously visited folders in the left pane.
Use Color Filter icon to add color code for your files and folders either by name, date, age, or other attributes.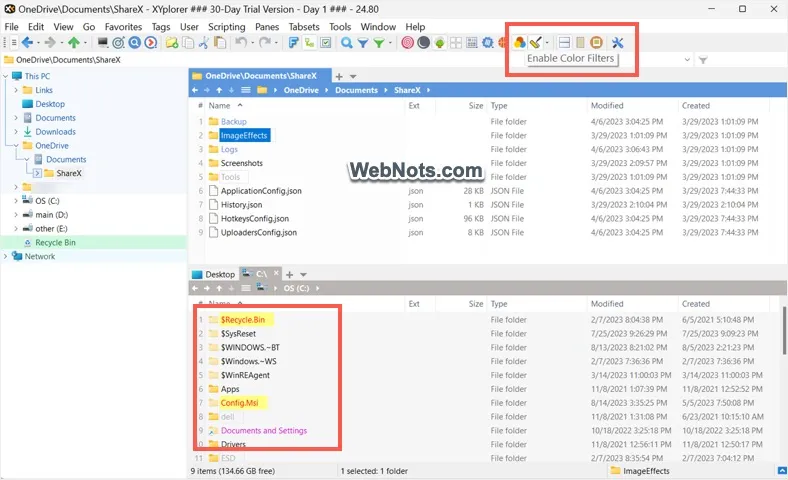 As XYplorer app has lot of features, you may need some time to get familiar with the interface.
3. Total Commander
Total Commander is another file manager app available for Windows 11. It has powerful features including a quick view panel with image and video display, a multi-rename tool, an enhanced search function, tabbed interface, separate trees, support for Unicode, etc. Go to Total Commander website to download the latest version and run it on your PC.
Open the app and you will see menu items and toolbar icons similar to other apps explained above. Click on the source (hierarchy) icon to select the display view.
If you want to connect to the FTP server, click on the FTP icon and add credentials.
To quickly search, click on the "Binocular" icon. Type the file name you want to find, select the folder or drive and click on "Start search" button.
Click on the rename multiple files icon to use the "Multi-Rename Tool". Enter the new filename, extension and other parameters in the boxes. Finally, click on "Start!" button to rename all the selected files in bulk.
4. Explorer++
Explorer++ is a free and portable File Explorer alternative for Windows 11 users. Integration with OneDrive is the most highlighted feature it offers along with other features such as a customized interface, tabbed browsing, bookmark tabs, filter files, etc. You can download the app from Explorer plus plus website and install it on your system.
The app will look similar to default File Explorer with address bar, top menu, left tree pane and right section. To open a new tab, go to "File" menu and select "New Tab" option.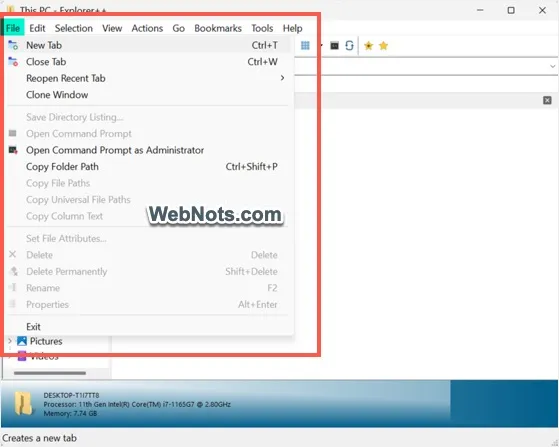 To bookmark files, go to the "Bookmarks" menu and select the tab you want to add it to your bookmarks.
Select the "View" menu to change the way you want to display your files and folders.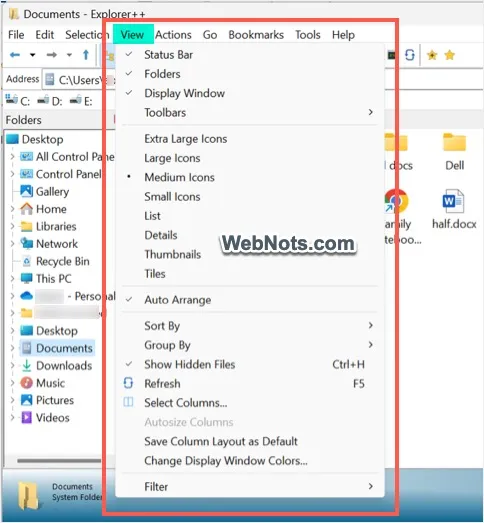 5. TagSpaces
This is the final app in our list. TagSpaces is a lightweight open-source program that mainly focuses on file and folder tagging and organizing them. It is not a packed file manager app though is perfect if you do not like the default tagging in File Explorer app. TagSpaces Lite version is free to use while you need to pay for the Pro version. It allows you to create and edit notes, tag with simple drag and drop, use dark mode theme, editor, and has many other features.
Go to TagSpaces, download the lite version and run it on your system. Remember the app is available for Mac, Linux, and Windows. Therefore, make sure to download Windows installer or ZIP archive file.
After installation, open the app and click on the three vertical dots showing next to "LOCATION MANAGER". Now, select "Connect a Location" from the context menu.
Add the "Location Path" to open the folder and press OK.
Now you can tag the file, move it to a new location or sort it using the options available on the top menu.
You can also click on the file to preview it or download it (if you have connected to an external folder).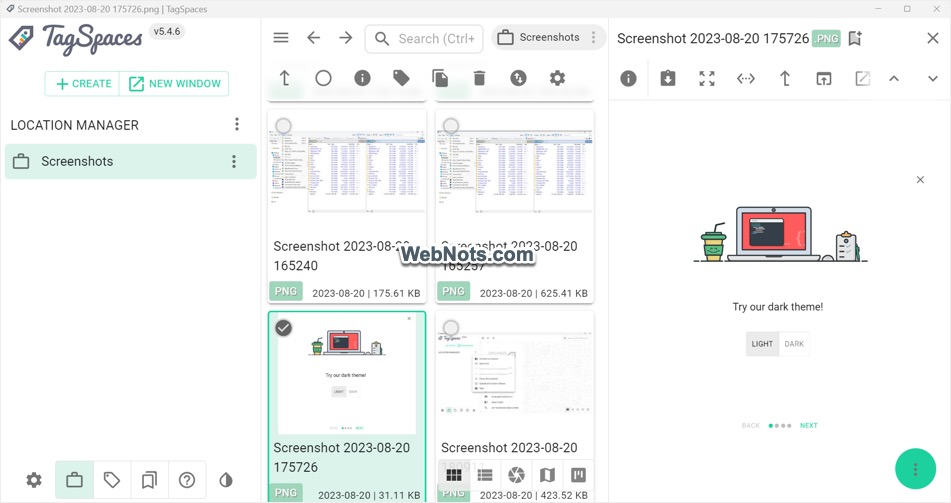 Click tags icon at the bottom of left side pane and add the desired type of tags to your files or folders. You can use these tags to search and organize your files properly.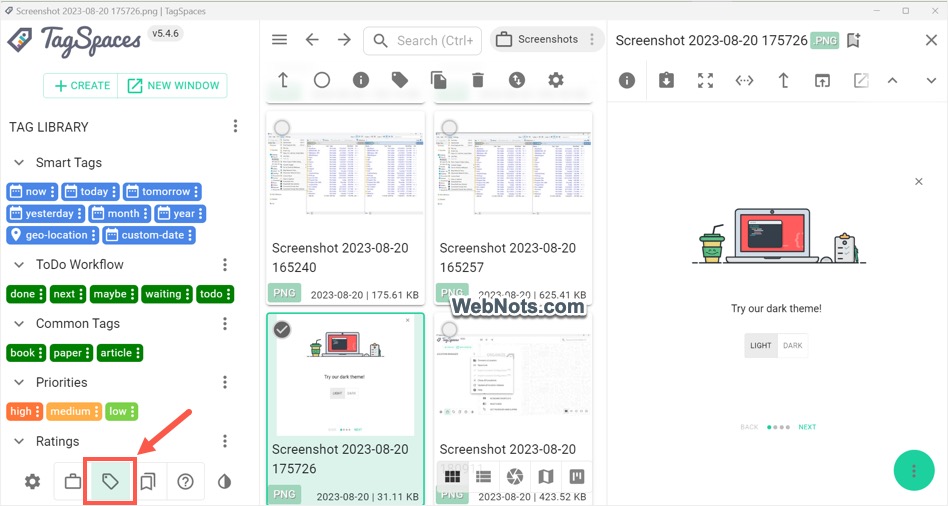 TagSpaces also offers an option to create a note as simple text files and edit them. Click on the "CREATE" button showing on top of the left side pane to create a new note. The file will be saved in the same connected location.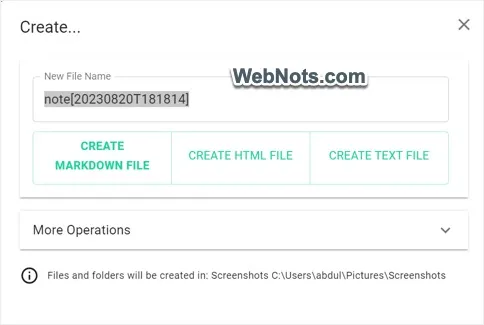 Final Words
The above listed are top 5 File Explorer alternatives for Windows 11 and are all excellent in their own way. If you are looking for some basic features and tagging, TagSpaces is perfect for you. But if you want more advanced features, then you need to try other apps like XYplorer and Explorer++.