If you are Windows 11 user, you will notice the icons on the Taskbar system tray section are all grouped up. You will see Wi-Fi, sound, and battery charging icons are shown in a single group and clicking on it will show the Action Center. In addition, multiple app instances will be grouped together in Windows 11 without showing the labels. This is different from the previous Windows versions where users can easily access the icons individually. If you are frustrated, here is how you can separate Windows 11 Taskbar icon and use Windows 10 style.
Separate Taskbar System Tray Icons and Apps
Grouped Taskbar system tray icons are convenient in keeping Taskbar organized but on the other hand, you will find it difficult to quickly access icon specific settings. Simply clicking on system tray icons group will open Action Center as shown below. Though can still right-click on the individual icon to get the settings menu, it's not convenient when tray icons are grouped together.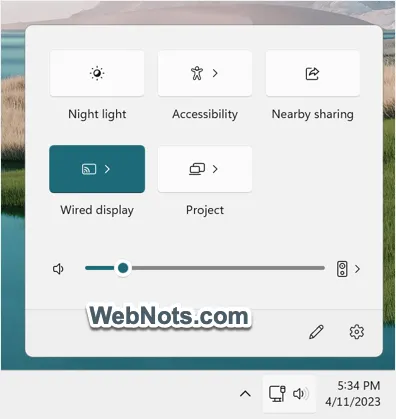 Unfortunately, it is the default setup in Windows 11 and you can't change it from Settings or Control Panel easily. Similarly, there are no options to combine or separate app icons to show labels in Taskbar like Windows 10. But no worries! You can still ungroup Taskbar icons and show labels using third-party apps.
1. Using Explorer Patcher App
Explorer Patcher is a free application available on GitHub to enhance the working environment of Windows 11. It is an open-source app and is excellent to customize the Start menu, Taskbar and its system tray and File Explorer. Basically, you can revert back the Taskbar to Windows 10 style to ungroup and separate Taskbar icons.
Download Explorer Patcher from GitHub and install the app. Note that you should have administrator access for installing this app.
Open the installed app and it will restart both your desktop and File Explorer.
Click on the Search button on Taskbar and search for "Properties (Explorer Patcher)" and open it.
Go to "Taskbar" section and then select the "Taskbar style" as "Windows 10". And then click on "Restart File Explorer" at the bottom of the app to complete this action.
You will see all the app and system tray icons on the Taskbar are now ungrouped and you have Windows 10 like Taskbar. Now, you can right-click on battery, sound or network icon separately and quickly access the corresponding settings page.
Similarly, open apps will show each instance separately with a description.
You can further customize the icon's appearance and go to "System tray" section for customizing system tray icons setup.
2. Using StartAllBack
StartAllBack is another lightweight third-party application available for improving your Windows 11 experience. It helps to improve and restore Taskbar, File Explorer, Control Panel, context menu, and Start menu.
Go to StartAllBack website and download the app.
When you run the downloaded file, it will automatically make changes to your desktop. It will move the Start menu to the left of the Taskbar and all system tray icons will be ungrouped and separated.
The app will launch and go to "Taskbar" section from the left side menu. Turn on "Use enhanced classic taskbar" option showing on the top.
Click "Combine taskbar buttons" dropdown and select "Never" option.This will help you to separate open apps in Taskbar and show labels like Windows 10.
You can also change the Taskbar location and change the icons size using this app.
Missing System Tray and Other Icons in Windows 11 Taskbar
If you are only worrying about some missing icons in system tray or the middle section, then you can check the default Taskbar behavior from Setting app.
Right-click on Start menu icon and select "Settings" option.
When you are in Settings app, go to "Personalization > Taskbar" section.
Go to "Taskbar items" section and enable or disable Search, Task view, Widgets and Chat icons showing in the middle of the Taskbar.
After that, expand "System tray icons" and enable pen menu, touch keyboard and virtual keyboard to show these icons in the system tray.
Again, expand "Other system tray icons" section and enable the required icons. Here you can disable "Hidden icon menu" to show all tray icons hiding behind an up arrow. You can show or hide Windows Update Status, Windows Security notification icon, OneDrive, Outlook, Safely Remove Hardware and Eject Media and Task Manager. The enabled icons will be shown in the system tray when the actions are triggered like when you insert an USB or open Task Manager app.
Final Words
Grouped icons in Windows 11 Taskbar is not convenient like Windows 10. The problem is that there are no options available to show labels or ungroup system tray icons. If you are missing Taskbar icons, check the Settings app as explained above. Otherwise, use one of the third-party apps to revert back to Windows 10 style Taskbar with separated icons.