One of the difficult tasks for webmasters is to maintain the navigation structure of the site when the site grows in pages. When you start your site, it is very important to decide the navigation style based on future needs and structure it accordingly. In this guide, we will explore how optimizing your site navigation can help in your SEO effort and also your readers.
Use of Structured Navigation
Having a structured navigation will help in the following three ways:
You as a webmaster can easily control the entire structure of your site which helps adding, removing and modifying the pages easy.
Users can easily find the relevant and categorized content they are looking for.
Finally, search engines can also index your pages category wise and show it in the search result with sitelinks. For example Google searching "Bing" will show you the below result which is the power of structured navigation.
Even though search engines show the search results at page level, structured navigation helps search engines understand the important of a particular page compared to the entire site content as the webmaster think. In addition, Google and Bing also shows breadcrumbs in the results instead of URL when you have structured breadcrumb trails.
Choose Your Navigation Style
Navigation consists of three major things – menu, blog sidebar and hyperlinks. Choose your menu as horizontal or vertical based on the theme's layout, best fitting your content design and easy for grouping. Most of the times you may need to combine both horizontal and vertical navigation so that users can get better reach of all your important pages.
If you have a blog (highly recommended for any type of site) ensure to provide all necessary navigation links like categories, archives, author info, RSS feed, etc. in the sidebar area. Sidebar basically serves as a vertical navigation on blog posts.
Finally link your internal pages sensibly through your text content and images. Search engines calculate internal links to understand the importance of a page relative to other pages. For example, a home page link in the menu will automatically get more importance since it will be part of each page on a site.
Note: When a page is crawled, search engines crawl all linked pages as well. For example, if you hide Page A from search engines but still Page A has a link from Page B which is not hidden then Page A will be accessed by search engines.
Once you decided the menu navigation style then the next step starts with grouping your pages. Every site has a home or index page which is ideally the starting point for you to think how the visitor will go from your home page to a topic specific page. If you have enough content about a specific topic then it is a good idea to create a describing page for all your related content. The structure could be something like this:
If you have many hundreds of pages classified under various categories then it's a good idea to use breadcrumbs. A breadcrumb is an additional navigation link to help the user to understand where exactly the page he is looking currently is located on the site. This also can be horizontal or vertical and placed based on the content design. Some examples of breadcrumbs are shown here:
Make Your Partial URL Work
Sometimes users try to remove the last part of the URL to navigate one level up in your site structure. For example a user visiting a URL "http://www.news.com/news/hotnews/recent.html" may try "https://www.news.com/news/hotnews/" assuming to see all hot news. You have two options in this case – one is to prepare a custom 404 page to show and the other is structure your site accordingly.
HTML and XML Sitemaps
Sitemap is a guide for the users and search engines to instruct how your site's pages are categorized and structured. You need to create two Sitemaps one in HTML format and the other in XML format. HTML Sitemap is to be placed in your site as a Sitemap page (call it as "Sitemap.html") targeting to guide the users to navigate through your site quickly.
XML Sitemap does the same function but for the search engines and Webmasters Tools account facilitates submitting your XML Sitemap to the search engines. Every search engine like Google, Bing, Baidu and Yandex offers their own webmasters tools platform for the site owners to submit the XML Sitemap.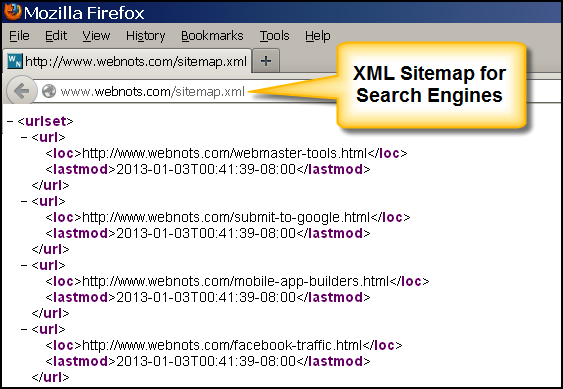 Note: Search engines consider "https://example.com" and "https://www.example.com" as two different sites. So ensure to add the correct Sitemap as your preferred domain settings.
Nowadays most of the hosting services offer auto Sitemap for your site or you can use any of free Sitemap generators available in the web to create XML Sitemap. You also have an option to create a test file with the list of URLs on your site and use it as a Sitemap.
Use Custom 404 Page For Your Site
Over the period of time maintaining a site with lot of pages grouped into categories becomes very cumbersome task and leads to many broken links in your site. Sometime multiple administrators may update the site and site updation is an important cause for broken links. When you change URL of a page, the existing links to your old URL will become invalid and most importantly search engines need lot of time to remove your old URL from the search results even though your new URL might also be indexed. In normal scenario both of your old and new URLs will be shown in the search for sometimes and the users clicking on your old URL will end up in seeing a 404 Page Not Found page. The other reason could be user entering a wrong URL in the address bar directly taking him to 404 error page.
There are two aspects to consider – one is the cost of serving a 404 page and the other is the possibility of losing potential revenue.
Most of the hosting companies offer services based on the page view and displaying a 404 error page will incur cost in this case. Even if you are not paying for hosting, it is essential to serve the correct content to users and search engines to ensure site's credibility. You can use any broken link checker tools available on the web to make sure your site is not having any broken links otherwise you can regularly check your Search Console or Webmaster Tools account to find out 404 errors and rectify them quickly.
At any case it is wise to have a custom 404 page so that users landing on a 404 page can have multiple options to look for the related content. You can provide a link to your home page, popular posts and a search box on your custom 404 page to guide the users and try to retain them on your site.
Dos and Don'ts with Your Site Navigation
Dos:
Select your navigation style that suits you content, meshing too many visible menus will confuse the users.
Use internal text links effectively to connect your own pages.
Use contextual links to navigate from one page to another page of your site; this will help search engines as well as users to navigate easily throughout your site.
Using 404 page effectively and hiding it from the search engine.
Dont's:
Relying completely on the menu for navigation without any contextual links guiding the users and the search engines from one page to another page.
Using complex navigation styles like inserting navigation menus in-between the content.
Using flash and image files for navigation, some of the browsers do not support flash content hence users will be lost on your site.
HTML Sitemap containing out dated broken links or with simple URL list without organizing them into categories.
404 page without any further links for the user to navigate and allowing search engines to index your 404 page.