After losing market share with infamous Internet Explorer browser, Microsoft is adding lot of features to Edge browser in an effort to regain the market share. You have Bing AI chat, shopping deals, AI image creator, Drop file transfer and many other features with the latest Chromium based Edge browser. Free VPN is the latest attraction to protect your browsing activities with Microsoft Edge Secure Network. Here is how you can enable free VPN in Microsoft Edge and the current limitations.
Microsoft Edge Secure Network
As mentioned, the free VPN is part of Microsoft Edge Secure Network service offered through Cloudflare integration. This can help you to access blocked websites and protect your browsing activities using secure Cloudflare network. However, there are many limitations in using the VPN:
You need to login with Microsoft account for using the VPN.
There is a 5 GB per month limitation on data usage.
The feature is currently available as part of Preview which means you should have either Edge Preview version and not the stable app. You can download and use Edge Beta / Dev / Canary app in parallel to the stable version.
How to Enable Free VPN in Edge?
Follow the below steps once you have Edge Insider Preview version.
Open Edge and click on the three horizontal dots showing on top right corner of the browser. This will open a list of menu items and click on "Settings".
When you are in Edge settings page, go to "Profiles" section and make sure to login with your Microsoft account.
After that, go to "Privacy, search, and service" section and scroll down on the right pane.
Go to "Microsoft Edge Secure Network" section and you will see it is disabled by default.
Click on the question mark icon to get instructions on how the feature work.
Turn on the switch in "Microsoft Edge Secure Network" option to start using the free VPN in Edge.
Edge will open "Browser essentials" sidebar and show a "Microsoft Edge Secure Network (Preview)" panel.
Click on the "Get VPN for free" button to enable free VPN feature in Edge.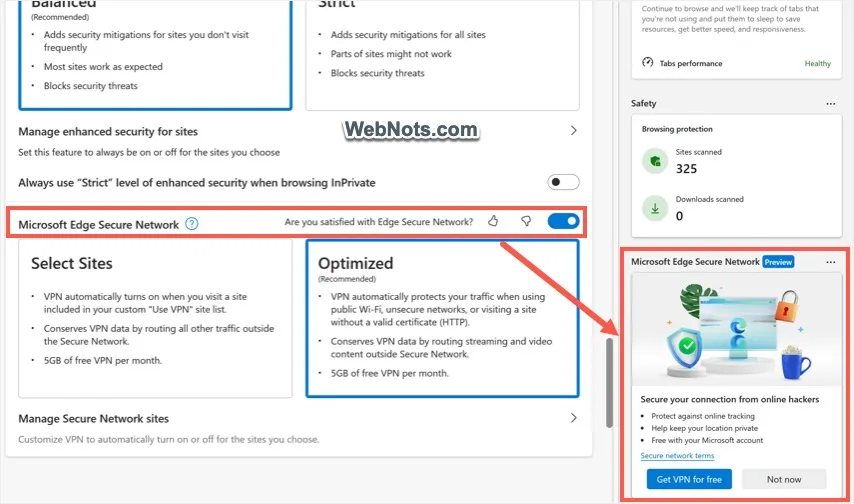 Select Sites Vs Optimized Option
At this point, you have two options for using free VPN in Edge.
Select Sites – Edge will use Cloudflare VPN only for the sites you have added in the list. All other traffic will be routed through your regular network.
Optimized – Edge will protect all browsing activities through public Wi-Fi, when accessing insecure (http://) sites. However, VPN will not be used for video streaming sites to save bandwidth.
In both cases, the VPN will be available till 5GB free quota is utilized in a month. When you enable the free VPN, Edge will automatically start using the "Optimized" option which is the recommend one. You can switch to "Select sites" option any time and add sites in the list.
Adding Sites to Free VPN List
Regardless of whether you select "Optimized" or "Select Sites" option, you can force Edge to use VPN for specific websites. There are two ways to add a website to free VPN usage list.
Using Browser Essentials Section
Open a website (including Edge settings page) and click the "Browser essentials" icon from Edge top tool bar.
Under "Microsoft Edge Secure Network" section, check the box that says, "Always use VPN for this site" option.
You can anytime turn off the VPN or remove the site from the protection list from "Browser essentials" section.
Using Edge Settings Page
If you want to add multiple sites to free VPN usage list, then use this method.
Paste edge://settings/privacy#SecureNetwork shortcut URL in Edge address bar and press enter key.
Click "Manage Secure Network Sites" option.
Click on the "Add a site" button showing against "Always use Secure Network for the sites you choose" option.
On the pop-up enter the complete URL of the site and click "Add" button.
You can add as many as sites in the list to force using VPN. For removing a site, click the three dots icon showing against the site and select "Remove" option.
For deleting all sites from the list, click on the "Remove all" button and confirm your action by again clicking on "Remove all" button.
Similar to force using VPN, you can also add sites under "Never use Secure Network for these sites" to exclude them from using free VPN.
Note: This free Edge VPN does not need configuration and works independently of any VPN apps or VPN setup in Windows. Therefore, make sure to use only one setup at a time to avoid confusion.
Checking VPN Statistics
Click on "Browser essentials" icon to see the VPN usage statistics details under "Microsoft Edge Secure Network" card.
Protect traffic – number of sites routed through free VPN.
Secured Wi-Fi – number of public Wi-Fi connections used through VPN.
You will only see the usage details when the limit or the date is approaching as shown below. Free 5GB quota will be reset after the mentioned date in the card.
Final Words
I use Parallels Desktop for Mac App Store edition to use Windows 11 virtual machine on my iMac. The problem with that setup is that it does not support sharing VPN connection from Mac. The free VPN in Microsoft Edge solves this type of problem all allows to use VPN in Windows 11 for free. Though there are no options to select VPN server location, it is still a good option to access blocked sites. I assume 5 GB limitation will be removed in future or added to Microsoft 365 subscribers.