Microsoft is relentless in introducing new functions with the Edge app. Browser Essentials is one such latest addition in Edge to offer performance and security tips. Though this is not a new function but a modification of Performance Hub to show the status and recommended user actions for browser optimization. Check out this Browser Essentials feature to make sure you use Edge browser in faster, safer and secure manner.
Adding Browser Essentials Icon in Edge Toolbar
The feature was announced in April first week and was rolled out starting from Edge 112 version. If it is available, you will see a heart with pulse icon in Edge toolbar next to address bar. So, make sure to update your browser to add Browser Essentials feature. If the icon is not showing, you can enable it from the settings:
Open Edge and go to edge://settings/help page to update your browser to the latest version.
After that, navigate to "Appearance" section in the settings or go to edge://settings/appearance page from the address bar.
Scroll down on the right settings page and go to "Select which buttons to show on the toolbar:" section.
Find and turn on "Browser Essentials Button" option.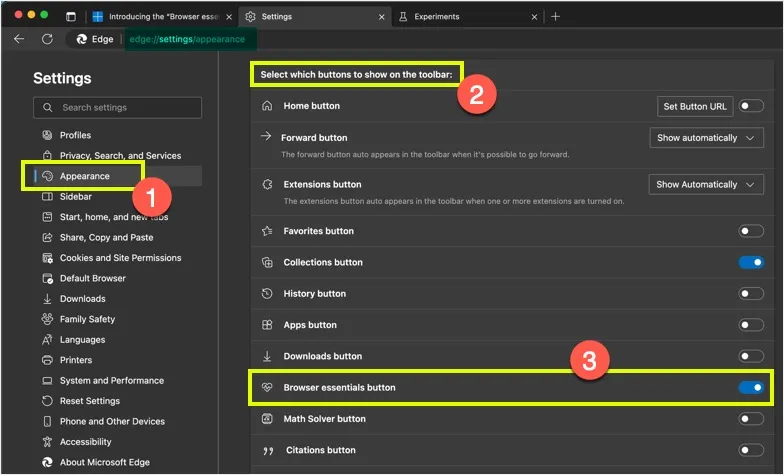 This will add "Browser Essentials" which looks like a heart with pulse icon in your toolbar.
If you do not see the button, you may need to wait for some time till the rollout happens in your geographical region.
Using Browser Essentials in Edge
After enabling the icon on toolbar, click on it to see the status and recommendations. Initially you may not find much details, wait for some time for the browser to collect and show more details based on the usage.
Browser Essentials in Edge has the following three sections at this point:
Performance section – here you can find status of efficiency mode in Edge, sleeping tabs and overall tabs performance. Simply turn on "Save power with efficiency mode" to save the battery power and you can find the resources saved under sleeping tabs section.
Security section – here you can find the scanned number of sites and downloaded files in Edge using SmartScreen based on last 30 days activities.
Recommended actions – If Edge detects any problems using Performance Detector, you will see the recommendations for fixing them.    
You can click the three dots icon showing on top right corner of each box and select manage option to go to the corresponding settings page. At this point, there are not much you can do with Browser Essentials as it is a new feature. However, you can expect Microsoft to add new panels or widgets to make it useful.
Enable Show in Hover for Browser Essentials Experimental Flag
By default, you need to click the heart icon to see the Browser Essentials pane in Edge. However, you can enable an experimental feature to show the pane just by hovering over the heart icon (you do not need to click).
Save all your work and go to edge://flags/ page in Edge.
Type "essentials" in the search box showing on top of the page.
This will filter "Browser essentials toolbar button hover functionality" flag.
It will be in "Default" state indicating the feature is disabled.
Click the dropdown and select "Enabled" option.
You will be prompted to restart the browser and click the "Restart" button.
Edge will relaunch and simply hover over your mouse on the heart icon to see the Browser Essentials pane opens up for you.