Microsoft is introducing AI tools everywhere in Windows operating system including Edge browser. When the Bing AI Chat was introduced in Feb 2023, it is was available only in Edge Developer channel. Now, this has been released to stable Edge version with Windows Cumulative March 2023 update. In this article, let's explore how to use Bing AI Chat for composing emails and generating blog post from Edge sidebar. Make sure to get an approval from Microsoft for accessing Bing AI Chat which is the same you will be using in Edge browser.
Enable Edge Sidebar
Edge sidebar is a collection of quick access tools showing in the side of the browser. You can add or remove apps in the sidebar and access them while using Edge browser. Since the new Bing AI Chat tool is part of Edge sidebar, you should enable the sidebar if you are already not using it.
Launch Edge app and go to edge://settings/sidebar page.
Turn on "Always show sidebar" option to enable it.
You can find the new Bing AI Chat icon is showing on top of the app list in sidebar. Remember, earlier this Bing AI Chat icon was called Discover which you can enable or disable it from the sidebar. However, you can't remove the new Bing AI Chat icon and it will always be there on the sidebar.
Usage of Bing AI in Edge Browser
At this point, there are three possible ways you can use Bing AI within Edge browser.
Chat conversation similar to Bing AI website
Compose content like emails, blog posts and ideas for an article
View Insights for the currently viewing page (earlier called Discover)
Let's see how these options work in Edge.
Using Bing AI Chat in Edge
Click the Bing AI icon and go to "Chat" section to start a new conversation. When you visit the Chat section for the first time, you will be prompted to enable Microsoft's access to the webpage content you are reading. Select "Yes, turn on" button to get better response from the AI assistant tool. You also have an option to set tone for the conversation and currently there are three tones available – Creative, Balanced and Precise.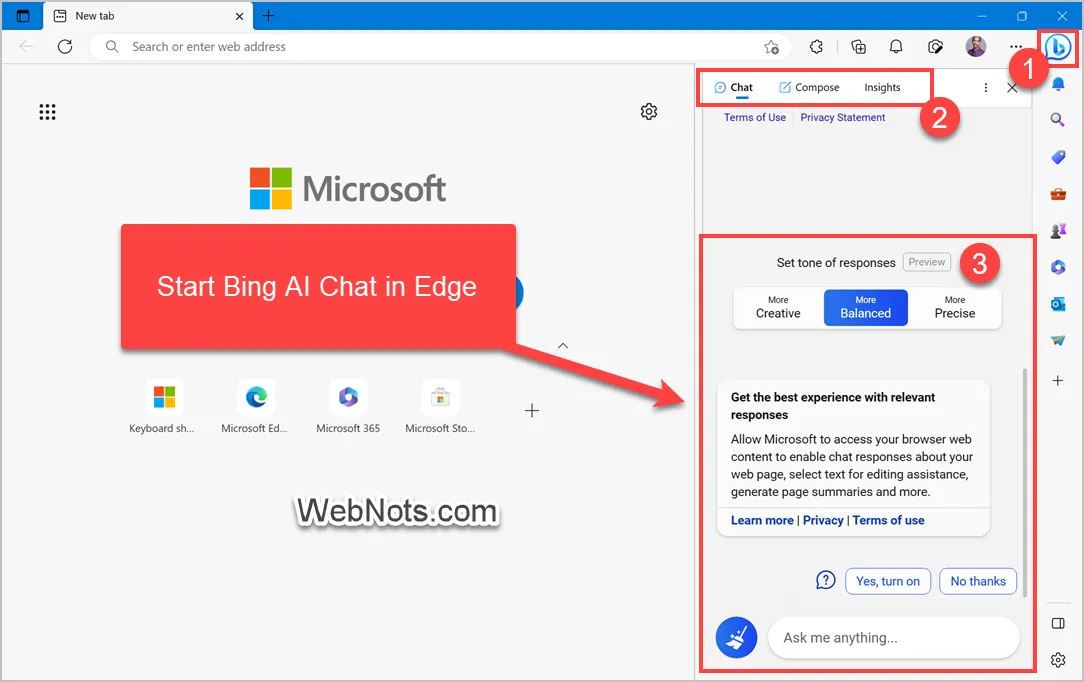 Note: You can anytime go to edge://settings/sidebar/ page and disable "Page context" option under "Discover" section. This will disable the permissions given to Edge browser for reading your content.
Set the tone and here are the few things you can do with the Bing AI Chat in Edge.
New Chat Conversation – Type your query in the box and start the conversation. You can ask any question like "how to live a healthy life?" and Bing will respond with big answer. Hover over the response, click on the three dots icon and copy the content if you want to get the response in clipboard. It seems there are no limits for the chat conversation set in Edge.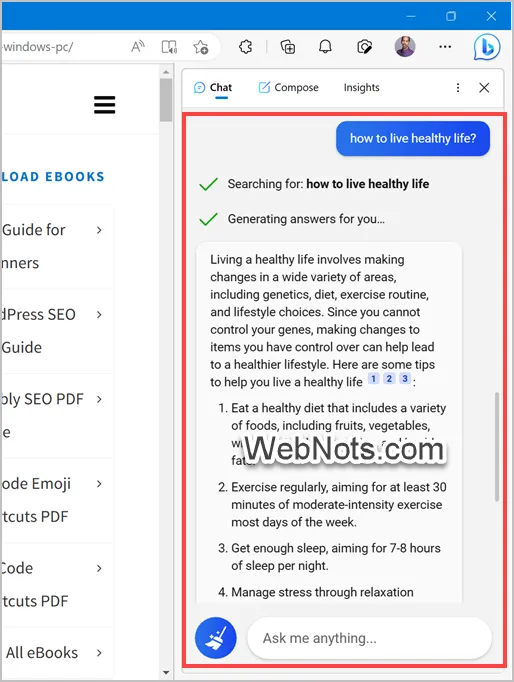 Generate Summary from Webpage – when you get a response, select "Retry for this page only" option to start asking questions related to the current page you are viewing. You can also generally ask Bing to summarize the content of the current page.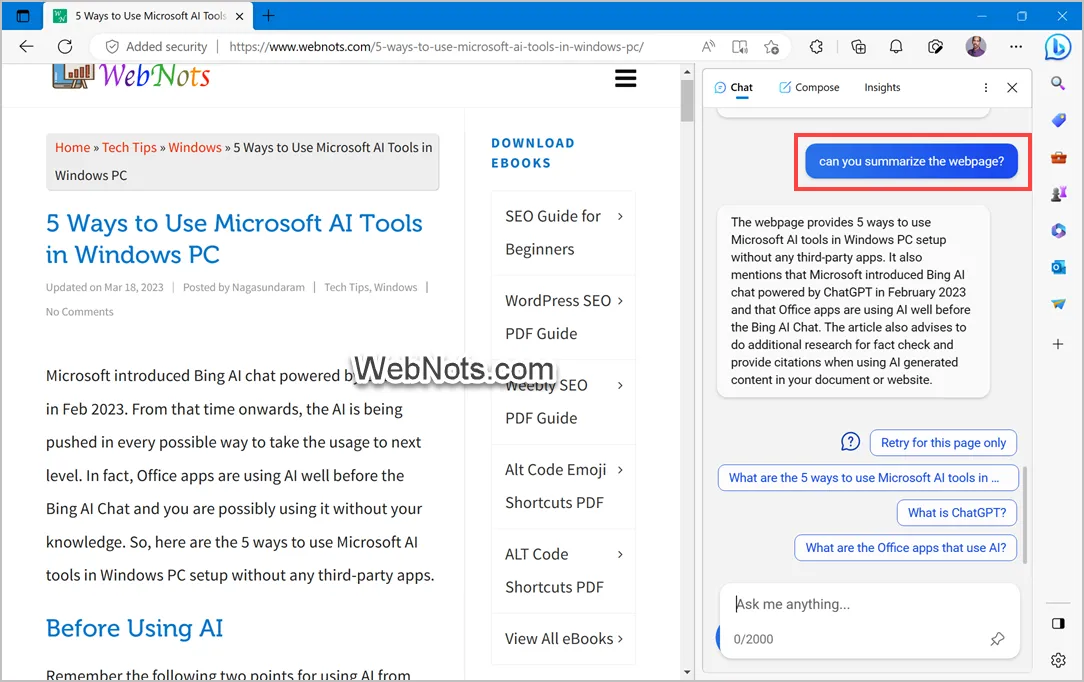 Rewrite or Revise Selected Content – select a paragraph and ask Bing to rewrite the selected content.
Anytime, click the broom icon to end the current chat conversation and start a new one.
Composing Email and Generate Blog Posts
Go to the "Compose" tab to create four different formats of content for your need – Paragraph, Email, Blog Post and Ideas. Here, you can select the tone of writing as Professional, Casual, Enthusiastic, Informational or Funny. The length of the content can be set as short, medium or long.
Paragraph – write your input and select the format as paragraph and click "Generate draft" button to get a summary for the provided input. You can use this option to provide your article title and get the summary part.
Email – simply type your requests like "Write an email to my boss asking for a sick leave" and Bing AI will compose a neat email. Copy the content and paste it in your email. Make sure to change the names and send to your boss. Pretty sure you will get a leave as Bing writes realistic email and it it not possible to find it was written by a machine.
Blog post – type your blog title, select medium or long format and press "Generate draft" button. You will see a nice lengthy blog article in your hand in few seconds. For example, you can ask Bing to write "How to live a healthy life?" and you will see a long 1000 words blog post ready in seconds.
Ideas – you can use this to overcome writer block and generate structure for your title. Simply enter your blog title and Bing AI will provide a neat idea for the lengthy article. You can get different headings and the breakdown of content for each heading level.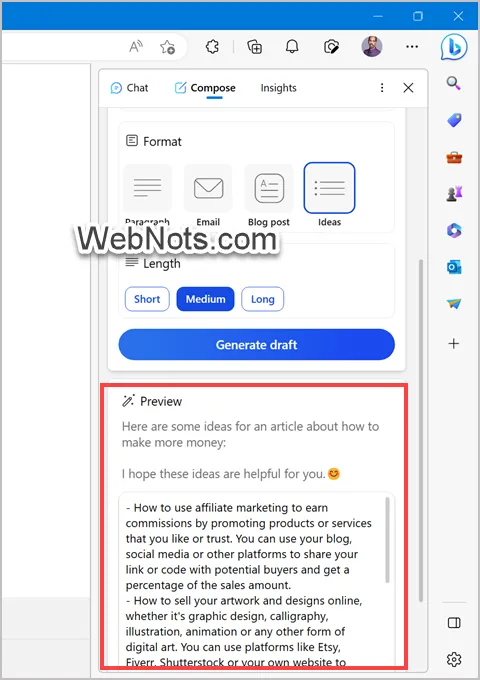 You will see a "Add to site" button" after composing an email or generating a blog post. Position your cursor on any text input area (like message box in your email) and click "Add to site" button. This will copy and paste the entire AI generated content in the text box. Alternatively, you can also click the "Copy" button to copy the content to clipboard and paste wherever you want.
Viewing Insights
This section shows the discovered pages related to the current page. In addition, you will see analytical summary of the current site and page from social networks, estimated traffic history and geographical location for the site's traffic.
Caution While Using Bing AI
After generating a blog post or writing an email, Bing AI will show a warning to verify the content manually before using. This is important like changing your and your boss names in the email. Also, Bing AI will generate inaccurate results when you ask for complicated blog topics and does not provide any citations. You can use Bing AI in Edge browser as your content assistant instead of relying it on completely. For example, you can generate ideas for your blog titles and manually add content for each suggested sections to create a beautiful and structured blog posts.