In recent days, Microsoft ramped up the Edge browser with Chromium based backend. There are lot of new features like Edge Bar, Sidebar and efficiency mode which attract users back to Edge from Chrome. Before the new feature is released for public use, Microsoft will test them as experiments. If you are really interested in checking the latest Edge features before they are available for public, then you can try the experimental features option. In this article, I will explain how to use experimental features in Microsoft Edge with different browser versions.
Using Experimental Features
You can try the experimental features using one of the following methods:
Use flags and apply the feature in your current stable browser.
Install one of the testing versions of Edge and try the features without affecting your stable browser.
Since experimental features may affect the browser's performance and security, it is not a clever idea to use them in your live browser. Though both options are explained below, it is recommended to use the second method. You can also try experimental features as explained in this article.
1. Using Flags in Stable Edge
Flags are nothing but experimental features which may or may not be released to public for use. Let us say, you want to open all the websites in dark mode in Edge. Though you use Windows dark theme mode (you can choose from Settings > Personalization > Colors section), Edge will not force the site to use dark mode in the content area. Only the title bar and background (if visible) will show in dark and the content area will still show in white as shown below:
However, you can use experimental flag and force Edge to use dark mode for viewing content like below.
Open Edge and go to edge://flags/ shortcut URL.
You will see a warning message that using experimental features may affect your security and privacy.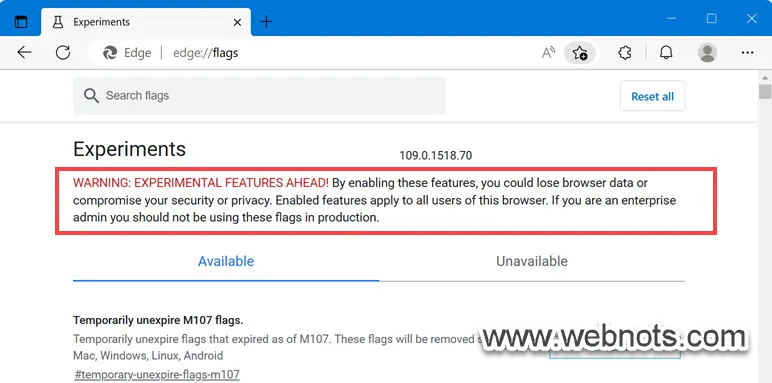 Type the flag name in the search box, in our case we enter "dark" to find dark theme related flags.
You will see a flag name "Auto Dark Mode for Web Contents" which will work on Mac, Windows, Linux and Android versions. The flag status is set to "Default" which means it is disabled in this case.
Click the "Default" dropdown to see bunch of options and select "Enabled".
Edge will prompt you to restart for the changes to take effect. Click "Restart" button and relaunch the browser.
Now, open any website and you will see Edge forces dark mode regardless of your system's theme setting.
Anytime, you can go back to flags and disable the flag by setting it to default option.
You can enable or disable any experimental flags to change the default appearance and behavior of Edge browser. However, Microsoft may remove these flags anytime without warning and you may lose the setup when updating the browser.
2. Use Testing Versions of Edge
Using testing versions of Edge is something like using Windows Insider Program. The differences are that you need not to subscribe and the app will work independent of the stable browser. Other than the stable Edge version that comes as part of Windows OS, Microsoft has three additional versions as part of Edge Insider Channels.
Beta version – development changes are release every 4 weeks.
Developer version – changes are released every week.
Canary version – nightly bleed version updated with previous day changes.
These versions may already have the experimental features working or you still need to enable flags for that. Whatever is the case, the advantage is that you can use any of these versions in parallel to your stable Edge version. This means you can work with peace of mind as the stable version is safe and secure.
Open your Edge and go to edge://settings/help shortcut URL.
Scroll down and check "Microsoft Edge Insider" section.
Click "Learn more" button to open the website and find the details of available testing versions.
As mentioned, you will see the details of Beta, Dev and Canary versions of Edge Insider Channels. By default, the page will show the versions for your device and click the download button below the item you want to install. If you want to download for different device, click the small arrow in the download button and select your device.
Double click and open the downloaded installer package file. This will download the browser app and install it in your system.
You will be prompted to migrate settings from other browser and share usage data with Microsoft in the starting wizard. Ignore these things by unchecking the items and you are good to go with Edge testing version. When you use both stable and testing versions, you will see the icons show different in the taskbar indicating they work as separate apps.
Open Canary or Beta version and go to Microsoft Edge Insider website. You will see the list of features and click "Try it" to find the features that may convince you to try.
Final Words
Before enabling any experimental features in stable version, make sure to update the browser by going to edge://settings/help URL. Sometimes, the feature might have been already released to public and available as part of the update. If you are testing the feature, it is fine to enable the flag in stable version and then you can set it back to default after testing. However, if you want to permanently use an experimental feature, then the best solution is to go for a beta version which works parallel to your stable version. You can anytime uninstall the Edge Insider versions from "Settings > Apps > Installed Apps" section like any other Windows apps.