Accessibility features help people with difficulties to use the Mac efficiently. However, normal users can also use these some of these features to make things easier. Captions and Live Captions are two such features you can use to read the text subtitles when the audio plays on your Mac. They are super useful when you are not able to follow the video content or not able to follow the participant talking in a FaceTime meeting. Here is how you can use Captions and Live Captions in Mac along with differences and limitations.
Enable Live Captions in Mac
Live Captions are disabled by default in Mac. Follow the below steps to enable and customize the appearance:
Go to "Apple logo > System Settings…" menu.
Select "Accessibility" from left sidebar and scroll down on the right pane.
Click "Live Captions (Beta)" option showing under "Hearing" section.
Turn on "Live Captions" option to start using the feature.
Customize Live Captions in Mac
If you want to customize the appearance of Live Captions, click the "Font family" dropdown and select your favorite font family. Similarly, you can increase or decrease the font size as per your convenient.
For the colors, you can click on "Font color" and "Background color" dropdowns and select "Choose Custom Color…" option. This will open color picker in Mac allowing you to select different colors for Live Captions font and background.
You can also turn on "Live Captions in FaceTime" option to use the feature in FaceTime app to generate the transcript for your conversation.
Using Live Captions in Mac
Live Captions in Mac converts audio to text and displays as a pop-up box outside when the media file plays. Hover over the Live Captions box to pause or use your microphone.
You can also use the menu icon showing on the top bar to control the behavior.
It has the following features in macOS:
It's a beta feature and you may find the transcript is not perfect.
Current the feature is only available on Mac with Apple silicon chip (M1 or M2) and in limited countries/languages.
The conversion happens in your Mac based on the installed language files. That means, you can use Live Captions without internet connection.
Live Captions works better with English though you can also get the translated text for other languages.
You can move the box and keep on the display in convenient position.
Keyboard Shortcuts for Live Captions in Mac
Unlike Live Captions in Windows 11, macOS does not offer default keyboard shortcuts. However, you can assign custom keyboard shortcuts to use Live Captions effectively.
Go to "Apple logo > System Settings… > Keyboard" section.
Click on the "Keyboard Shortcuts…" button.
On the pop-up that appears, go to "Accessibility" section and check "Live Captions" option.
Click the small arrow appears in front of "Live Captions" option and expand it. You will see a list of items with all set as "none" keyboard shortcut.
Double click on the "none" value against each item and setup your custom keyboard shortcuts. You can setup shortcut for toggling Live Captions, type to speak, keep onscreen, audio/microphone and pause/resume.
Remember, it is possible to assign any custom shortcut keys in the box. So, make sure to avoid overlapping with the default macOS shortcuts like "Command + A" or "Command + S". If you made any mistakes, simply click on "Restore Defaults" button to delete the setup and make all the options as "none".
Enable and Customize Captions in Mac
Captions are enabled by default in Mac and they will show when the media file has subtitles. However, you can customize the appearance of Captions to make them appealing for your eyes.
Click the Apple logo on top right corner and select "System Settings…" menu.
Go to "Accessibility" section from left sidebar.
Scroll down a bit on the right pane and select "Captions" option showing under "Hearing" section.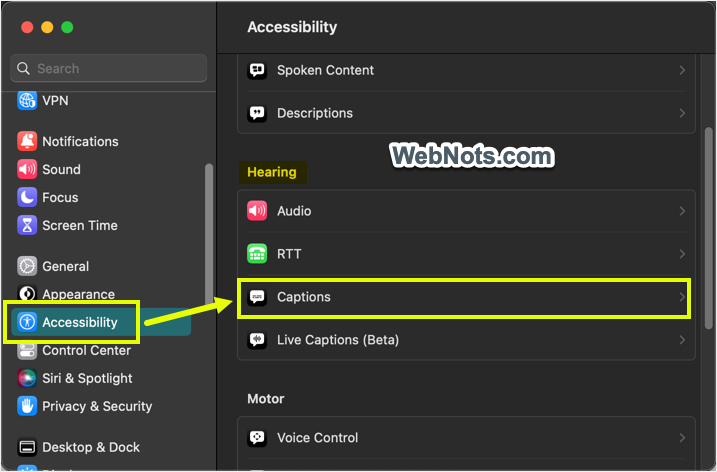 On the next screen, you will see a live preview of how captions will look when an app playing media file uses your macOS settings. You have few default styles to choose like Transparent Background, Classic, Large Text and Outline Text. In addition, you can also enable closed captions or subtitle for the deaf and hard of hearing (SDH). If this option is enabled, Mac will use closed captions instead of Live Captions.
If you do not like all the four default styles, then you have an option to create a custom style. First select one of the default styles and click the + icon. This will open a pop-up with list of properties for the selected style. Now, you can edit colors, fonts, font family, opacity, etc. and provide a new name. Click "OK" button to add the new custom style in your Captions list.
For deleting the custom style, select the style and then click on the – icon. Confirm the pop-up by clicking on "Delete" button. Remember, you can't delete the default Captions style in Mac.
Using Captions in Mac
Captions/close captions are the subtitles shown only when the media file owner provided it. Unfortunately, most of the apps and media files played in Safari will NOT follow the Captions settings from macOS. YouTube videos are the best examples for this case. You can enable or disable subtitles/captions for each video by clicking on the CC icon or selecting from the gear icon. However, Captions style will not use macOS settings and use YouTube's style. So, Captions are not much useful like Live Captions and it's up to the app developers to use system Captions settings or use their own.