By default, Mac comes with an "Applications" folder where you can find all source app files under your user account. Unlike Windows, you will not find any folders and each app will have only one .app application file. You can right-click on any app file and select "Show Package Contents" to open its source "Contents" folder. Installing any third-party apps like Google Chrome or apps from App Store will also add the application file in the same Applications folder. With this scenario, did you anytime wonder how to change the app installation location on your Mac? In this article, I will explain the possible options and how it works.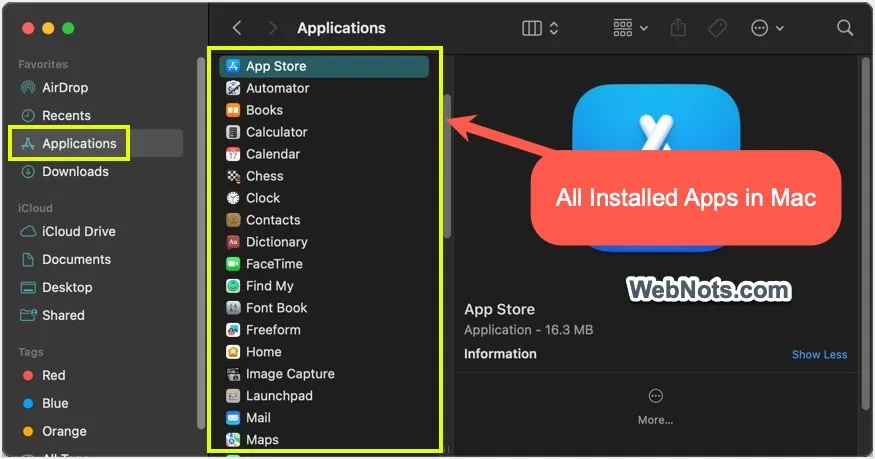 App Installation File in Mac
There are multiple options to install an app on Mac.
Installing from a .pkg package file downloaded from third-party websites.
Using drag and drop .dmg disk image file downloaded from any website.
ZIP archive with .app application file and no installation required.
Installing apps from Mac App Store.
Follow one of the following methods depending upon the situation to change the app installation location.
1. Select App Installation Location When Installation from Package File
Package files will take you through a wizard when installing an app in Mac. You can change the location in the installation wizard which is a straightforward option. However, apps like Microsoft Edge for Mac (comes as .pkg file) do not allow you to change the location while installing. Here, I will explain with Karabiner Elements which is an app for keyboard customization. It comes as a .dmg file and extracting it will show you the .pkg file.
After downloading, go to your "Downloads" folder and find the file. You should see it as with .pkg extension which is an Installer Flat Package file for Mac. Otherwise, simply open .dmg file to get the .pkg file and then open the final package file.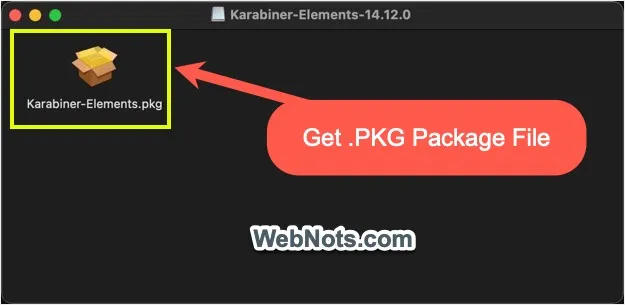 Opening the package installer file will start the installation wizard with a list of steps showing on the left sidebar.
Clicking on "Continue" will take you to "Installation Type" step skipping "Destination Select". Click on the "Change Install Location…" button showing on bottom right corner to go back to "Destination Select" step.
Select the drive for installing the app based on its size and available storage space. You can also choose USB or external hard drive to install app instead of using default Macintosh HD drive.
Click "Continue" to follow the wizard and finish the installation on the selected drive.
2. Change App Location with DMG File Installation
Most of the Mac apps come as .dmg file which you need to drag and drop to "Applications" folder. In this case, you do not have an option to change the installation location.
For changing app installation location from a .dmg file or from .pkg file which does not offer the option, you need a third-party app called Pacifist. Go to Pacifist website and get the ZIP archive file. Extracting the ZIP archive will give you the application file which you can run from Downloads folder without any installation.
Open Pacifist app and you will be prompted to register or use it as a freeware. Wait for few seconds and click "Not Yet" button to use it for free.
On the next screen, you will see Quick Start tips on how to use the app. Uncheck "Always show this window when Pacifist is launched" option and click "OK" button.
You will see a list of items and select "Open Package" option.
Browse through your Mac and select the installer package file (.pkg or .dmg) you have downloaded from third-party website.
Pacifist will show the entire package content of the selected file. You can expand the content and view the default extraction location and other details.
Right-click on the first item (which is the package file) and select "Extract to Custom Location…" option. You can also select "Install to Other Disk…" if you have connected additional disk to your Mac. Alternatively, click on the "Extract To…" button from the top toolbar.
Select the location to extract and confirm the action by clicking on "Extract" button. I will select "Downloads" folder as an example.
Now, you will see all files are extracted and find the .app application file in the extracted folder.
Double click to open the application file from Downloads folder and you will see a notification to move the app to "Applications" folder. Select "Don't ask me again" and click "Do Not Move" button.
Now the app will open and you can start working without any problem. You can also use Pacifist app to extract content from any online package file or analyze all apps installed on your Mac.
3. Move No Installation .app Files
As you can see in the above case, Pacifist app comes in a .zip archive file. You can simply extract the ZIP to get .app application and run it from "Downloads" or any other folder on your Mac. If you have such .app file, simply drag and move to the new location.
This will move the application to the new location from where you can access it henceforth. Instead of moving, you can also copy/paste to new location and then delete the original app.
4. Apps Installed from Mac App Store
If you have installed an app from Mac App Store, you can simply copy and paste it to another folder or drive as you need.
Navigate to the destination folder, right-click and select "Paste Item" option.
This will move the entire packaged contents of the app to new location allowing you to open the app from new location henceforth.
Note: You can't copy/paste or move the default apps from Applications folder in Mac. Simply dragging and dropping will create an alias (shortcut) in the new location and will NOT move the original application file.
Moving Apps from One Mac to Another
When you purchase a new Mac, you have two options to move one or multiple apps from old Mac.
Use Time Machine backup and restore the app on your new Mac. Though this option will work, you may miss the app features that work based on device identification (like premium features).
Use Migration Assistant to keep both Macs in parallel and move the apps.