GoDaddy is the world's largest domain registrar company. You can purchase domains, connect to hosting account, use Microsoft Email and use their website builder all in one place with a single account. Due to the popularity, many hackers will try to hack your account. GoDaddy offers multiple options to protect your account and adding 2 factor authentication is the most effective method. In this article, we will explain how to add 2 step verification in GoDaddy account along with a backup method.
Related: How to add 2 step verification method for WordPress login?
Why to Use 2 Step Verification?
Below is one of the spam emails we received asking to login to GoDaddy account. You may receive plenty of such emails and making a small mistake will compromise your domains, email or hosting account.
It will be a disastrous some hackers get the access to your domain's DNS setup or email account access. 2 step verification will protect your account even if you wrongly login with spam links. Since the login needs you to enter 6 digits verification code, hacker may not be able to use your username/password to access your account. In addition, you can add a backup verification method to get SMS in your personal mobile to add an additional layer of security.
How to Setup 2 Step Verification in GoDaddy Account?
The process contains the following steps:
Install authenticator app in your phone
Get QR code from GoDaddy
Link authenticator app with GoDaddy account
Add a backup verification method
Verify by logging into your account
Let us explain all the steps in detail.
1. Installing Authenticator App
The first step is to install an authenticator app in your mobile phone. There are popular apps like Google Authenticator and Microsoft Authenticator which you can use for this purpose. It does not matter which authenticator app you use since all apps work similarly to generate a verification code once linked with your account. In this article, we will explain with Microsoft Authenticator app which we use for Google, SiteGround and other accounts.

2. Get Verification QR Code from GoDaddy
Login to your GoDaddy account and go to your "Account Settings". You can click on your name showing on top right corner and select "Account Settings" to access this section.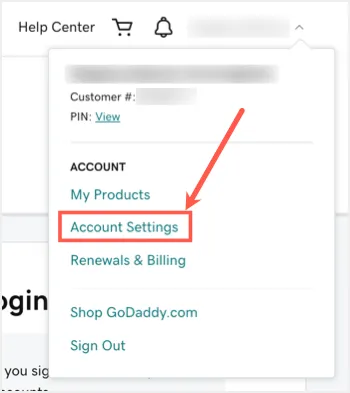 When you are in the settings page, scroll down and click on "Login and PIN" option.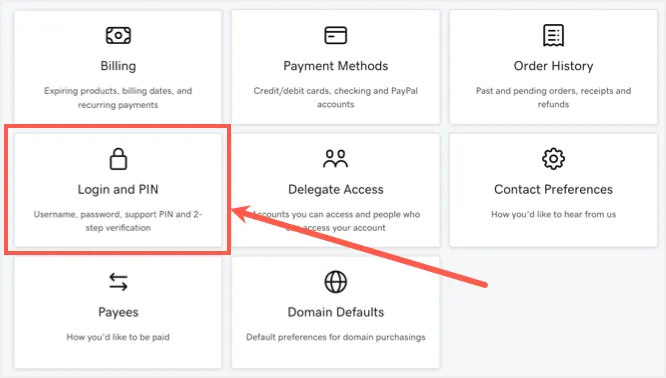 The "Login and PIN" page will show you details like your support PIN, social logins, etc. Find "2 Step Verification" option and click on "Add Verification" button.
GoDaddy offers three ways to add 2 step verification to your account – using authenticator app, get SMS message and use a security code. You can use one method as a primary 2 step verification and setup second as a backup for recovery purposes. Select "Authenticator app (Recommended)" option and click "Next" button.
This will show you the QR code for your account along with the steps to scan the code using authenticator app.
Related: How to setup 2 step verification for Google account?
3. Link GoDaddy Account in Authenticator App
Now, open the Authenticator app in your mobile and tap on the + icon. Choose the "Other" account option and scan the QR code from the GoDaddy account.
This will instantly link your account with the authenticator app and you will see a six digits verification code in the app. This code will change every 30 seconds and you need to enter the code quickly in GoDaddy login screen before it changes. After scanning the code, you will see the screen changed in your GoDaddy account asking for verification code. Provide the code and enter the name in "Authenticator name" box. You can simply enter "Authenticator" or provide any other name you like and click "Next" button.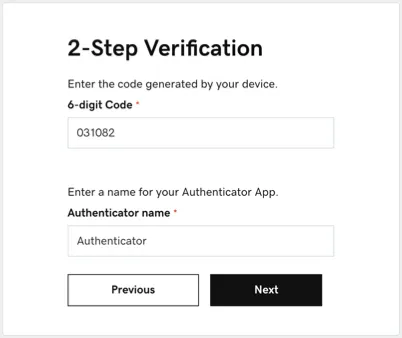 You will see a success message and then the details of added verification method will show like below.
4. Add a Backup SMS Verification Method
We recommend adding a backup verification which can be used when you are not able to access authenticator app. Click on "Add Backup" button to go back to the list of options showing for 2 step verification. Since you already added authenticator app, you can either use SMS verification or security key as your backup method. However, security key needs a physical device like USB to generate the code which you may not have with GoDaddy.
Therefore, select "SMS text messages" option which is an easy way to receive the verification code in your mobile phone. Click on "Next" button to proceed further.
On the next screen, select your country code, type the correct phone number and click "Next".
You will receive a six digits code in the provide phone number which you need to enter in the "6-digit code" box and click "Next" button. If you do not receive SMS code, click "Resend Code" link to send the SMS with the verification code again.
Now, check under "Verification" section to confirm the details. You should see authenticator as "Default" and SMS with phone number as "Backup" method.
Related: Guide to protect your Windows PC.
5. Verify Login
After finishing 2 step verification and adding a backup, logout of your account. You can try to login again and GoDaddy will prompt you to enter 2 step verification code. You need to check the authenticator app and provide the correct code to login to your account.
If you do not have authenticator app or the verification code did not work for any reasons, click on "Having trouble signing in"? link. Here you can use the backup verification method to get SMS code and login to your account.
Removing 2 Step Verification in GoDaddy
If you do not want to use 2 step verification process, go to your "Account Settings" page and click "Edit" link showing against "Verification" under "2-Step Verification". Here you can delete the default and backup setups and then use the login without any additional verification codes.
You can also remove the GoDaddy linkage from your authenticator app. Simply tap on GoDaddy option which will show with your customer number @ GoDaddy. Again, tap on the gear icon and remove the account.
Alternate Option – Social Login
GoDaddy also allows to use your social accounts as an alternate option for logging in. The process is similar to setting up 2 step verification and you can link social accounts on the same account login settings page. You can link Amazon, Google, Facebook, Apple and any other local accounts depending on your country. For example, you can find WeChat if you use Chinese account. However, the login page shows only Amazon, Facebook and Google and no other social options. Therefore, you need to choose one among these three options.
Remember, social accounts are highly vulnerable to data breaches even without your knowledge. Since protecting your domains is critical for your online presence, make sure to use 2 step verification in GoDaddy instead of using social login.