Though many do not pay attention, you can easily setup an attractive screen saver on your Mac. You can spice up the laptop or desktop screen with colors, photo collection, music album collection or one of the preset screen savers when it is not in use. Apple also introduced slow motion screen saver option in macOS Sonoma which is stunning if you are using larger monitors like iMac. This article explains various possibility of setting up screen saver and show clock on the display time. Learn more on how to setup wallpaper in Mac.
Setup Screen Saver in macOS Monterey or Earlier
Follow the below steps if you are using macOS Monterey or earlier versions. You can use all the options except slow motion screen savers in old macOS.
Click the Apple logo and go to "System Preferences…" menu.
Click "Desktop & Screen Saver" option from the top row.
Go to "Screen Saver" tab and click on the "Source" dropdown to select the folder that contains images. You can use the default Apple's collection, Photo library or custom folder similar to wallpaper settings.
Select the style for your screen saver from the left pane. There are numerous options available like floating, sliding-panels, origami, etc. You can even setup word of a day and album artwork from music folder.
Mac will instantly show you the preview of selected style on the right pane.
Click on the "Show screen saver after" dropdown and choose the time. If you select 20 minutes, your screen saver will start after 20 minutes of idle time. However, make sure the time selected here is earlier than the turn off display time so that the screen saver will be shown before the screen is locked.
Other options for screen saver include showing clock and use random pictures.
Note: You can set the "Turn display off after" time under "Apple logo > System Preferences > Battery > Battery" section.
Set Screen Saver in macOS Ventura, Sonoma or Later
The process is similar in the later macOS versions though the interface looks different.
Click the Apple logo and go to "System Settings…" option.
Navigate to "Screen Saver" section from the left sidebar.
By default, Mac will use the system's wallpaper setup as your screen saver. Select one of the items showing in the preview list to change the screen saver.
You have lot of categories like Landscape, Cityscape, Underwater and Earth. The "Shuffle Aerials" will shuffle the selected categories and there are some additional categories under "Other" option. You will only see 4 items in the preview and click "Show All" link to view all available options.
The previews with video icon are slow motion screen savers which will start downloading when you click on it. You can also automatically rotate the slow-motion screen saver with the set interval and use the same preview image as your wallpaper. However, you can't preview them within Settings app and you need to lock your Mac's screen to check it live.
WhatsApp Images and Custom Message for Screen Savers
The "Other" category in latest macOS has some hidden options which you may overlook easily.
Using WhatsApp Collection as Screen Saver – select "Photos" option and then click on "Options…" button on the top. You will see options to set colors, custom folder or images from phots library in addition to "WhatsApp". Select "WhatsApp" option to show the images from your WhatsApp media folder as Mac screen saver.
Show Custom Message – select "Message" under "Other" category and click "Options…" button. You will see a text box and type your custom message to show as a screen saver.
Showing Clock and Set Lock Screen Time
As you can see, there are no options in the latest macOS to include or exclude clock in screen saver section. However, this option is available under "Lock Screen" settings. You also need to set the display turn off time later than your screen saver trigger time under "Lock Screen" settings.
Go to "Apple logo > System Settings… > Lock Screen" section.
Make sure "Start Screen Saver when inactive" duration is set earlier than "Turn display off when inactive" duration. Otherwise, your screen saver will never start as the screen will be locked earlier. In this case, you will see a warning in "Lock Screen" setting. "Screen Saver" section will also a warning along with a "Lock Screen Settings" button which you can click and change the timer.
For showing the clock on your screen saver, click the "Show large clock" dropdown under "Lock Screen" settings. Select either "On Screen Saver and Lock Screen" or "On Lock Screen" option. Selecting "Never" will remove the digital clock from both lock screen and screen saver.
Using iPhone or iPad Wallpaper Apps on Mac
If you do not like any of the default screen savers and do not want to use custom pictures, then you can use a third-party app for this. Advantage with third-party app is that you can use supported wallpaper apps for iPhone or iPad on Mac (only on M1 or M2 chips). This will give large number of options compared to only using Mac setup or apps.
Go to Mac App Store and search for "screen saver".
For checking iPhone/iPad app, go to "iPhone & iPad Apps" tab.
Install any supported app and setup your screen saver.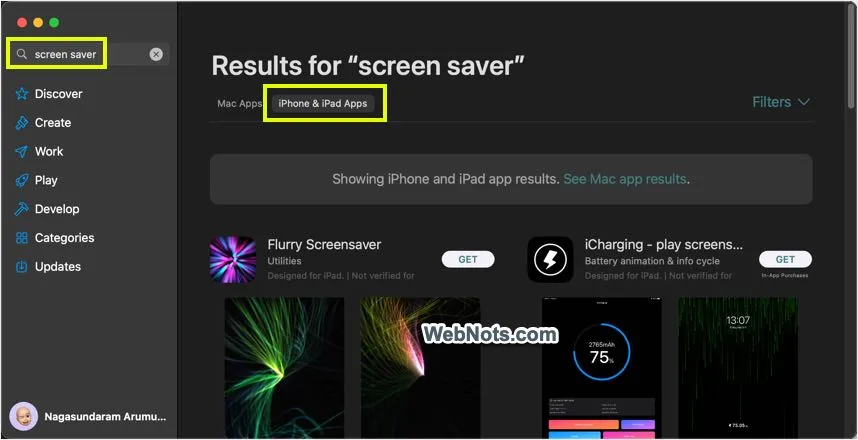 There are also many Mac only screen saver apps available in App Store. You can try them to have custom screen savers on your Mac.