The desktop screen you first see after login to your Mac can boost your thinking and confidence. Apple allows to stack all files on your desktop to remove the clutter. However, Mac uses default wallpaper that Apple changes only with the release of new macOS version. If you are bored with seeing the same wallpaper, here is how to setup wallpaper and screen saver on your Mac. Also, learn how to setup slow motion screen saver in Mac.
Mac Wallpaper Settings
Apple revamped macOS settings in Ventura and introduced a new Settings app replacing System Preferences. Therefore, the settings will look different if you are using macOS 12 (Monterey) or earlier and macOS 13 (Ventura) or later.
1. Change Wallpaper in macOS Monterey or Earlier
Go to "Apple menu > System Preferences…" section. This will open a dialog box showing all system setting icons. Click on the "Desktop & Screen Saver" option.
Desktop & Screen Saver setting has two tabs for settings up Desktop wallpaper and screen saver on your Mac.
1.1. Change Wallpaper in MacBook
As mentioned, MacBook by default uses the picture supplied along with the operating system. In order to change the wallpaper image, click on the "Desktop" tab. You will see three options on the left pane for choosing the source for your image.
Apple – contains pictures and colors supplied with the operating system.
Photos – contains albums and shared pictures from your photo library.
Folders – custom folders like "Pictures" from where you can show the wallpaper. You can click on the + icon below the left pane and add any custom folders that you have wallpaper images.
The right pane will show the preview of all available pictures. After choosing the picture from desired folder, you can choose dynamic, Dark (Still) or Light (Still) option from the dropdown above the right pane.
Dynamic desktop pictures will change the ambient throughout the day based on the time. However, you can't choose custom picture for dynamic desktop.
Instead of pictures, you can setup colors by choosing it under "Apple > Colors" from the left pane. There are few default colors available, however you can setup custom color for your desktop.
From "Photos" folder, you can choose your personal or family pictures as your desktop wallpaper.
When you choose custom picture by clicking on the + icon, you will have an additional option to setup the wallpaper to fit the desktop screen. Choose one of the options like full screen, fit to screen, stretch to fill screen, center or tile.
1.2. Auto Rotating Wallpapers
Click on the "Change picture" checkbox and choose the time or event from the dropdown.
This will allow you to rotate the pictures from the selected folder based on the option you choose. For example, you can rotate the wallpaper every 30 minutes. Alternatively, you can setup an event like logging in to change the wallpaper every time you login to your Mac. Remember, this will work for stills and not for dynamic desktop pictures.
Select the "Random order" checkbox, if you want to rotate the images randomly under the selected folder.
1.3. Hot Corners
You may be wondering what is the hot corners button showing bottom lower corner of the screen saver settings screen. It works like show desktop button in Windows 10 that is available on the lower right corner on the taskbar. Click on "Hot Corners…" button to see the pop-up like below.
Unlike Windows 10, you can setup different actions for each corner of your desktop in Mac. For example, you can select "Lock Screen" for top left corner. Your Mac will automatically lock the screen whenever you move the mouse to top left corner.
2. Change Wallpaper in macOS Ventura or Later
Click the Apple logo and select "System Settings…" menu to open Settings app. Navigate to "Wallpaper" section from the sidebar and you will see the Mac uses default system wallpaper in the right pane. You can select photo, folder, dynamic wallpaper, live wallpaper or plain color as desktop background.
2.1. Shuffle Wallpapers in Mac
You can also shuffle multiple pictures either by selecting a folder or selecting an item under "Shuffle Aerials" section. This will show an addition option for selecting duration for shuffling the picture. You can select from 12 hours to a month gap for automatically changing the wallpaper. Perhaps you can select Every Day" option to give your desktop screen a fresh look daily.
2.2. Using Wallpaper as Live Screen Saver
Apple also introduced live screen saver in macOS 14 (Sonoma). Wallpapers supporting live screen saver are shown with a small video player icon on the image preview. Selecting that image will download the original video. You will see an additional option "Show as screen saver" and turn on this to use the selected wallpaper as your live screen saver. For using plain color as desktop background, scroll down to bottom of the page and select a color from the list or add your custom color. You can also shuffle the background colors like pictures.
Using iPhone and iPad Wallpaper App on Mac
If you have a Mac with M1/M2 chip, then you have a cool option to install iPhone and iPad wallpapers apps.
Open Mac App Store and search for "wallpaper" or "screen saver" to filter relevant apps.
Click on "iPhone & iPad Apps" tabs to find your favorite iPhone/iPad wallpaper app.
Click "Get" button and then "Install" button to start using the app on your Mac.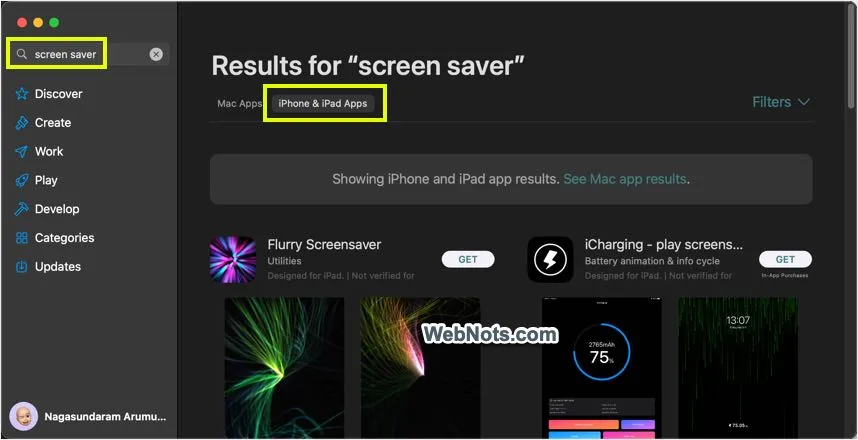 There are also many wallpaper apps available for Mac which you can try if you are using Intel based processor. For example, Unsplash Wallpapers is the neat app which allows you to use royalty free stock images from Unsplash site.
Simply install and open the app which will add an icon on top menu bar.
Click on that icon to choose the themes (categories of images) that you want to use.
Go to image section to check the preview of wallpaper image.
If you like the image, download and set it as your wallpaper.
Otherwise, refresh to load another wallpaper image.