There are plenty of image processing apps available for iOS and macOS to remove the background and isolate objects from pictures. Good thing is that now you can do this without any third-party app in iPhone and Mac. Though it is a basic feature, you can simply copy the object and paste or share anywhere. This works on default apps like Photos in iPhone and Preview, Photos and Quick Time Player in Mac.
Copy Objects from Images in iPhone
Most third-party apps help to remove background from the picture and retain the main object. However, default iOS works other way round to copy the object by separating it from the background. This works automatically with image recognition and all what you need is a picture where an object is clearly visible. The object could be yourself, your pet, children or any other item in a picture. Make sure to update your iPhone to iOS 17 or later and follow the below steps.
Launch Photos app to find and open the picture from which you want to separate an object.
Tap and press the object and you will notice the outline of the object glows instantly.
Drag the object to confirm it can be moved independently without any other objects or background from the picture.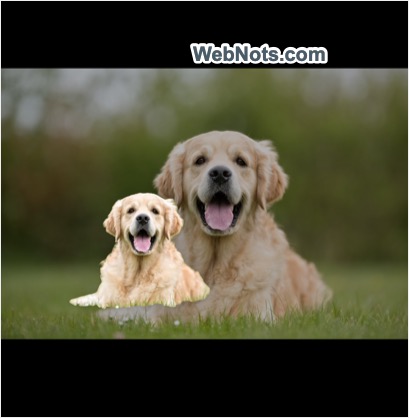 This indicates your iPhone can identify the object and lift your finger.
You will see a toolbar appears showing menu items on top of the object.
You will have three options – Copy, Add Sticker and Share.
Tap on "Copy" option to copy the object to clipboard.
Now, open Messages or any other app and tap on the text box field to reveal the menu.
Select "Paste" to insert the copied object from clipboard.
Creating Sticker from Object
If you want to create a sticker from the object on your picture, select "Add Sticker" option. This will open stickers pane from the bottom showing the extracted object. Tap on "Add Effect" option from the toolbar and iPhone will show few options to decorate your sticker. Select the effect and tap on "Done" to save your object as a sticker.
Go to Messages app, tap on the + icon showing left side of the text box and then select "Stickers" option to view your object showing there in the stickers list.
Tap on the sticker to insert in your conversations or drag and attach the sticker to any previous messages in the conversation.
Sharing Object from Image
In addition to copying and creating stickers, you can share the object from any picture by selecting the "Share" option. This will open the default iPhone's sharing pane showing all available options like AirDrop, Save to Files or add to new Quick Note. You can also directly share the object on social networking apps like WhatsApp or Facebook.
Note: As you can see, the extracted object is in transparent PNG format which is 1.2 MB in size though it is very small. If you want to reduce the file size, first save to files. Later, you can process it with any image editing apps and convert to compressed JPEG format.
Copy Object from Video
iOS 17 added an additional feature to extract objects from videos.
Open your video in Photos app.
Pause the video where you see the object is clearly visible.
Tap on the object and hold till you see it is glowing.
Lift your finger to see the same toolbar menu appears showing options for copy, add to stickers and share.
Copy Object from Image or Video in Mac
Mac also supports removing background and lifting the object from pictures and videos.
Open your picture or video in Photos app. If it is a video, pause it in a position where you can see the object clearly. You can also open pictures in Preview and videos in Quick Time Player.
Right-click on the picture/video and hover over "Copy Subject" menu.
Mac will show a glowing outline on the identified object indicating you can lift that object separately.
Select "Copy Subject" to extract the object to your clipboard.
Open Messages or any other app and paste the copied object in the text box.
Note: Though there are no sticker option in Mac, all stickers created in iPhone will be synchronized in iCloud and available across all your devices.
Share Object from Image and Videos in Mac
You can also share the object instead of copying. For that, select "Share Subject" from right-click context menu. You will see AirDrop and list of other supported apps available on your Mac and select the one in which you want to share the object.
For example, select Freeform app and Mac will show the copied object in a pop-up. Choose your board from the dropdown and click "Save" button to insert the object in your Freeform board.
Note: Some apps like Preview and Quick Time Player will show additional options for copying or sharing the entire image frame from the video in addition to copy/share the object.
Copying Multiple Objects
As mentioned, copying object from a picture or video is a very basic feature in iPhone/Mac. Here are some problems you will face with this feature.
When there are multiple objects in the picture, iPhone and Mac will identify them as a single object together. This means when you have two persons in a picture, you can only copy both of them together and no possibility of copying either of them separately.
The feature will automatically identify only one major object in your picture/video. It will not identify smaller objects and you have no option to manually select different item.
You may need to go for third-party image processing apps if you need granular controls for removing background or lifting objects from your pictures/videos.