Different people like different display styles on their smartphones. Most people like a bright white screen with black text while few others may find it easier to read white text on a black screen. Both Android and iPhone offers multiple ways to invert the colors of the text and background to make the reading experience better for individuals. In this article, we will explain all possible options to invert colors in Android and iPhone and you can choose the best one that suits your need.
Dark Theme Vs Inverting Colors
There are two ways to invert colors in your smartphone:
Dark theme or dark mode
Color inversion or inverting colors
Both dark theme and color inversion are for those who like dark black background color with white text. Although the apparent results of using dark mode and inverting colors are the same, there are slight differences between them. For example, when you turn on the dark theme in Android, it will only work on the Android system and supported apps. So, you won't see any color change in the media files like videos. Color inversion, on the other hand, works on everything, including the media files like videos, etc. iPhone offers two types of color inversions and a dark mode. Therefore, you can test both options and choose the one you like to use.
Note that you can use both dark mode and color inversion together in Android and iPhone. This works for the apps that do not support dark theme to force using black background and white text with color inversion. In addition, you can setup dark theme separately for apps like Google Search, Chrome, etc.
How to Enable Dark Theme in Android?
The dark theme is very close to color inversion, and most of the time, it would be enough to give a feeling of color inversion.
Go to "Settings" and then "Accessibility" and open its page.
The Accessibility page displays various options under different categories like "Screen reader," "Display," "Interaction controls," etc.
Scroll the page to the "Display" section. Tap on the toggle button in front of "Dark theme" to switch it on or off.
You can see the effect instantly after toggling the "Dark theme" function.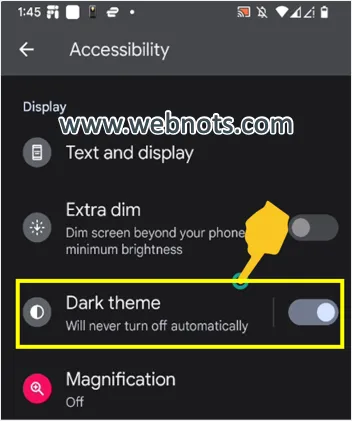 Learn more on how to setup dark theme in Windows PC and MacBook.
You can also automatically enable or disable dark theme on Android based on a scheduled time. Instead of enabling dark theme button, simply tap on "Dark theme" menu text. It will open the settings page and tap on "Schedule" option. You can select one of the below options:
None – no schedule.
Turns on from sunset to sunrise – enable dark theme based on the clock and timezone automatically.
Turns on at custom time – when selecting this option, you will see two more items – "Start time" and "End time" – will appear. You can enter the desired times to customize the schedule for using dark theme only during the set time.
How to Invert Colors in Android?
As mentioned, problem with dark theme is that not all apps support the system setup. In such cases, you have to switch on color inversion after enabling a dark theme. Follow the below instructions to turn color inversion in Android.
Go to "Settings" and the "Accessibility" page.
Find "Text and display" under the "Display" category.
Search for "Color inversion" and tap it to open the Color inversion settings page.
Hit the toggle button for "Use color inversion" option to turn on the color inversion.
It is also possible to create a shortcut for color inversion option. Once you switch on the "Color inversion shortcut" option, a floating button will appear near the edge of your mobile phone screen. You can toggle the color inversion conveniently by tapping on the floating button at any time without going into the settings.
How to Enable Dark Theme in iPhone?
Now, let us explain how to change the dark theme in iPhone.
Go to "Settings" app and tap on "Display & Brightness" option.
Under the "Appearance" section, select "Light" or "Dark" theme.
Tap on "Automatic" option to automatically enable dark mode based on sunset and sunrise timing or based on custom schedule. You can select one of the option and setup the schedule by tapping on "Options".
How to Invert Colors in iPhone?
Unlike Android, iPhone offers two type of color inversions.
Go to "Settings" app and tap on "Accessibility" option.
Tap on "Display & Text Size" option to related features.
Smart Invert – this option will simply invert the text and background colors without affecting images and videos. In most cases, this will be option you want to use.
Classic Invert – this option will invert everything on your phone including media files like images. Below is how an image of the hand drawn painting will look with smart and classic invert options in iPhone. Most probably, you will not need this option unless you have eye vision problems in recognizing colors.
Note that there is also a night shift mode available both in Android and iPhone. This will dynamically adjust the display colors to keep your eyes cool. However, night shift mode will not completely invert text and background colors.