MacBook is a companion for many of the people for the whole day. Some people love to work on the Mac during nighttime without disturbance. But working long during nighttime will not only affect your physical health but also mental health. So it is necessary to take precautions when working on nighttime in order to protect your eyes. Apple offers night shift or night mode to make the display warmer in dark. This will help to cool your eyes and ensure you can have undisturbed sleep after working. Learn more on how to setup night light mode in Windows computers.
3 Ways to Enable Night Shift Mode in Mac
There are three different ways to access night shift mode in your MacBook.
Use notification center or Control Center
Enable from System Preferences
Voice control with Siri
System Requirements for Night Shift Mode
Before you try to enable night shift mode, checkout whether you have the MacBook that fulfills the following requirements:
Version – macOS Sierra 10.12.4 or greater, learn more on how to check your macOS version.
Models – MacBook from early 2015, MacBook Air/Pro from mid 2012, Mac mini/iMac from late 2012 and Mac Pro from late 2013.
Displays – Apple also supports night shift mode on additional displays like Apple LED Cinema display, Apple Thunderbolt Display and LG UltraFine 4K/5K Displays.
1. Enable Night Shift from Notification / Control Center
Apple introduced many new features on macOS Mojave which is version 10.14. One of the useful functions is to enable night shift mode from the Notification Center. Though the settings are changed in subsequent macOS versions, now you can use Control Center for this purpose.
On older macOS versions, click on the Notification Center icon on the top right corner of your Mac.
By default you will not see the night shift option. You need to swipe to top of the Notification Center. Now you will see the "Night Shift" mode and "Do Not Disturb" options. Enable night shift mode by turning the slider on. You can do this under any of the two tabs – Today and Notifications.
On the latest macOS version, clicking on Control Center will show list of options and click on "Display" option.
You will see Night Shift and Dark Mode options. Click on "Night Shift" icon and enable it.
When you enable night shift, the display automatically will change to warm colors. If you don't like the night shift mode, then anytime you can go back to Notification or Control Center and deactivate the night shift mode.
2. Enable Night Shift from System Preferences
Though Notification Center method is useful, it has some problems. Night shift mode will be active with "On Until Tomorrow" option which will be till end of the day, that is night 12 o'clock. At the start of next day, that is morning 12AM, it will be automatically disabled. So you can use this shortcut only for that day and need to enable again on next day. You can setup the night shift mode properly from system preferences section.
When you are seeing night shift mode in Notification Center, click on the "Display Preferences…" link showing at the bottom. Alternatively, go to "Apple Menu > System Preferences…" and click on "Displays" icon.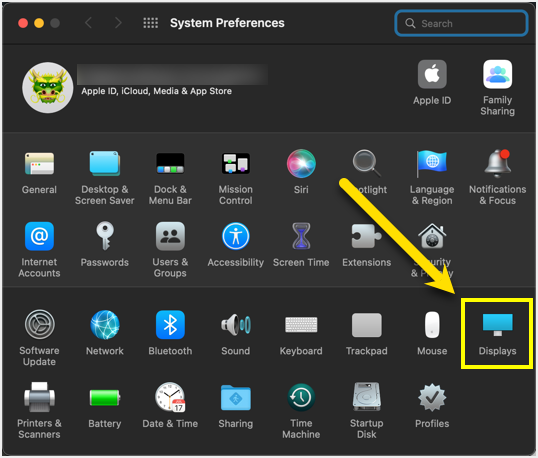 The older macOS versions will show different tabs and you can navigate to "Night Shift" tab to view multiple options like below.
However, the latest macOS version will show the display preferences section like below and click on "Night Shift…" button.
On the next screen that appears, you can customize the night shift mode setup.
Here are various options available for you o customize the setup.
2.1. Scheduling Night Shift Mode
The schedule dropdown offers three options.
Off – by default night shift schedule is switched off on your Mac. You can also switch off the schedule after you setup.
Custom – select custom option and setup from and to time. Mac will enable the night shift mode everyday only during the scheduled time.
Sunrise to sunset – this will the most preferred option if you want to your Mac to schedule the night shift from evening to morning daily. But this needs a location services to be enables for the determination of the sunset and sunrise time on your time zone.
Enabling Location Services for Sunset to Sunrise Option
When you schedule sunset to sunrise, Mac will turn on the night shift automatically. In order for this option to work, Mac should able to find your current time from location services settings. Follow the below instructions to enable location services for time zone settings.
Go to "Apple Menu > System Preferences…" and click on "Security & Privacy" option.
Click on the "Privacy" tab and click the padlock saying, "Click the lock to make changes". Enter you administrator password and enable editing.
Click on the "Location Services" left sidebar and scroll down to "System Services" on right pane.
Click on the "Details…" button against "System Services" option.
Enable the checkbox against "Time Zone & System Customization". Click "Done" button and close the preferences dialog box.
Now your Mac will determine the sunset/sunrise time and enable/disable night shift mode accordingly.
2.2. Manual Option
Mac will select the "Manual" checkbox automatically whenever you enable the night shift mode either from schedule option from Notification Center. The description of the "Manual" option will show based on the selection like "Turn On Until Sunrise" or "Turn On Until Tomorrow".
2.3. Color Temperature
You can drag the slider and set the color temperature to the preferred warm level. Checkout the comfortability of your eyes and choose the preferred settings for you.
3. Using Siri to Enable Night Shift
If you are control everything with voice then open Siri and say "enable night shift". Siri will say, "Night Shift is now on" and enable it for you.
Similarly say, "disable night shift" to disable it.
Using True Tone for MacBook Pro
MacBook Pro models from 2018 uses additional True Tone feature. This will help to adjust the display colors based on the surrounding light. You can enable this to have a warmer display in addition to night shift mode. Follow the below instructions to enable True Tone option.
Go to "Apple Menu > System Preferences…" and click on "Displays" icon.
On older version, go to "Display" menu and enable "True Tone" option below the "Brightness" section. With the latest macOS version, you will see the options after opening "Displays" preferences.
Note that True Tone option will be showing only on the supported devices. If you are not seeing this option, then your Mac does not support this feature.