Apple introduced the dark mode with the macOS Mojave version during 2018. It was so good and blends with the default apps to make it more appealing to users. Later, Microsoft introduced dark mode in Windows 10 and offered a separate dark theme option for Edge browser. Now, you have multiple ways to use dark mode in Google Chrome by changing the theme. On Android Chrome app, you have an additional option on app level to force dark mode. In this article, I will explain how to enable dark theme or mode in Chrome on various devices. Also, learn how to stop autoplaying audio and video in Chrome.
Dark Mode in Google Chrome
Some news and magazine style websites offer a toggle button to switch light or dark mode. That will force the mode independent of your browser or OS settings. However, most of the sites do not offer such function and you need to either use the OS level or Chrome settings level option to use dark mode. As mentioned, you have an option in Android Chrome app to force the app to use dark theme.
1. Change Profile Theme to Dark in Chrome
Launch Chrome and go to chrome://settings/manageProfile page. You will lot of color themes and select the "Black" color. This will apply the dark mode which works similar to OS level setting.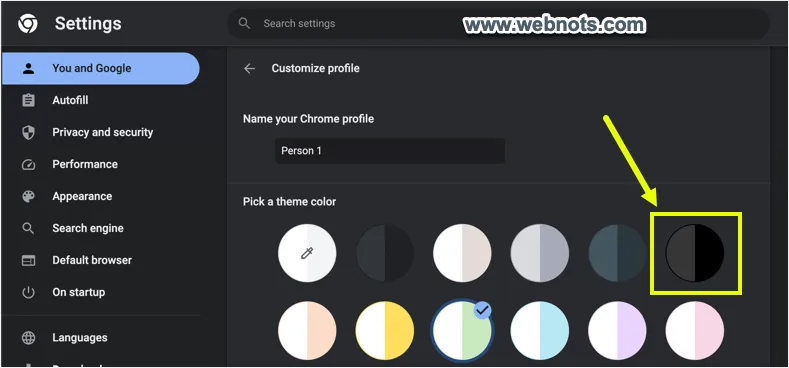 Alternatively, click on the "Customize Chrome" button showing in new tab page. Go to "Color and theme" section and select "Black" to apply dark theme.
2. Chrome Dark Mode on Mac
Dark mode works at macOS level and Chrome will adopt to the mode of your Mac. Follow the below instructions on macOS Monterey or earlier.
Click on the Apple menu and go to "System Preferences…" option. Alternatively press command and , keys to open system preferences section.
On the preferences dialog box, look for "General" option and click on it.
Mac offers three modes of appearance – light, dark and auto. Enable dark mode by clicking on it under "Appearance" section.
If you are using macOS Ventura or later, follow the below steps:
Go to Apple menu and select "System Settings…".
Navigate to "Appearance" section and select "Dark" mode option.
3. Enabling Chrome Dark Mode in Windows
Similar to Mac, as of now Chrome does not offer dark mode in Windows version. You have to use the system background settings to change entire computer to dark mode and Chrome will follow your computer's settings. Follow the below instructions on Windows 10:
Press "Win + I" keys to Windows Settings app and then navigate to "Personalization" section.
Go to "Colors" section and select "Dark" option for "Choose your default app mode".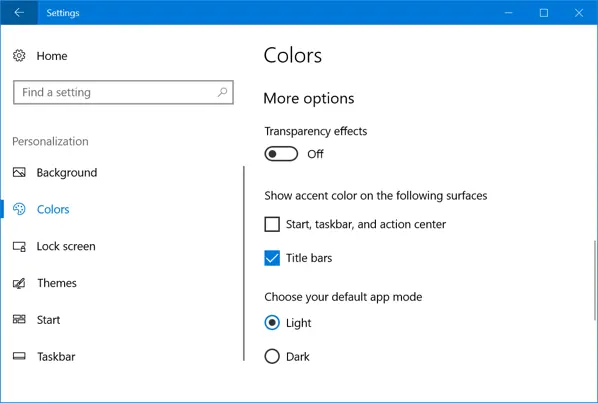 On Windows 11, you can find the options under "Settings > Personalization > Colors" section.
4. Always Launch Chrome in Dark Mode in Windows
Sometimes, even you enable dark mode in Windows, the browser will still look with normal light mode. However, you can follow the below trick to launch Chrome always in dark mode in Windows.
First go to desktop and locate the shortcut icon of Google Chrome. In case, if you are not finding the shortcut you need to first create a desktop shortcut from the Chrome executable file. You can generally find the chrome.exe file under "C:\Program Files\Google\Chrome\Application\" folder.
Right click on the desktop shortcut and click on "Properties".
When you are "Google Chrome Properties" dialog box, click on "Target" text box and move your cursor to end position.
Now press spacebar and add "-force-dark-mode". It should look like below.
Click "Apply" and then "OK" buttons to close the properties dialog.
Now double click on the desktop shortcut and launch the browser.
You can see the browser forces the dark mode and looks like below.
5. Force All Websites to Use Full Dark Mode in Chrome
All the above methods will show Chrome new tab page, settings and top title bar in dark mode. However, you will feel difficult to work with Chrome dark mode as the content area will look normal when viewing most of the websites. If you want to force all the websites to use dark mode, then follow the below steps (it works both in Windows and Mac as of version 109).
Make sure you are using one of the above methods to change the Chrome title bar to dark mode.
Save all your work in Chrome and open chrome://flags/ in a new tab page.
Type "dark" in the search box to filter "Auto Dark Mode for Web Contents" flag.
By default, the flag will be set as "Default" which is disabled. Click on the dropdown and select "Enabled" value.
Click the "Relaunch" button to close and re-open Chrome app.
Below is how this website will look in Chrome with the normal dark mode and forcing with flag. As you can see the entire browser including the site's content area is dark. The only problem is that flags are experimental features that Google may anytime remove without notice.
6. Using Extensions
If you don't like default dark mode in Chrome, there are plenty of themes and extensions you can use. For example, search for dark mode in Chrome Web Store and install the "Dark Mode" extension. This works similar to default dark mode and change the browser to black.
7. Enable Chrome Dark Mode in Android and iOS
As mentioned, you have to enable dark theme in Android and use system settings in iOS to use dark mode in Chrome.
Android – Open Chrome app and tap on three dots button on top. Navigate to "Settings > Theme" section and enable "Dark" theme.
iOS – Open "Settings" app and navigate to "Display and Brightness" section. Enable "Dark" option under "Appearance" section similar to macOS.
Note: When choosing "Auto" mode in Mac and iPhone, Chrome will follow the system settings of looking light during day time and looking dark after sunset.
Problems with Chrome Dark Mode
Whether you force the dark mode or apply dark theme, you may find some difficulties when working in Chrome. Especially, the links with blue colors are difficult to read with black background which you can find in the new tab page.
When forcing dark mode, the content will become unreadable if the site uses dark colors for text and headings. Also, the predictions are difficult to view with the Chrome dark mode.