Duplicate files are created due to many possible reasons like multiple times copy/pasting files, downloading the same files, syncing photos, etc. Keeping large number of duplicate files can eat up your valuable space on the hard drive and slow down the performance of your computer. So, it is important to find and delete duplicate files in Windows computers to boost the performance. If you are also using MacBook, learn more on how to cleanup the junk files in Mac.
Delete Duplicate Files in Windows 11
Windows 11 offers plenty of suggestions for cleaning up the storage space. You can open Settings app and navigate to "System > Storage" section to fine all these suggestions. Under "Storage management > Cleanup recommendations" section, you can find the files already synced in cloud and delete them if not needed. Other than this, we do not see any options are available to find and delete duplicate files available in your system. The only option for you is to manually explore the files and delete them based on the names. Otherwise, you can go for third-party apps only which will make the task much easier.
Using Default Options in Windows 11
Windows 11 uses a naming convention when the duplicate files are available in the same location. For example, if you copy and paste or download a text file "my_text_file" multiple times in your "Downloads" folder then the files names will be like below:
my_text_file
my_text_file – Copy
my_text_file – Copy – Copy
my_text_file – Copy – Copy (2)
my_text_file – Copy – Copy (3)
You can use one of the below methods to easily find and delete the duplicate files when the file name contains "Copy". Remember, the this works only within a folder. Otherwise, directly go to section 2 which explains finding duplicate files in entire system using third-party apps.
1.1. Find Duplicates Within a Folder Using File Explorer
Here is how you can find duplicate files using File Explorer:
Press "Windows + E" keys to open File Explorer app.
Navigate to the folder where from where you want to delete the duplicate files.
Click on "Sort" from top toolbar and then select "Name" option to sort all the available files based on file names. You can also select "Ascending" or "Descending" to list down the files accordingly.
If the files are showing as icons, click on "View" and then select "Details" option to arrange the files in details view.
Check the file names containing "Copy" and delete them to clean up the folder.
1.2. Search and Delete Files from File Explorer
If you remember the file name which you think is copied to multiple locations in your system, then you can find the duplicates by searching from File Explorer.
Simply type the file name in File Explorer's search box and you will see the list of files available in your system.
Right-click on the file you want to delete and select "Open file location". This will take you to the folder where the duplicate files are located. From there you can check and delete the file.
1.3. Using Command Prompt
If you have large number of file names with "- Copy" in a single folder, then manually selecting and deleting them is a tedious task. For example, you might have mistakenly pressed "Control + V" keys twice and pasted thousands of files two times in a folder. After some days, if you are surprised with the duplicates then you can use "Command Prompt" to cleanup in few seconds instead of manually scanning for duplicates.
First, open the folder in File Explorer which contains all the duplicate files.
Right-click on the folder and select "Copy as path" option. Alternatively, you can copy the file path from the address bar.
Now, click the search icon or box in the task bar and type "cmd" or "command prompt".
Command Prompt app will show as a first result, right-click on it and select "Run as administrator" option. Remember, you can also right-click on Start menu and select "Terminal (Admin)" option. From Terminal app, you can open Command Prompt and follow the below steps.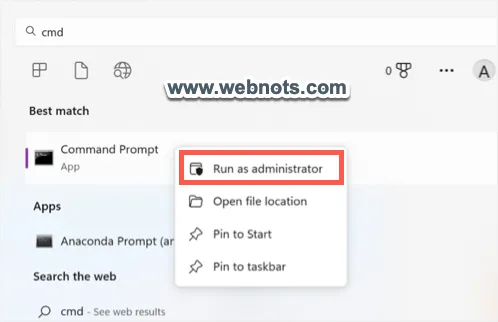 When you are in Command Prompt with administrator access, type cd /d "folder location" and press enter. Make sure to replace the folder location in the command with the folder path you have copied in previous step. This will change the prompt location to the desired folder.
Type del "* - Copy.txt" and press enter key to delete all files which contain the word "Copy" in file name. Note that if your duplicate files are in any other format like png, jpeg, or XML, then you have to replace txt with the right format.
2. Finding and Deleting Duplicates with Third-Party Apps
As you can see the default options in Windows 11 are quite impractical works in single folder. Even searching and deleting is also not a simple task if files with same names are available in multiple locations. If you are running low disk space with huge number of duplicate files scattered over the system, then try one of the below mentioned third-party apps.
2.1. Using SearchMyFiles
SearchMyFiles app helps you to locate and delete duplicate files easily and quickly. The app offers enhanced Windows search function to find the duplicate files with the same name.
First, download and install the app from NirSoft website. Make sure to download the correct file for 32-bit or 64-bit version. It is also possible to use the app from external hard disk or USB without installing it in your computer.
After installing, open the app, click on the dropdown against "Search Mode" and select "Duplicates Search" option from the list. Note that the app has different modes and here we will explain only duplicate search related options.
Click on the "Browse" button against the "Base Folders" option to select the folder which contains duplicate files. For example, select "Documents" or "Downloads" folder. You can also select multiple folders for duplicate search and then press "Start Search".
It will show all the files along with their duplicates found. Click on "Duplicate Groups" column and it will arrange the files in a group so that you can easily identify the duplicated items. If you are in doubt, right-click on original/duplicate files and select "Open Selected File". Preview the content of selected files to make sure both have similar content.
Once you are sure, select all duplicated files and press delete key and confirm the deletion to move the files to recycle bin. Alternatively, right-click and select "Move To Recycle Bin" to send them to trash or "Delete Selected Files" option to delete them permanently. If you are moving to recycle bin, make sure to empty the recycle bin to recover the storage space.
There is another option to find duplicate files with similar names. Go back to the main page of the application and select "Duplicate Names Search" in the "Search Mode" option. Then repeat the same process as discussed above to delete the duplicate files.
2.2. Using Auslogics Duplicate File Finder
Auslogics Duplicate File Finder is another 3rd party software that sorts the duplicate files, photos, and videos found in your system. Let's see how Auslogics find and delete the duplicate files:
Go to the official website of Auslogics and download the latest version of Auslogics Duplicate File Finder on your system.
Open the app and select the folders where you want to find the duplicates. You can select higher-level folders like "Documents" or folders in different locations. After that, select "Look for all file types" option and click "Search" button. If you only want to search for images or audios or videos, then only select that option.
The app will start scanning for duplicate files showing the progress and wait for the action to complete.
After finishing the scan, select the duplicate files found and press on "Delete Selected Files" button
A warning dialog box will appear, press on "OK" to move the duplicate files to Recycle Bin.
2.3. Using CCleaner to Find Duplicate Files
CCleaner is a software that cleans your PC from temporary and junk files, helps to improve your privacy, and tracks cookies. Let's see how CCleaner finds and delete the duplicate files in your PC:
Go to the official website of CCleaner to download its free and latest version.
Install the program on your system and upon completion of the installation process, click on "Start CCleaner" button.
Click "Tools" from the menu displayed on the side of the window and then go to "Duplicate Finder".
Select the folder to find duplicate files and press "Search" button. You can select the entire C: and other drives to make your task easier.
After successfully finding the duplicate files, the app will show a notification mentioning "File search has completed". Click on "OK" to view all the duplicates found.
Now carefully select the duplicate files that you want to delete and press "Delete Selected" button.
And this is how all the duplicate files found are easily deleted.
Final Words
As discussed above, there are many ways to find and delete duplicate files in Windows 11. Unfortunately, Windows does not come with any system apps for this purpose and using File Explorer or Command Prompt is not user-friendly options. Therefore, you may need to go for third-party apps like Auslogics or CCleaner to finish the task quickly. However, make sure to check and delete only the duplicate files instead of deleting the originals.