You can create content site, blog and online store with a Weebly account. Though Weebly offers limited blogging capabilities, you can still make use of them in effective way. This is the same case for product categories under which you can group similar products. Many users do not create categories and group the blog posts or products. However, this is one of the most easy ways to increase the visibility of your site's contents. There are many situations you also need to add the categories in the header navigation. In this article, we will cover how to create categories in Weebly and add them in your navigation menu.
Making Use of Weebly Categories
Product category and blog category are two different things to group products and blog posts respectively. First, we will explain creating product categories then blog categories and finally assigning category links in navigation menu section.
How to Create Categories in Weebly Store?
Let's take an example of creating product category in an online store. Assume you are selling kid related items in your store under three categories – toys, dress and books. Unlike creating content and blog posts in Weebly site editor, you can access all store related stuffs right from the dashboard without editing your site. When you logged into your Weebly dashboard, select the site from the list and go to "Items > Site Categories" section. Click on "Add category" button to start creating your first product category.
We fill the category title as "Toys" and upload featured image for the category page. If you already have products created, select the products and assign them to the category. In general, you first create broader categories and then create single products. When creating products, you have an option to select the category.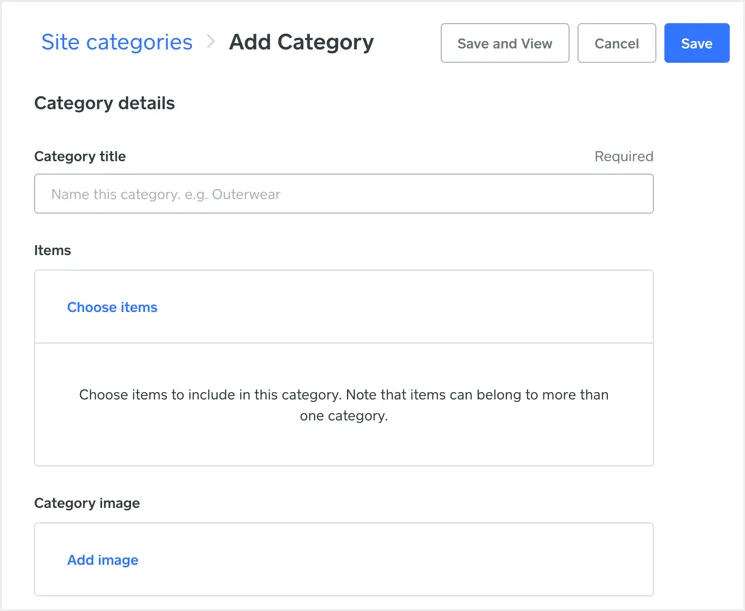 Select layout options, fill SEO details and save your category.
In our example, we will create three categories for Toys, Dress and Books.
Note that instead of filling lot of details, you can click the "Quick add categories" button to quickly add category without any details. However, we do not recommend this as we will be using the category pages in the navigation menu and hence proper SEO information is necessary for those pages.
It is also possible to create subcategories under any primary category to subgroup products. For example, you can have baby dress and toddler dress as subcategories under "Dress" category.
Assigning Products to Category
As mentioned, practically you will have few categories which should be created first. Later whenever you create a new product, you can assign it to the required category. You can click on "Create new item" button and start filling up the product details to create products.
When you are creating or editing a product, scroll down to find categories section and click on "Choose Categories" button.
You will see a pop-up showing all previously created categories as a list. Select the correct category and click "Save" button. If your product belongs to multiple categories, you can choose multiple items in the list.
Similarly, you can assign all products to respective categories. If you are not aware of online store creation process in Weebly, check out our guide on setting up online ecommerce store in Weebly.
Creating Categories for Blog Posts
If you do not have online store, it is still possible to create categories for blog posts.
For this you need to edit the site and go to Weebly site editor section.
Select your blog page either from the navigation or by going to "Pages" section.
Click "New Post" to create a post or click on any existing post to edit the content.
You will see a "Post Options" button at the bottom left corner and click on it.
Click on "Add categories" option to see a text box appears.
You can either search and add any existing categories or type a name to create a new category.
Make sure to add some product or quality content in your blog post. This will help you to promote the content when you add the category as your menu item.
Unfortunately, Weebly does not show categories in published post content. The only option is to add "Blog Categories" element in the blog sidebar. Also, after adding categories in blog post you need to first publish the post and then blog page for the categories to show in the sidebar widget. Once the category links are showing
Add Categories in Navigation Menu
Now that you have created categories for products and blog posts. Weebly offers a "Categories" element for inserting your product categories anywhere on your site. However, you can directly create a new page and assign the category to that. Go to site editor and navigate to "Pages" section. Click the + icon and select "Category Page" from the dropdown.
Provide the name for your page and select the category from the list. In our case we will call the page as "Toys" and select "Toys" category. Similarly, we create two other pages names "Dress" and "Books" and assign "Dress" and "Books" categories respectively.
You can rearrange the pages by dragging and dropping up or down in the order. Finally, publish your site to see the product category pages in the navigation menu.
For blog categories, go to the blog page or single post and get the category links from the sidebar.
The blog categories URL in Weebly will look something like below:
https://yoursite.com/blog/category/toys
Now, go to "Pages" section and create an "External Page". Provide a name for your page and paste the blog category URL in "External Link" box. You have an option to open the page in the same browser tab or allow to open in a new tab. Select "Open Link in Same Tab" option and make sure to uncheck "Hide from Search Engines" option. Since the page is in your own site, you can open it in the same window and allow search engines to index the page.
We recommend using external page option for store category also instead of using Weebly's "Category Page" option. The problem is that Weebly create a page (like toys.html) and then automatically setup redirects it to the store category pages (like /store/c3/Toys.html). This is not a good idea to use redirects in the navigation section. Instead, you can use the store category URLs as external pages similar to adding blog categories in the menu. The published product page will show a breadcrumb based on the category you assigned to your product. Click on the breadcrumb trial to find the complete link of your category pages.
Once you have the links of the categories you can create external page and add the URL. In this case, there will be no redirection and the direct category page will be linked and available when clicking the menu item.
Final Words
As you can see, the item and blog categories are useful to group similar products and posts and show in the navigation menu. You can use this setup for real estate, digital store and many other websites to showcase important pages in the header navigation.