Bookmarking helps to quickly save the URL of a webpage, so that you can access anytime later. This is a useful option to make a note of important webpages and read it later when you have time. The default bookmarking options in Google Chrome allows you to add, delete, import and export the URLs. However, you can use third-party extensions and enhance the bookmarking capability of Chrome browser. Here are 5 Chrome extensions for bookmark management in Google Chrome.
6 Chrome Extensions for Bookmark Management
You can either go to Chrome Web Store or to the developer's site and install one of the following extensions to have better bookmark management.
Save to Pocket
Raindrop.io
Booky.io
Bookmax
Bookmark Sidebar
SuperSorter
Related: How to disable bookmark bar in Google Chrome?
1. Save to Pocket
If you have used Mozilla Firefox browser then you will know the Pocket button part of the address bar. Pocket is an integrated option in Firefox while on Chrome you need to install an extension to have the similar feature. More than 2 million users on Chrome uses "Save to Pocket" extension to capture webpages or video and check on "Pocket".
After installation of the extension, the Pocket icon will appear on the Chrome address bar.
You can click and save the webpages to sync across your devices and read on the Pocket app without distraction.
Save to Pocket allows you to add tags, so your bookmarked webpages become more organized.
Simply send an email with the link to bookmark the page.
Pocket is available as an integrated option in 1500+ popular apps like Twitter and Fliboard.
In order to use "Save to Pocket" extension, you should have a registered account with Pocket website. In addition to the free extension, you can upgrade to premium option for getting additional features like custom fonts and creating a permanent library of bookmarked webpages.
2. Raindrop.io
One of the main purposes of bookmarking is to collect similar websites that helping for a particular task. With default Chrome, you can create folders and organize the webpages in folders. If that is not sufficient for you, then Raindrop.io is an extension for you.
You can bookmark webpages and videos and save it in a collection.
Tag the bookmarks and organize them properly.
Sync across devices for quick access.
It is possible to make the collection public or you can collaborate with your colleagues and friends privately.
Each collection has a unique look, cover, custom icon and screenshot of the bookmarked pages.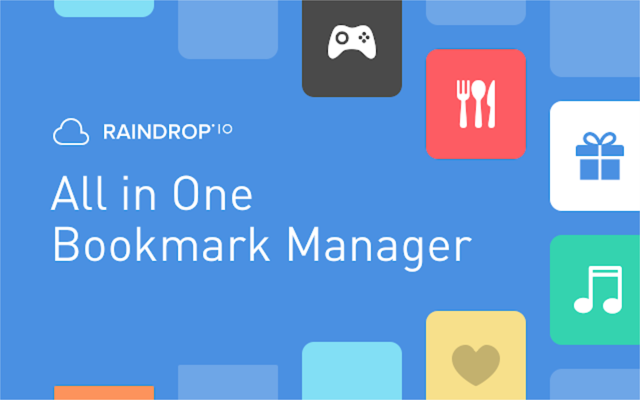 3. Booky.io
Booky.io is a third-party online bookmarking tool that helps you to keep all your bookmarks in one place. You can easily add any links as a bookmark with Booky.io. The Chrome extension allows you to view your existing bookmarks as well as allow to add new bookmarks from Chrome.
Easy tool to keep bookmarks from all browsers in one place and access with extension.
You can use their mobile app to access the bookmarked pages on the go anywhere.
The extension allows you to add bookmarks with category to make your bookmarks well organized in dashboard.
4. Qlearly – Tab and Bookmark Manager
Qlearly is a bookmark and tabs manager extension that helps you keep your bookmarks organized with few clicks.
Bookmark all or some open tabs to a dashboard or column.
Use keyboard shortcuts to quickly search the bookmarks in your board.
Save bookmarks across all devices using a Qlearly account.
Collaborate and share boards with teams.
5. Bookmark Sidebar
Bookmark Sidebar is a unique bookmark management tool. Unlike Chrome's default bookmark bar and other extensions, this extension places bookmarks on the sidebar.
You can click on an icon to toggle the bookmark sidebar on or off and access the bookmarked pages easily.
Possible to set the position of the sidebar and arrange the bookmarks location, by using drag and drop functionality.
The extension also allows to check the bookmarked URLs to find the broken links.
6. SuperSorter
One of the big problems with Chrome bookmark bar is to sort the pages. Even you sort, you need to manually do that when newly adding bookmarks. SuperSorter extension resolves that problem for you.
Sort the bookmarks automatically so that you can easily find what you are looking for.
Sort all bookmarks in single click.
Help to delete duplicate bookmarks and cleanup your browser.
You can delete the empty folders and merge folders.
Final Words
We hope you can find one of the above bookmarking extensions is useful for you. In addition to the above listed extensions, you can also try other extensions from the Web Store.