Nowadays, wireless printers make printing and scanning work super easy. The good thing is that most wireless printers will automatically appear in the selection list of printer control dialog box (when you press Control + P keys). However, if it does not appear, there are multiple ways to add your printer in Windows 11 computer. If you are also using Mac or iPhone, learn how to connect the same printer in Mac and iPhone.
Adding Printer in Windows 11
Check the followings before trying to connect your printer.
Make sure printer and your PC or laptop are on the same Wi-Fi network. Most printers will show the network status or LED light on the display to identify it is on the network.
Print the network information like password, printer name, port and other details. You can check printer's control panel or display to print out these details.
Enable network discovery on your computer which is needed for manually setting up the printer.
1. Automatically Connecting to Printer
Open the document you want to print and press "Control + P" keys. Click the "Printer" dropdown and you should see the wireless printer listed there.
If you do not see the printer is listed in the list, click "Add printer" option in the list. Alternatively, press "Windows + I" keys to open Settings app. Then go to "Bluetooth & devices" section and click "Printers & scanners" option.
You should see the printer's name appears and click on "Add device" button to add to your device list.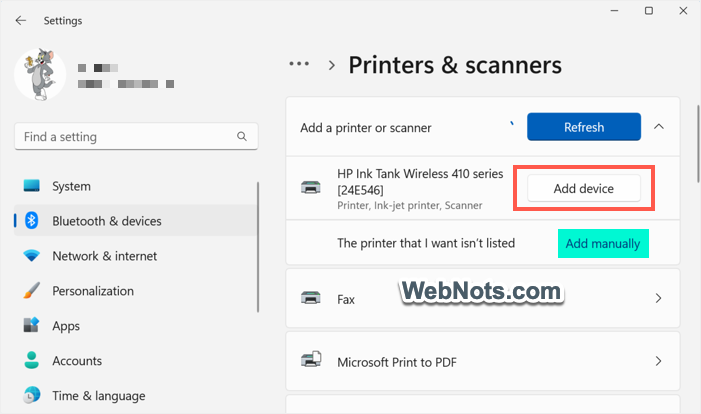 2. Manually Adding Printer in Windows 11
If the printer's name does not appear automatically, click "Add manually" link or "Add device" button.
You will see a list of options and select "My printer is a little older. Help me find it" or "Add a Bluetooth, wireless or network discoverable printer" option.
Click "Next" button and Windows will search for the wireless printers connected in the network. Select the printer's name if you find it and click "Next" button to add it in your printer list.
If you can't find the printer, you can manually search and connect the printer. For this use "Select a shared printer by name" option and find the printer by clicking on the "Browse" button. You will see a notification if network discovery is turned off in your system. Click that notification to change the setting and find the printer from the network list.
Next manual option is to connect the printer using IP address. After connecting the printer to your network, most printers have an option to print the network settings. This will give you the IP, port and hostname of the printer which you can use for manual connection. Select the "Add a printer using an IP address or hostname" option. On the next screen, select "Autodetect" as your "Device type" and enter the IP and port to connect your printer.
The last option is to manually configure the port and other settings using "Add a local printer or network with manual settings". This needs you to install the printer driver and setup a new hardware device. Follow this only if you are an advanced user and all other options are not working.
3. Printing By Connecting to Printer's Wi-Fi Network
If you are not able to add the printer, there is a direct connection option by switching your computer to printer's Wi-Fi network.
Press "Windows + I" keys and open Settings app.
Go to "Network & internet" section and click "Wi-Fi" option.
Click "Show available networks" on the next page.
Find your printer's name and click on it. For direct connect, you should see the printer's name as "DIRECT-*. As you can see in the below screenshot, it shows DIRECT-46-HP Ink Tank Wireless for HP printer. Disable "Connect automatically" option and click "Connect" button.
You should enter the printer's Wi-Fi password which is 12345678 for HP printers by default. You can get this from the printer's network information which you can print from printer's display or control panel.
Once connected to printer's Wi-Fi, you will see the printer appears in print control dialog box.
4. Add Printer from Control Panel
The old Control Panel app is also another option for adding your printer in Windows 11.
Open Control Panel and go to "Control Panel\Hardware and Sound\Devices and Printers" section.
Click "Add a printer" link showing on the header row.
Windows will search for a network printer and show like in Settings app.
Click on the found printer and add to your computer.
5. Use Printer App like HP Smart
Almost all popular printers come with an app for managing printing and scanning activities. Here, we will explain with HP Smart app and you should try with an app from your printer's manufacturer.
When you try to print a document, HP printers will automatically show you a notification for launching the app. Click on "Launch App" button or go to Microsoft Store directly to find HP Smart app.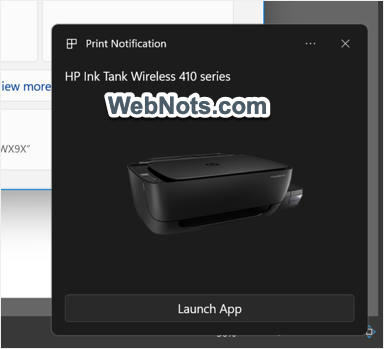 After installation, open the app and accept the terms.
Click "Set up a New Printer" button and the app will start searching for the printers connected in the network.
When you find your printer, select it. If you do not find, click "Printer is Not Listed" option and follow the manual setup instructions. You can check out the detailed steps for iPhone as explained in our earlier article and the process remains same for Windows also.
You will see the printer is added in the app's screen and shows the status. You can configure the printer's setting and start using immediately.
Configuring Printer Settings in Windows 11
You can change the print setup easily whenever you open print control dialog box. However, you can also setup the defaults from Windows Settings app before using the printer. Click the added printer name in "Printers & scanners" section of the Settings app and go to "Printer settings" tab.
Click "Open print queue" to see the list of documents currently getting printed and cancel any job that you do not want to print.
Printer properties and printing preferences options allow you to setup color or black & white, orientation, paper size, quality, etc.
Use the "Run the troubleshooter" option to find and fix printer's connection problem in your system.
Similarly, you can go to "Scanning settings" tab and configure scanning properties.
For making your printer as a default printer, go to Control Panel\Hardware and Sound\Devices and Printers in Control Panel app. Right-click on the printer name and select "Set as default printer" option.
Final Words
As you can see there are multiple ways to add a printer in Windows 11. Wireless printers will automatically appear when connected to the same network which is easier to select from print control dialog. Alternatively, you can use direct connect or third-party app for printing documents in Windows 11.